Wendy Rogers' Buffalo Shooting Conspiracy Comments Spark Investigation
The Arizona State Senate has voted to open an investigation into GOP politician Wendy Rogers after she shared an "inappropriate" social media post about the recent mass shooting in Buffalo, New York.
Senators voted 24-3 on Monday, May 16, with three members deciding not to vote, to allow the Senate Ethics Committee to examine Rogers' comments about the Buffalo shooting, which resulted in the deaths of 10 people at a supermarket.
The committee will now investigate whether the comments were "inappropriate of an elected official." Democrats had also tried to expel Rogers, but the vote failed by 11-15.
Rogers, who has been endorsed by Donald Trump, shared a post that alluded to claims made by conspiracy theorists that the shooting was part of a federal conspiracy.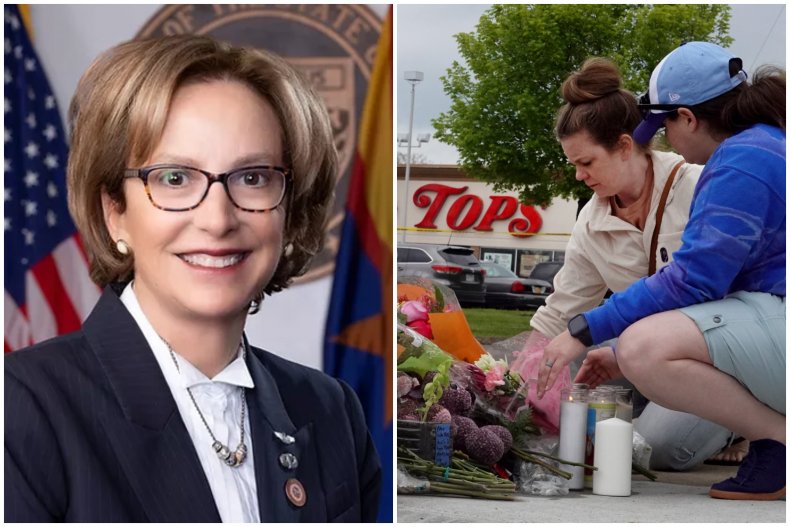 Following the shooting on Saturday, Rogers posted the message on the social media platform Telegram: "Fed boy summer has started in Buffalo."
In a statement, shared following the votes on Monday, Rogers said: "Sadly, my comment was taken completely out of context and became a false narrative that's now the focal point of a firestorm created by certain race-obsessed members of the media.
"Unfortunately, our Democrat members of the Senate are now turning this issue into a political tool and are continuing to perpetuate this erroneous message in an effort to foment division within our party.
"Let me be very clear. I do not condone violent crime or racism. My heart breaks for those who lost their lives as well as for their families in this weekend's shooting in Buffalo, New York. I pray justice is brought to the perpetrator.
"The person responsible for this heinous crime should be prosecuted to the fullest extent of the law. I denounce this tragic act as well as any and all other violent crimes that are spreading into communities across our countries."
In a joint statement, Arizona Democratic Party chairwoman Raquel Terán and Arizona Democratic Legislative Campaign Committee chairwoman Rebecca Rios demanded stronger actions be taken against Rogers.
"The behavior of Wendy is downright abhorrent, and the fact that she is able to remain an elected official and use her platform to incite violence is unacceptable. Arizona families will not be safe so long as people like Wendy remain in office," the statement said.
"The failure of the GOP, Senate President Fann and Governor Ducey to hold her accountable and take action against her shows that their loyalties lie not with Arizonans, but with violent extremists. Arizona Democrats will not sit idly by and be complacent as Wendy continues to endanger the lives of Arizonans and Americans.
"Hate has no place in Arizona, and Wendy Rogers has no place in our State Senate."
Newsweek has contacted Rogers for comment.
Rogers has courted controversy on several occasions, including after she attended the America First Political Action Conference, hosted by far-right figure Nick Fuentes.
Fuentes has previously espoused Holocaust denier comments and in a Monday, May 16, Telegram post, he wrote: "White genocide is real."
His comments were made following the Buffalo shooting, which was allegedly motivated by the "great replacement theory" a racist conspiracy theory that claims white people are being replaced by minorities and people of color.
Earlier this year, the Arizona Senate voted to censure Rogers by a vote of 24-3 after she appeared alongside Fuentes at the conference.
GOP Representatives Marjorie Taylor Greene (GA) and Paul Gosar (AZ) also attended the same conference.
Rogers has also been a vocal supporter of baseless claims that the 2020 presidential election was somehow stolen from Trump.
In 2021, she shared unsubstantiated claims about election fraud during an appearance with a QAnon-supporting podcast host.
Rogers joined Zak Paine on the RedPill78 podcast in December where they both pushed the baseless allegations of widespread election fraud.
Update 5/18/22, 10:47 a.m. ET: This article was updated with a joint statement from Arizona Democratic Party chairwoman Raquel Terán and Arizona Democratic Legislative Campaign Committee chairwoman Rebecca Rios.