A racist ideology is being investigated as the motivating factor in a supermarket massacre in Buffalo, New York, that left 10 people dead on Saturday.
Authorities say Payton Gendron, a white 18-year-old from Conklin, New York, carried out an act of "racially motivated violent extremism" when he opened fire at the Tops Friendly Market.
Most of the victims were Black. Authorities said they were investigating the attack, which the shooter livestreamed on Twitch until the company shut the broadcast down, as a potential federal hate crime or act of domestic terrorism.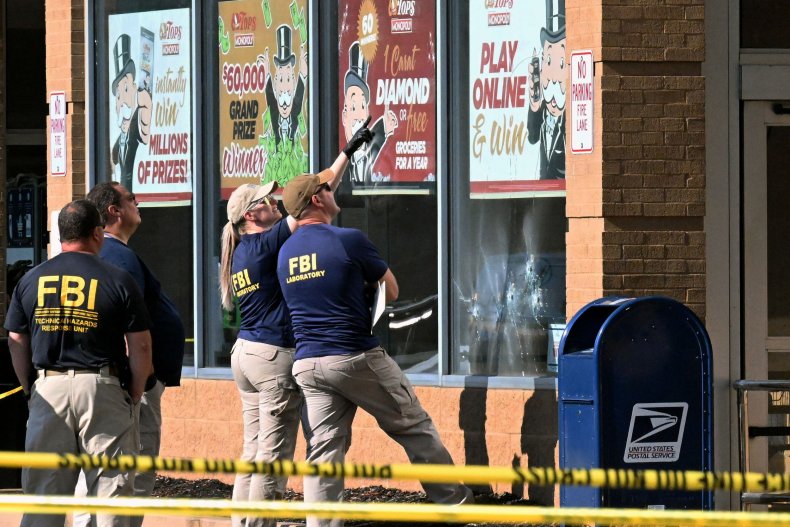 A 180-page manifesto, purportedly authored by Gendron, said the attack was motivated by the "Great Replacement Theory"—a racist conspiracy theory that claims white people are being replaced by minorities and people of color.
The ideology fueled the deadly 2017 rally in Charlottesville, Virginia, where white supremacists chanted "Jews will not replace us."
The belief has also incited a string of mass killings in recent years.
Pittsburgh synagogue shooting, 2018
A white gunman with a history of spewing antisemitic slurs on social media barged into the Tree of Life Congregation synagogue in the Squirrel Hill neighborhood of Pittsburgh on October 27, 2018, and gunned down 11 worshippers.
On social media, the suspect, Robert Bowers, espoused ideas associated with replacement theory, including blaming a Jewish group for allowing "invaders in that kill our people."
El Paso shooting, 2019
Another white man who subscribed to the replacement theory opened fire on shoppers inside a Walmart in El Paso, Texas, on August 3, 2019, killing 23.
A manifesto posted on 8chan by the alleged gunman, Patrick Crusius, shortly before the massacre espoused white supremacist rhetoric and railed against the "Hispanic invasion of Texas." He also told authorities that he "wanted to shoot as many Mexicans as possible."
Christchurch mosque shootings, 2019
The El Paso gunman was apparently inspired by a deadly attack against Muslims in Christchurch, New Zealand, that took place months prior.
In that massacre, an Australian white supremacist is accused of killing 51 worshippers at two mosques on March 15, 2019.
The gunman, Brenton Tarrant, reportedly authored a 74-page manifesto titled "The Great Replacement" that railed against immigrants and immigration, saying that "as long as a white man still lives, they will NEVER conquer our lands and they will never replace our people."
Buffalo shooting, 2022
Screenshots apparently from the Twitch broadcast show a racial slur against Black people scrawled on the gunman's rifle, as well as the number "14"—most likely referencing a white supremacist slogan.
The manifesto believed to be written by Gendron said the attack was intended to intimidate all non-white, non-Christian people and get them to leave the country. It said the U.S. should belong only to white people and all others were "replacers" who should be eliminated through force or terror.