Buffalo Shooting Stirs Painful Memories in New Zealand, Bans Manifesto
New Zealand's acting chief censor has placed a temporary ban on people in the country sharing the manifesto allegedly written by a teenager arrested in connection with a mass shooting in Buffalo, which contains similarities to the 2019 terrorist attack in Christchurch.
According to Radio New Zealand (RNZ), Rupert Ablett-Hampson said the manifesto allegedly shared by Buffalo shooting suspect Payon Gendron, 18, was inspired by the Christchurch white supremacist attack at a mosque and Islamic center where 51 people were killed.
Gendron, from Conklin, was arraigned on a murder charge on Saturday after he allegedly killed 10 people in the mass shooting which authorities described as "racially motivated violent extremism."
In the manifesto, shared online before the shooting, Gendron allegedly wrote he was inspired by Christchurch shooter Brenton Tarrant as well as other people who had carried out racist murders.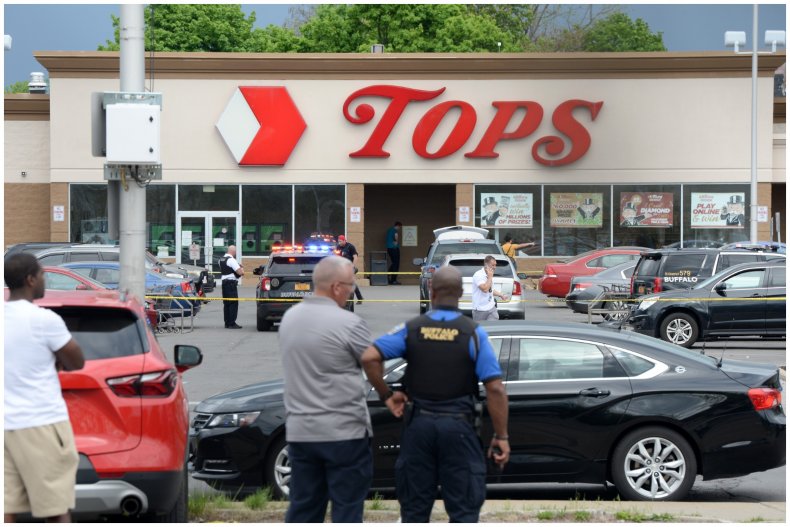 Tarrant also shared a meme-riddled white supremacist manifesto online and live-streamed the Christchurch massacre.
Newsweek compared the text of the two manifestos using the online app Copyleaks.
The analysis showed that 16.8 percent of the material was identical, while 7.7 percent had minor changes. Overall, the 'match' score was 24.7 percent. There were in total 11,000 similar words out of 46,000.
According to RNZ, Ablett-Hampson said New Zealanders needed to be aware the material in the manifesto would be objectionable under the country's law.
Ablett-Hampson has since made the temporary decision to ban the document using power introduced in the aftermath of the Christchurch shooting. A final decision about whether to uphold the ban will be made at a later date.
In a statement obtained by RNZ, Ablett-Hampson said: "There is widespread coverage of this mass shooting and the fact that the killer produced publications and we urge New Zealanders not to seek these out.
"This decision means it is an offense to possess or distribute these publications. People who have downloaded this document, or printed it, should destroy any copies."
He added: "We understand most people in Aotearoa [Māori for New Zealand] reading such publications would not be supportive of these hateful messages but these kind of publications are not intended for most people. We have seen how they can impact individuals who are on the pathway to violence."
The New Zealand Office of Film and Literature Classification later told Newsweek in a statement that the manifesto had been banned in the country.
A spokesperson said: "I can confirm that the manifesto believed to have been posted by the Buffalo shooter has been banned in New Zealand.
"This ban was issued in an interim decision on Sunday morning New Zealand time by Acting Chief Censor Rupert Ablett-Hampson. Reasons for the ban will be issued in due course, along with a final classification decision."
The spokesperson added: "Interim classification decisions are made under New Zealand's Classification Act. They last for 20 working days or, if a final decision is made within that time, until that final decision is made.
"Interim decisions can be enforced while they are active just the same as if they were regular classification decisions.
"Enforcement would not be undertaken by the Classification Office. This would be handled by authorities such as the Department of Internal Affairs, a government department which enforces classification decisions."
At a news briefing, Erie County Sheriff John Garcia called the shooting a hate crime and added it was "pure evil."
He continued: "It was (a) straight up racially motivated hate crime from somebody outside of our community, outside of the City of Good Neighbors ... coming into our community and trying to inflict that evil upon us."
President Joe Biden also addressed the shooting in a statement, adding: "We still need to learn more about the motivation for today's shooting as law enforcement does its work, but we don't need anything else to state a clear moral truth: A racially motivated hate crime is abhorrent to the very fabric of this nation.
"We must do everything in our power to end hate-fueled domestic terrorism."
Update 05/16/22, 10:52 a.m. ET: This article was updated to include comment from the New Zealand Office of Film and Literature Classification.