Arizona Sheriff's Tough Tactics on Immigration Face Federal Scrutiny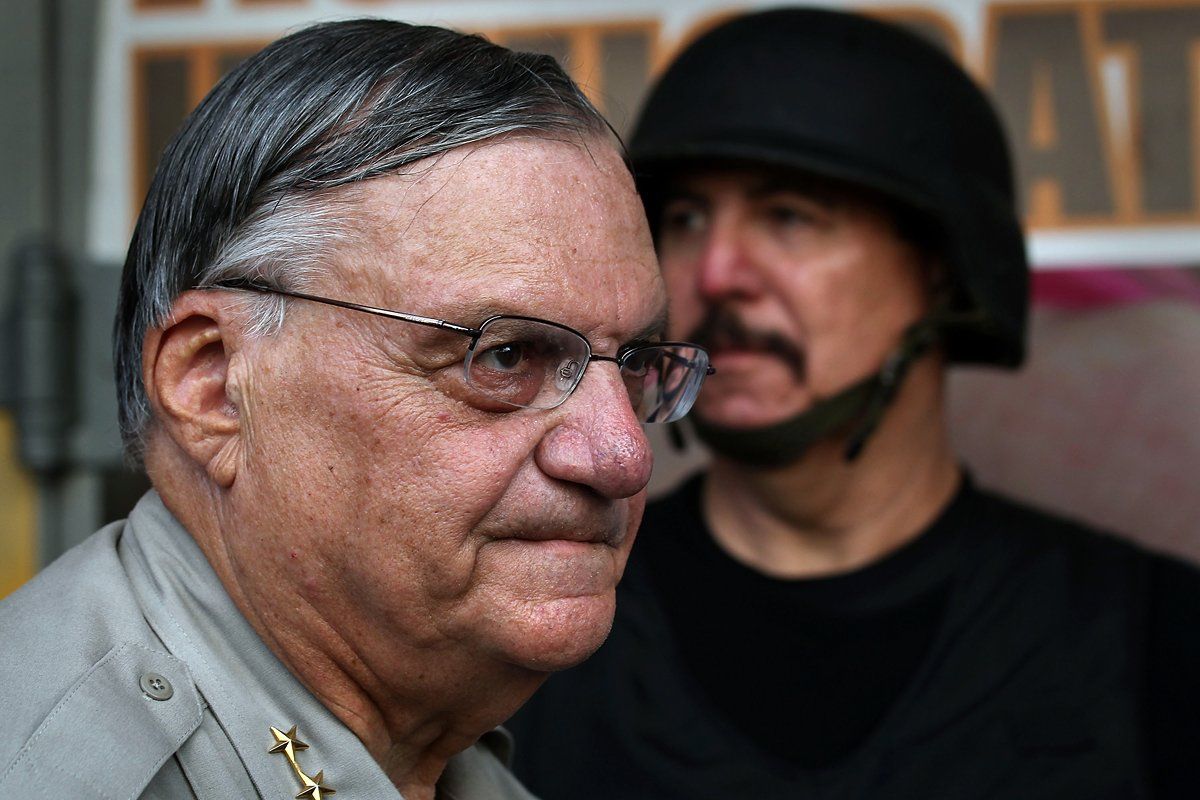 The Justice Department is investigating Maricopa County, Ariz., Sheriff Joe Arpaio over alleged civil-rights violations. The Washington Post reports that his office has failed to comply with requests from federal investigators examining the treatment of Hispanics in Maricopa County jails and the tactics used to detain them.
Robert Driscoll, an attorney for Arpaio, was out of the office this week and unavailable for comment, according to his assistant. A spokesperson in Arpaio's press office says Driscoll informed them he will hold a face-to-face meeting with DOJ lawyers in Washington next week.
In Arizona, the sheriff has a reputation for standing up to Washington and for being tough on crime, including humiliating his inmates (many of them Hispanic, according to news reports), by making them dress in old-fashioned black-and-white-striped prison uniforms, work in chain gangs, or, for men, wear pink underwear.
In Arpaio's view, however, there's a point to these tactics: illegal immigration is the top problem he is facing, and he will be tough on criminals. In a 2009 interview with NEWSWEEK, he told this reporter that the business of illegal immigration was fueling crime and violence in Phoenix. (Crime rates in Phoenix are down, but local television coverage of immigration-related crime is almost a daily phenomenon.) "The people who pay [to cross into the U.S. from Mexico] will eventually get transferred to points north," he said. "But the violence and murders and kidnappings are all happening here." He might have gone too far. Since that interview, U.S. Immigration and Customs Enforcement has revoked Arpaio's ability to enforce federal immigration laws (under what's known as the 287 [g] program), prompting his outrage.
Arpaio has also upset local leaders who say they have been harassed by him, and is facing a separate investigation into potential abuse of power. The Arizona Republic's Yvonne Wingett recently reported about a scuffle between Phoenix Mayor Phil Gordon and the sheriff. In an interview with NEWSWEEK, Gordon blamed Arpaio and State Sen. Russell Pearce (author of the state's controversial immigration bill) for creating an anti-immigration fervor in the state: "Pearce and Arpaio's ability to whip things into a frenzy has created so much pressure for [Gov. Jan Brewer]." The law is hurting Arizona businesses, yet few are speaking out. Gordon says that's because of the sheriff, who "will come after them on trumped-up charges. The car-wash guys, the McDonald's owners, there is a real fear that they will be investigated, there is a real fear of the sheriff." He says, "Anyone who stands up to Arpaio—their reputation is ruined."
Gordon says supervisors, chiefs of police, reporters, and others have all been subjected to unwarranted scrutiny and harassment by the sheriff. "People have been followed by the sheriff's people, judges—everyone." Has he been followed? The mayor says, "Yes. But I'm one individual who has stood up to him." The mayor's attorney, Paul Charlton (who was also one of the nine U.S. attorneys fired during the Bush administration), says, "There isn't any doubt Arpaio uses his office to intimidate political enemies. That can mean judges who rule against him, people on the board of supervisors who vote against his interests, and business leaders who have opposed his policies."
Asked to comment, Arpaio's spokesperson said, "The sheriff won't dignify Mayor Gordon's remarks with a response."
Arizona Sheriff's Tough Tactics on Immigration Face Federal Scrutiny | U.S.