Arkansas' Asa Hutchinson Urges 'Conservative Compassionate View' Toward Transgender Minors
Arkansas GOP Governor Asa Hutchinson called for a "conservative compassionate view" toward transgender minors—saying "hundreds" of concerned families have reached out after the Legislature overrode his veto of legislation that blocks transgender teenagers from receiving gender-affirming treatment.
Hutchinson's veto of the Arkansas anti-trans bill last week came as a surprise to many activists and lawmakers. But the conservative governor described the legislation as "a vast government overreach," noting that he vetoed the bill after discussing the issue with medical providers, parents and transgender minors receiving treatment.
However, the GOP-controlled Legislature promptly overrode Hutchinson's veto, making Arkansas the first state to ban gender-reaffirming treatment.
"This bill was overbroad. It was extreme and that's the reason I vetoed it, and even most importantly, it didn't have a grandfather clause," Hutchinson said during a Wednesday morning interview with MSNBC.
"So there are some young people that are actually undergoing treatment under the supervision of their doctor and with the permission of the parent, and we're interfering in that. And they're going to be winding up going out of state if they can afford it, or they're going to try to get it elsewhere because it puts them in great jeopardy. I hope the Legislature will look at remedying that, but it's a great concern to me," the governor said.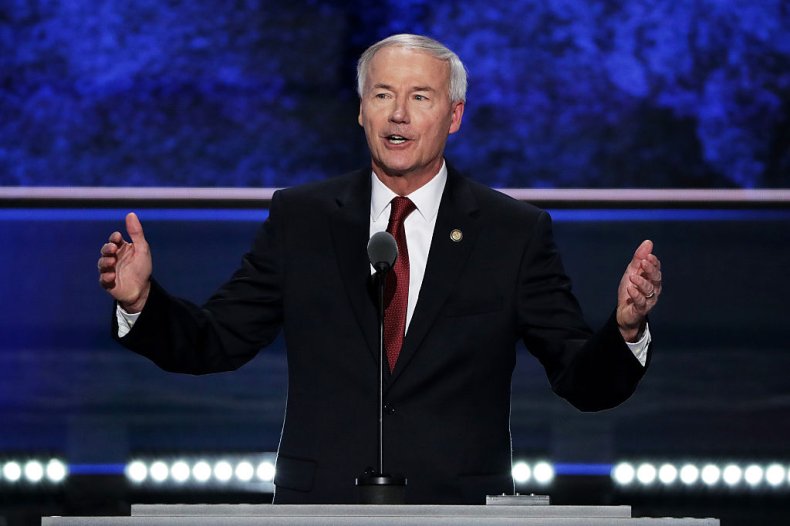 Hutchinson said that "hundreds" of parents of transgender minors have already reached out to him, noting that physicians are "concerned" as well.
"I regret that that happened," he said, voicing his hope that "there is some movement for putting into place a grandfather clause. I hope that that can happen for the sake of these young people."
He went on, "Passing laws is about policy, it's also about compassion. I think it's a conservative compassionate view that we let these decisions be made by those people that know and love the children the best."
Hutchinson later told Newsweek that he wasn't optimistic that lawmakers in Arkansas would heed his advice about passing a "grandfather clause" for transgender minors who were previously undergoing treatment.
"I have discussed with lawmakers and encouraged it, but I am doubtful it is going to happen," the governor said in an email.
The governor explained his views in an opinion article published by The Washington Post last week, calling for "compassion" from leaders.
"Leadership is acting not just on your convictions but also on your compassion. Parents are doing their best to guide the young person God entrusted to them. As they seek medical help, it is important to understand the trauma, emotional challenge and love involved in making difficult decisions," Hutchinson wrote.
He cointinued, "The leading Arkansas medical associations, the American Academy of Pediatrics and medical experts across the country all oppose this law. Their concern is that denying best practice medical care to transgender youth can lead to significant harm to the young person—from suicidal tendencies and social isolation to increased drug use. Given these risks, we have to ask whether the state action helps or unjustifiably interferes," he wrote.
Rodrigo Heng-Lehtinen, deputy executive director of the National Center for Transgender Equality, strongly criticized the legislation enacted in Arkansas.
"This is truly a phenomenal level of government overreach." Heng-Lehtinen said, according to USA Today. The activist warned that "every single transgender person is feeling the effect of this attack. It's the government, pure and simple, saying, 'You don't belong.' It's such an antagonistic and heartless message to send."
About 30 states are considering similar anti-trans legislation, leading activists and LGBTQ advocates to raise alarms.
This story was updated April 14 with additional comments from Governor Asa Hutchinson.