Arkansas Gov. Warns Biden 'Counterproductive' Vaccine Mandate Will Only 'Increase Resistance'
As Republicans continue to rail against President Joe Biden's federal vaccine mandate, Arkansas Governor Asa Hutchinson said Sunday that the stringent new rules will be counterproductive and will only "increase resistance" among unvaccinated Americans.
"This is an unprecedented assumption of federal mandate authority that really disrupts and divides the country. It divides our partnership between the federal government and the states, and it increases the division in terms of vaccination when we should all be together trying to increase the vaccination uptake," the GOP governor said on NBC's Meet the Press.
"The federal mandate will be counterproductive. It's going to increase resistance. We're going to grow our vaccinations whether you have this or not," he added.
The new sweeping requirements, which Biden imposed Thursday in an attempt to suppress the latest surge of COVID-19, could affect 100 million American workers and amounts to the strongest vaccine push by the federal government during the pandemic.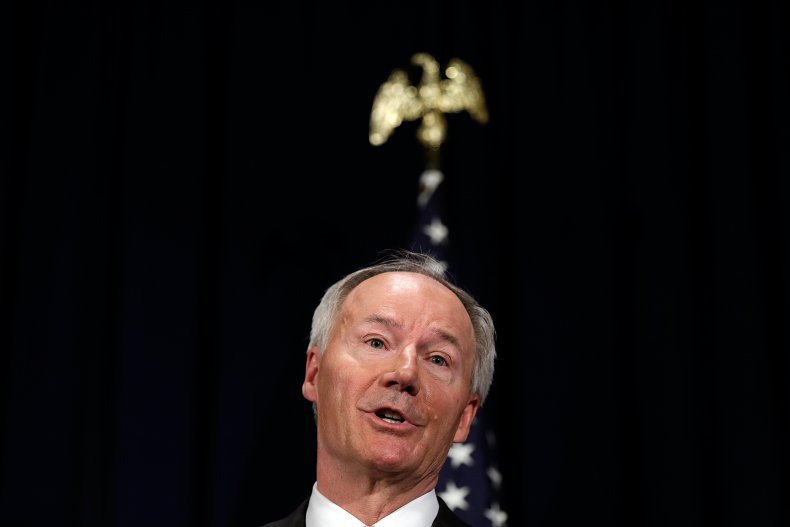 Under Biden's new plan, the Labor Department must require all companies with 100 employees or more to either mandate vaccinations for all their staff or implement regular weekly COVID-19 tests. Those who fail to comply could be fined thousands of dollars for each employee that flouts the rule.
Pfizer board member and former FDA commissioner Scott Gottlieb on Sunday echoed Hutchinson's warning that the vaccine mandate could end up being counterproductive.
"The downside of this mandate in terms of hardening positions and taking something that was subtly political and making it overtly political could outweigh any of the benefits that we hope to achieve," Gottlieb said on CBS' Face the Nation.
Republican governors across the country have reacted angrily to Biden's new vaccine rules.
Nebraska Governor Pete Ricketts on Sunday criticized Biden for not consulting states before making the decision, calling the president "ignorant" with his understanding of how different states are responding to the pandemic.
"We've been providing information and encouraging people to reach out to their neighbors because vaccines work and they will help people," Ricketts said on Fox News Sunday, adding that Nebraska's attorney general has been exploring legal challenges to the federal mandate with other Republican governors.
"It should be a personal health care choice," he added.
"Terrifying. This is still America, and we still believe in freedom from tyrants," tweeted Mississippi Governor Tate Reeves.
The new rules come as the Delta variant continues to drive up COVID-19 hospitalizations and deaths across the country, particularly in areas where vaccination rates have remained below the national average.
Newsweek reached out to the White House for comment.