Arkansas State Senator Jim Hendren Leaves GOP, Registers as Independent After 'Many Sleepless Nights'
In "one of the hardest" decisions he has made in his life, Arkansas State Senator Jim Hendren announced that he would be leaving the Republican Party after "many sleepless nights" over the decision.
On Thursday, Hendren issued a statement that he has decided to leave the GOP and register as an independent with no party affiliation.
"This comes after many sleepless nights; a lot of serious consideration; and it comes with sadness and disappointment," he wrote. "But it's clear-eyed. I'm making this decision because my commitment to our state and our country is greater than loyalty to any political party."
The two-term state senator cited political polarization as one of the reasons he chose to no longer hold an affiliation with a political party.
"Like so many of you, I look around at our country today and find it hard to recognize. I see colleagues unable or unwilling to work with each other, neighbors and families divided against each other, and our statehouse too often unable to function for the people of Arkansas," Hendren said.
"And this isn't just because of political difference. It's because we've let ourselves become deaf to other folks' needs and perspectives," he added. "And our political parties have not only allowed this, but too often encouraged and rewarded it."
Hendren recently won re-election in the November 3 general election, defeating Democrat Ryan Craig by a landslide. Prior to running for the Arkansas State Senate, he served six years in the Arkansas House of Representatives.
He said the January 6 Capitol riot was another key factor in his decision to break with the Republican Party. In his statement, Hendren recalled watching Republican officials challenge the results of the 2020 presidential election "with lies, false statements, conspiracy theories, and attempts to subvert the constitution."
"This led to the events of January 6th when we all watched violence in the halls of our nation's Capitol and couldn't believe our own eyes. Couldn't believe what we were seeing was our own country. But it was. For me, that day was the final straw," he explained.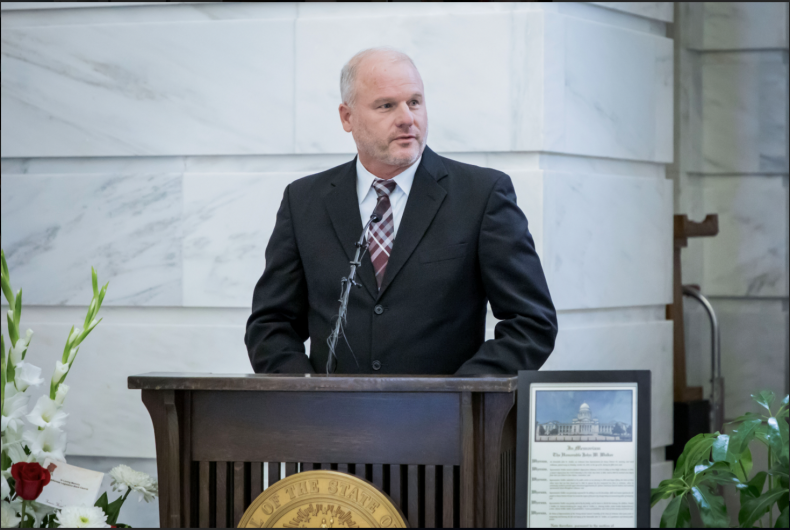 Hendren said that while his values have not changed, he believes his party's has.
"I haven't changed. My party has. Let me be clear, I've got friends and family that are still Republicans. There are still really great people in the Republican Party. And I respect the fact they are going to stay and try to right the ship," he said. "But I've come to the conclusion that I can have the greatest impact outside of either party."
He comes from a large family of Republican officials. His father, Kim, formerly served in both of the state's legislative chambers as well. His uncles are Governor Asa Hutchinson and former Senator Tim Hutchinson.
While Hendren said his decision to leave the GOP wasn't influenced by a single individual in the Republican Party, he said he's been especially disappointed by the treatment of veterans and service members by former President Donald Trump. Hendren served in the Air Force from 1984 to 1992.
"It would be easy to blame this on one person or a few. But, sadly, it runs more deeply and cuts more broadly than that. Over the course of the 2016 campaign season alone I heard people demonized as rapists and murderers. I watched the encouragement of the worst voices of racism, nationalism, and violence," he said.
"And I watched my service, and the service of my fellow soldiers, dishonored with the ridicule of a gold star family whose son had served with distinction," he continued. "I also heard a hero of mine, John McCain, and a true American hero called a loser on national television. I watched the former president actively fan the flames of racist rhetoric, make fun of those with disabilities, bully his enemies, and talk about women in ways that would never be tolerated in my home or business."
It was reported that in conversations with senior staff members, Trump canceled a visit to Aisne-Marne American Cemetery near Paris in 2018 due to rain, saying, "Why should I go to that cemetery? It's filled with losers." It was also reported that he had called more than 1,800 fallen Marines "suckers" for dying during World War I.
Hendren went on to thank Hutchinson and two of his Democratic colleagues, state Senator Joyce Elliot and the late Charlie Stewart, for working with him in the past.
He also announced the founding of a new organization, Common Ground Arkansas, on Thursday. The group will "work to find and support leaders willing to come together instead of continuing to push us apart." Hendren invites those who find themselves "politically homeless" to join him and the new organization.
Jonelle Fulmer, chairwoman of the Republican Party of Arkansas, said that Hendren had never previously expressed his issues with party leadership up until the announcement.
"Not once, to myself or my predecessor, has Jim Hendren ever picked up the phone to express concerns," Fulmer said in a statement shared with Newsweek. "He gladly received our substantial support over the years, including a mail piece from us last fall in his bid for re-election, where he ran on the Republican ticket a mere three months ago."
"The Republican Party has plenty of room for differing ideas. In fact, that is what has made us the majority party of Arkansas," she added. "Some of the concerns raised by Jim stem from a presidential primary five years ago, which calls into question his motivation now. This is nothing more than an attempt to garner press for a future independent candidacy for governor, knowing that he cannot compete with the conservative records of Attorney General Leslie Rutledge or Sarah Huckabee Sanders."
Hendren's uncle, Hutchinson, cannot seek reelection for a third term in 2022 due to term limits. Sanders, former White House press secretary for Donald Trump has emerged as a front-runner for governor.
Updated 02/23/21 11:16 a.m., with comments from Fulmer.