'I Would Not Vote for Her': GOP Governor Asa Hutchinson Sides Against Marjorie Taylor Greene
Arkansas Republican Governor Asa Hutchinson tentatively voiced his opposition to Marjorie Taylor Greene's newfound role as elected federal official on Sunday, acknowledging that his views depart from the congresswoman's during a televised interview.
Discussing the controversy surrounding Greene's conduct in light of her recent election to the U.S. House of Representatives, Hutchinson told ABC News' Martha Raddatz on This Week that he "would not vote" for the vocal conspiracy theorist and supporter of former President Donald Trump if presented with the option to do so.
Greene is a political newcomer, having gained traction among far-right conservatives through her vehement public advocacy for Second Amendment rights, critiques of socialist policies, and general championing of Trump's presidential actions.
She began her first term in the House, representing Georgia's 14th congressional district, earlier this month. Greene was among the House Republicans who unsuccessfully moved to challenge President Joe Biden's election victory against Trump during congressional hearings held to certify results.
After Greene's appointment to serve as a member of the House Education and Labor Committee closely coincided with resurfaced videos in which she backed false conspiracies about deadly school shootings, House Democrats formally requested her reassignment.
Greene additionally faces calls to resign from Congress entirely for her rhetoric before, during and after the January 6 Capitol siege, when a mob of Trump's followers, seeking to overturn the presidential election's results, stormed the federal complex during a violent uprising. The Republican representative openly furthered Trump's baseless claims that Democrats "stole" the election from him on numerous occasions, despite no evidence to substantiate the allegations.
Among multiple prominent conspiracies that Greene has been linked to is QAnon, a discredited theory that suggests a global network of Satan-worshipping child sex traffickers secretly run Washington. QAnon originated in online message boards during Trump's first presidential campaign, and ultimately grew to attract a band of adherents largely consisting of right-wing extremists.
On Sunday, Hutchinson emphasized that his own views depart from Greene's in key areas. However, he did not comment outright on her fitness to serve as a member of Congress, nor did he share an explicit opinion about her addition to the House Education Committee.
"I reject [QAnon], and I would not vote for her," the governor said. "The second question is, should the House of Representatives make a disciplinary call on her? I'm not going to get in the middle of that. They're going to have to make that judgement."
"But, you know, whenever you have a broad diversity of the party reject the extreme elements—it's not mainstream GOP—and that's what we've got to get back to," Hutchinson continued. "We've got to have a regard for those people that supported Donald Trump because they have a message, they have a concern. But at the same time, we don't want to gloss over the terrible actions that happened at the Capitol. We need to hold people accountable for that. That is critically important."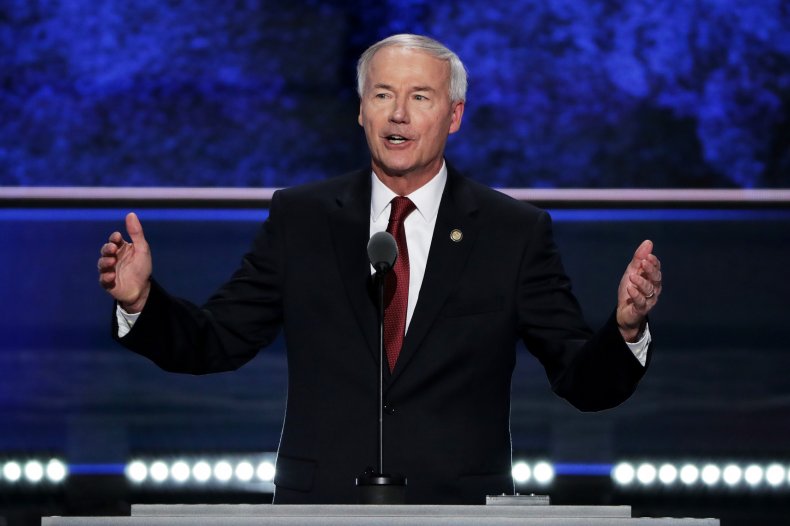 Illinois Republican Representative Adam Kinzinger was similarly hesitant to share his opinion about Greene's position in Congress Sunday morning. During an appearance on NBC's Meet the Press, Kinzinger said that Greene's election to the House was legitimately earned—echoing an earlier point from Hutchinson, who also acknowledged that Georgia voters chose her to represent them—but noted that he would "certainly" vote to remove her from the Education Committee.
Newsweek reached out to Hutchinson's office for further comment, but did not receive a reply in time for publication.