Armed Intruder Tries to Enter Pennsylvania Compound of Controversial Turkish Cleric Fethullah Gulen
A suspected armed intruder attempted to enter the Pennsylvania compound of controversial Turkish cleric Fethullah Gulen, Reuters reported.
Police were called after a security guard fired a warning shot at the individual trying to enter the facility's gate, Gulen media adviser Alp Aslandogan told Reuters.
"Just one shot was fired. The person disappeared. The incident is over as far as we're concerned," Aslandogan said. Nobody was injured and no arrests have been made, according to Reuters.
The cleric, who Turkish President Recep Tayyip Erdogan has accused of orchestrating a failed 2016 coup attempt, was inside his residence.
"His response was that the authorities should be informed and everybody should cooperate fully with the investigation to find out what happened," Aslandogan said.
Photos taken by local news reporters showed police cars outside the compound in Saylorsburg, which is in the Pocono Mountains.
Gulen was formerly an important ally to Erdogan. For decades before the attempted coup, he built up political support in Turkey through social programs that enabled him to wield prominent influence in the country's judiciary. His presence in Pennsylvania has contributed to strained ties between the U.S. and Turkey.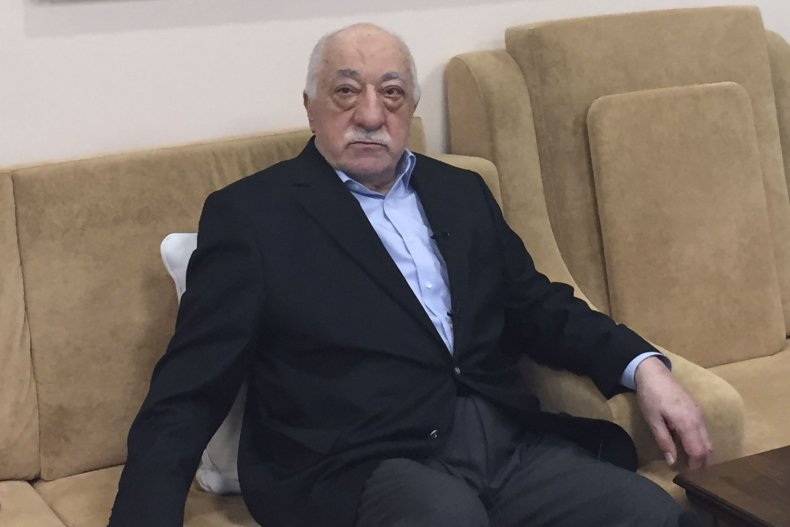 After the overthrow attempt, Erdogan ramped up requests to extradite Gulen.
"I call on the United States and President Barack Obama," the Turkish leader said the day after the overthrow attempt, according to The New York Times. "Dear Mr. President: I told you this before. Either arrest Fethullah Gulen or return him to Turkey. You didn't listen. I call on you again, after there was a coup attempt. Extradite this man in Pennsylvania to Turkey. If we are strategic partners or model partners, do what is necessary."
Gulen denied involvement in the coup, which killed more than 250 people and left another 2,000 injured.
The Turkish president has presided over a widespread crackdown of political opponents and alleged Gulenists since the coup. At least 160,000 people had been arrested and 170,000 public workers dismissed, Newsweek reported in July. He has consolidated control of power, curtailed the independence of the judiciary and cracked down on freedom of expression.
"These days you only have to have a bank account or study at a university with Gulen connections and the courts consider that you are a terrorist," Adnan Seker, a lawyer who was arrested for allegedly having ties to Gulen's movement -- a charge he denies -- told NBC News.