As Armenia and Azerbaijan Fight, Here's Where U.S., Russia, Turkey, Iran Stand
With Armenia and Azerbaijan engaged in their deadliest ethno-territorial dispute in years, major world powers are scrambling to respond to the burgeoning crisis in the Caucasus region that bridges Europe and Asia.
On Tuesday, both Turkey and Iran reportedly found themselves directly involved in the battle, while the U.S. and Russia remained closely engaged, calling for an immediate de-escalation.
The Armenia-Azerbaijan conflict is rooted in a century of bloodshed that first erupted in the brief period of the neighboring countries' independence after the collapse of the Russian Empire and before the rise of the Soviet Union in the final years of the Ottoman Empire during World War I. It has erupted once again almost exactly 100 years later, escalating rapidly and dangerously in recent days. Both sides are already claiming to have inflicted dozens of casualties, while accusing the other of targeting civilians.
At the heart of this conflict is a disputed territory known as Nagorno-Karabakh. The 1,700- square-mile stretch of territory is internationally recognized as part of Azerbaijan, but is mostly ruled by the ethnic Armenian-run separatist government of the Arstakh Republic.
Armenia and Azerbaijan fought their worst conflict yet amid the collapse of the Soviet Union in the late 1980s and early 1990s, but their dispute rekindled with exchanges of fire in April of 2016 and July of this year. Efforts to keep the peace in the months came to no avail as the rivalry ignited again over the weekend, this time threatening to devolve into all-out war.
Such a conflict has the potential to drag in Russia and Turkey, which back Armenia and Azerbaijan, respectively, as well as neighboring Iran, which shares cultural and religious ties to Azerbaijan but has traditionally been closer to Armenia. Meanwhile, the U.S. eyes yet another border spat abroad, testing Washington's traditional global leadership just weeks ahead of a divisive national election at home.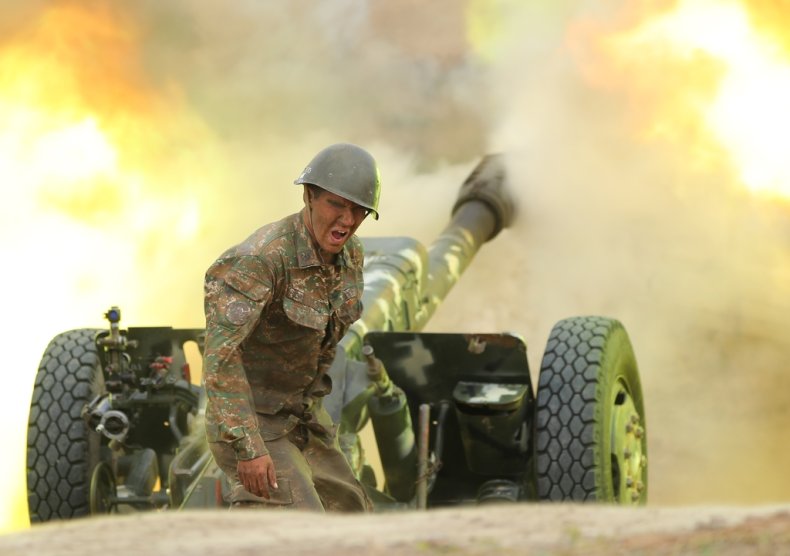 Russia
Russia has kept up close ties with Armenia since the fall of the Soviet Union, with Moscow and Yerevan both being members of the Collective Security Treaty Organization (CSTO). Azerbaijan was also once part of the mutual defense pact, but left in 1999.
Still, Moscow and Baku also have strong relations and Azerbaijani representatives even observed the joint Caucasus 2020 exercises involving Russia along with Armenia, Belarus, China, Iran, Myanmar and Pakistan just days before the latest fighting broke out.
Led by Russian President Vladimir Putin for the past two decades, Russia has sought to reclaim former spheres of influence both near and afar. While the U.S. and partnered Western countries have attempted to block Russia in Eastern Europe, it was another rival NATO alliance member, Turkey, that has stepped up its presence in Syria and Libya.
Russia has so far succeeded in avoiding major state-versus-state violence in these other theaters, but Armenian ambassador to Moscow Vardan Toganyan told a Moscow radio station on Monday that Yerevan was prepared to formally request military support from its ally if necessary.
Turkey
Armenia accused Turkey of already getting involved in the vicious flare-up by shooting down an Armenian Su-25 with an F-16 guiding Azerbaijani attacks. Turkish President Recep Tayyip Erdogan's office has denied the charge.
Turkey has also denied mounting reports that it was diverting Sunni Muslim insurgents it sponsors against the Russia-backed government in Syria to majority-Shiite Muslim Azerbaijan to battle mostly Christian Armenian forces and Artsakh separatists, though Ankara has vowed to back Baku against what it called "the biggest threat to peace in the region." Turkish drones are currently operating on behalf of Azerbaijani forces in the conflict.
Turkey and Armenia's troubled history date back to the late Ottoman era, when authorities of modern-day Turkey targeted Armenians and other ethnic minorities during and after World War I in an ethnic cleansing campaign seen by many countries as a genocide. Use of the term to describe these events has divided the international community, but Turkey and its top oil supplier Azerbaijan are the only two countries to outright reject such a classification of what occurred.
Despite their multi-regional feud, Turkey and Russia have also worked together in attempting to broker peace in Libya and Syria. Turkey has also purchased Russia's advanced S-400 surface-to-air missile system, the next generation of the S-300 fielded by Armenia.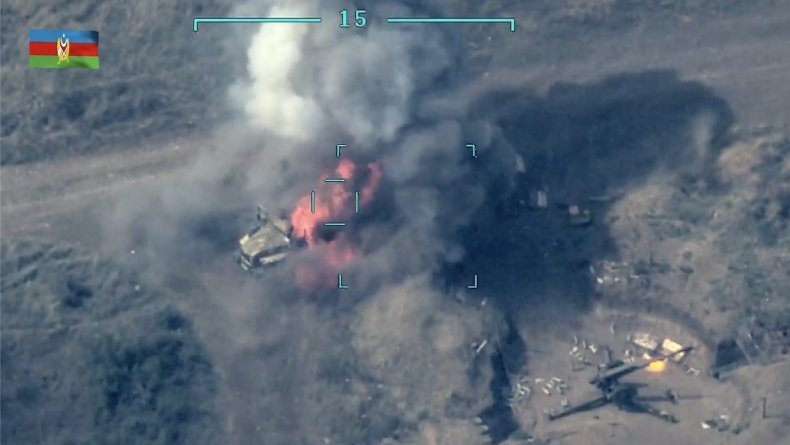 Iran
Footage circulating across social media on Tuesday also placed Iran in the heat of the conflict, as an unconfirmed clip allegedly shows Iranian air defenses downing an Azerbaijani drone that strayed into the airspace of the Islamic Republic.
Though both Iran and Azerbaijan host Shiite Muslim majorities, the latter has warm ties with Iran's archfoe, Israel, the region's only majority-Jewish state. Iran also is home to a potentially larger population of ethnic Azeris than Azerbaijan itself and is wary of separatist movements looking to split from the central government in Tehran.
At the same time, Iran has grown notably close to Armenia. Earlier this month, Tehran's embassy in Baku denied social media reports that Iranian trucks were transferring Russian arms to Moscow's ally in the Caucasus. Iran also enjoyed positive relations with Turkey, another non-Arab Middle Eastern power with growing influence.
Iranian officials have offered to mediate between the two belligerent forces as they have alongside fellow pro-government Russia and pro-opposition Turkey.
United States
The U.S., which enjoys good relations with both Armenia and Azerbaijan, has also offered its support in rebuilding peace as part of the Organization for Security and Co-operation in Europe's (OSCE) Minsk Group it co-chairs with France and Russia. Other permanent members include Turkey, as well as Armenia and Azerbaijan, and Belarus, Finland, Germany, Italy and Sweden.
Both the U.S. and Turkey are members of NATO, but Washington has been reluctant to back Ankara's endeavors in countries like Libya and especially in Syria, where Turkish-led incursions target local Pentagon-backed Kurdish forces. These actions have earned Ankara bipartisan rebuke by Washington lawmakers.
But with President Donald Trump entering a tight race with rival Vice President Joe Biden, much of the administration's recent messaging has focused on domestic moves. Foreign policy mentions have been largely confined to rhetorical attacks on China and Iran, the U.S. leader's two top designated foes.
Ahead of the first presidential debate scheduled to air Tuesday evening, Biden tweeted that Trump "needs to call the leaders of Armenia and Azerbaijan immediately to de-escalate the situation, and that he "also demand others — like Turkey — stay out of this conflict."
This article has been updated to reflect that modern-day Armenia and Azerbaijan were under Russian Empire rule in the period before declaring independence, warring and eventually joining the Soviet Union.