Fears of 'Large-Scale War' after Dozens More Reported Killed In Nagorno-Karabakh Clashes
Fears are growing that a flare-up between Azerbaijan and Armenia over the Nagorno-Karabakh region could descend into a full-scale war, including the possibility of intervention by regional powers, Russia and Turkey.
The South Caucasus neighbors have accused the other of launching attacks outside of Nagorno-Karabakh, a contested enclave within Azerbaijan but with a predominantly Armenian population, which has been the scene of bloody conflict and a tense ceasefire since the break-up of the Soviet Union.
"Intense battles continued along the entire front line," Azerbaijan's Defense Ministry said in a statement, referring to the so-called Line of Contact that separates Armenian and Azerbaijani forces, Radio Free Europe reported.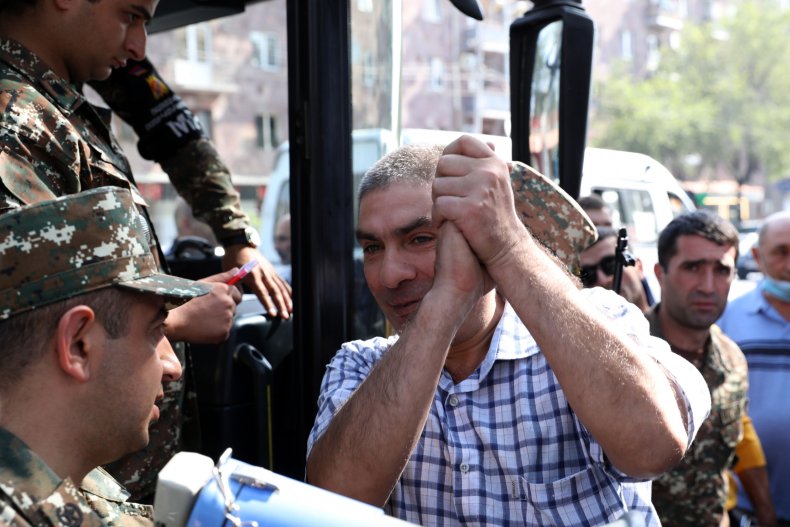 After a day in which both sides blamed each other for attacks that reportedly killed and injured dozens of people, Yerevan said a civilian was killed after Azerbaijani armed forces opened fire on an Armenian military unit in the border town of Vardenis, according to the Armenian Unified Infocenter.
Baku had accused Armenia of shelling the Dashkasan region which is north of Nagorno-Karabakh, which the Armenian foreign ministry denied. Armenia declared martial law on Sunday after it accused Azerbaijan of carrying out air and artillery attacks on Nagorno-Karabakh.
Amid conflicting accounts of the death toll, Nagorno-Karabakh officials said on Monday 26 more of their troops were killed, bringing their total military casualties to 84. The overall death toll has now reached 95, with 11 civilians among the dead, according to Deutsche Welle.
"We are one step from a very large-scale war taking place in this region," Olesya Vartanyan, senior analyst for the South Caucasus region at the International Crisis Group told Newsweek.
The highland territory has been a tinder box for decades. The region and seven adjacent districts of Azerbaijan were seized by Armenian-backed separatists who declared independence and a conflict over it between 1988 and 1994 killed at least 30,000 people.
After a Russian-brokered truce, hostilities broke out between the countries in April 2016 in what was known as the "four-day war."
However, in a sign of deteriorating ties between Baku and Yerevan this year, Azerbaijan threatened to target Armenia's nuclear power plant in July. This came after both sides accused the other of shelling military positions in the Tavush region in northeast Armenia and the Tovuz district in Azerbaijan, which are about 190 miles away from Nagorno-Karabakh. That dispute saw Turkey ramp up its previous support of Baku over the disputed region.
"Turkey is definitely a wild card in any escalation because on the one hand we see the Turkish leadership say they will support Azerbaijan through all means, but no one really understands what that means. Is it only political support through statements? Will they continue sending weaponry, or will we see something more like Turkish intervention?" Vartanyan said.
This could prove tricky for Moscow as an arbiter in the region and whose interests include wanting to retain influence in Azerbaijan, the biggest country in the South Caucasus.
On Tuesday, Kremlin spokesman Dmitry Peskov said: "We call on all countries, especially our partners, such as Turkey, to do everything to convince the opposing sides to cease fire and return to a peaceful settlement of this long-standing conflict by political and diplomatic means," Tass reported.
Vartanyan said the mountainous terrain in the north of Nagorno-Karabakh where Azerbaijan is targeting "is extremely difficult to fight in" and could see its forces lose troops and military vehicles, which could mean the conflict would spiral.
"The more Azerbaijan tries to get into the territory itself, the more casualties they will have. The more sides lose, the more difficult it will be to broker a ceasefire as has happened before. The more civilian casualties the more difficult it is to reach a ceasefire. It also increases the potential for intervention by one of the regional powers," she added.
On Tuesday, Germany joined France and the U.K in calling for the end of hostilities and negotiations through the Minsk process of the Organization for Security and Cooperation in Europe (OSCE).
When contacted for comment, the OSCE referred Newsweek to a statement it made on Sunday before the latest casualties in which it said "we strongly condemn the use of force and regret the senseless loss of life, including civilians.
"The co-chairs appeal to the sides to cease hostilities immediately and to resume negotiations to find a sustainable resolution of the conflict," the statement added.
Meanwhile, President Donald Trump said on Monday: "We're looking at it very strongly.... We have a lot of good relationships in that area. We'll see if we can stop it."