Armenia Wants Iran's Help, Azerbaijan Says US, Russia, France Not Doing Enough to End Conflict
Armenia is seeking Iran's support in pressuring Azerbaijan, while Azerbaijan also appreciates the Islamic Republic's diplomatic overtures. Both believe that international guarantors France, Russia and the United States are not doing enough to end the conflict in the South Caucasus region.
With no signs of Armenia and Azerbaijan's battle over the territory of Nagorno-Karabakh abating, Iranian Foreign Minister Mohammad Javad Zarif proposed in a call Friday with Azerbaijani counterpart Jeyhun Bayramov the establishment of tripartite talks involving Iran, Russia and Turkey to help resolve the conflict.
Such a mechanism would complement the existing process led by the Organization for Security and Cooperation in Europe's Minsk Group co-chairs France, Russia and the U.S.
In comments delivered to Newsweek, Armenian ambassador to the U.S. Varuzhan Nersesyan responded to the Iranian offer.
"We value Iran's balanced approach and efforts towards the peaceful solution of the Nagorno Karabakh conflict, which has been ongoing since 1991," Nersesyan said. "Iran is a neighboring country to Armenia and Azerbaijan, and it shares its borders with the Republic of Artsakh."
The self-proclaimed Artsakh Republic is a separatist state composed largely of ethnic Armenians in Nagorno-Karabakh territory internationally recognized as part of Azerbaijan, which seeks to reassert control over the area. Azerbaijan is backed by Turkey, another neighboring power with historically poor ties to Armenia, which sees a role for Tehran in helping to alleviate the pressure from Baku and Ankara.
"In regard to negotiations that could bring about an end to aggression in the region, I think Iran has the capacity and could use its leverages to restrain Azerbaijan and urge Turkey not to add fuel to fire in Nagorno Karabakh," Nersesyan told Newsweek.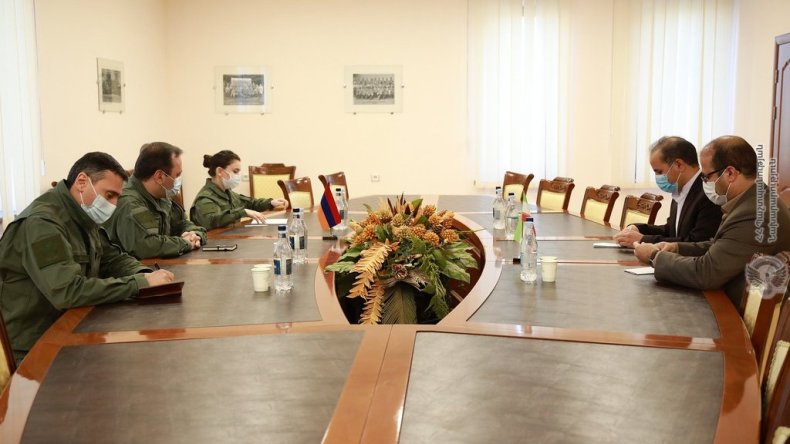 Baku's own envoy in Washington previously responded to the Iranian offer on Friday, also welcoming Tehran's offer while expressing disappointment over the Minsk Group's efforts.
"Azerbaijan appreciates every offer to help with reaching the much needed peace in our region," Azerbaijani ambassador to the U.S. Elin Suleymanov told Newsweek at the time. "At the same time, for the last 28 years the OSCE Minsk Group has been engaged in mediating between. Unfortunately, there has been very little progress as a result of these talks."
The Minsk Group has repeatedly expressed concern over dueling accusations of civilians being targeted and called for an immediate ceasefire.
Russian President Vladimir Putin and French President Emmanuel Macron also discussed the matter in a phone call on Tuesday. U.S. Secretary of State Mike Pompeo was also reportedly set to soon meet separately with the top diplomats of Armenia and Azerbaijan.
Suleymanov said Azerbaijan was willing to resume U.N. Security Council resolution negotiations within the Minsk Group framework "as soon as possible" and accused Armenia of "delaying and avoiding the peace talks as well as rejecting the basic principles" recently elaborated by the nine-member group that also includes Belarus, Finland, Germany, Italy, Sweden and Turkey.
To improve talks, Baku would like to see more representation outside co-chairs Paris, Moscow and Washington.
"We also believe that the negotiation process should be more inclusive within the Minsk Group itself as well and with more active involvement of all Minsk Group members, including Germany and Turkey, among others," Suleymanov told Newsweek.
When it comes to Turkey, however, his Armenian counterpart said there was little room for participation due to the country's close alignment with Azerbaijan.
"The only possible solution should be based on mutual compromises between all parties - Armenia, Nagorno-Karabakh and Azerbaijan," Nersesyan told Newsweek. "Regarding Turkey's participation in the peace process, the best that Turkey can do to stay out of this process, because of its biased approach to this conflict."
He accused Ankara of exacerbating the conflict rather than helping to resolve it.
"As we see during this recent war, Turkey is the only country supporting Azerbaijan's aggression by providing military arsenals and deploying foreign terrorist fighters in the conflict," Nersesyan said. "Turkey's participation is unacceptable for us, as it tries to destabilize this fragile region."
The Turkish embassy in Washington has previously expressed its support for Azerbaijan in comments sent to Newsweek.
"Turkey stands shoulder to shoulder with Azerbaijan in the face of the latest aggression of Armenia," Ankara's embassy said last month. "This is not only due to the close cultural and historical relations between our countries, but also a necessity to emphasize the principle of respecting the basic international principle of territorial integrity."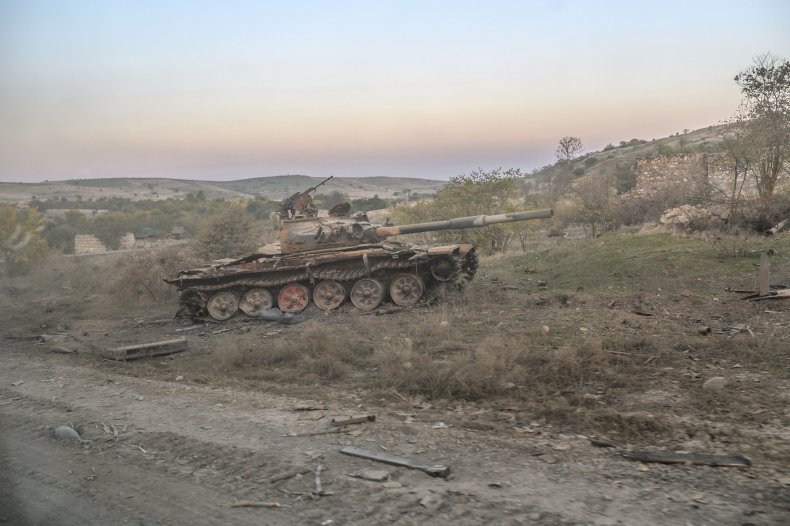 Iran too has officially sided with fellow Shiite Muslim Azerbaijan in calling for the withdrawal of mostly Christian Armenian forces from Nagorno-Karabakh. In addition to religious ties, Iran also has an ethnic Azeri population that rivals that of neighboring Azerbaijan itself and separatist groups within Iran staged rallies in support of Baku, raising fears of unrest from authorities in Tehran.
Iran has also denied Azerbaijani accusations that the country has facilitated arms transfers from Russia to its ally Armenia, while Azerbaijaini officials have repeatedly denied allegations from Iran, Russia and international media reporting on the use of Turkey-backed rebel fighters from Syria in Nagorno-Karabakh.
Tehran and Moscow have actively supported efforts to battle opposition forces in Syria through their shared support of the government in Damascus as part of a conflict in which they already coordinate with Ankara. Now, however, both countries have expressed concern that these insurgents could be deployed closer to their borders.
For Iran, the conflict has already spilled over.
Numerous reports have emerged of stray Azerbaijani drones and Armenian shells falling into Iranian territory, frustrating Iranian diplomatic and military officials who have issued warnings that retaliatory measures would be taken in response to such incidents.
"Maintaining security and peace of Iranian citizens living in border areas is the redline of the country's armed forces," Iranian Foreign Ministry spokesperson Saeed Khatibzadeh said in a statement Friday, "and if the shelling is repeated, Islamic Republic of Iran will not remain indifferent in this respect."
That same day, Iranian military attaché Colonel Bahman Sadeghin brought his country's concerns to Armenia in a meeting with Armenian Defense Ministry's General Department of Defense Policy and International Cooperation chief Levon Ayvazyan.
The Armenian side blamed Azerbaijani forces for purposely congregating near the border with Iran, and a relayed message said "the Artsakh Defense Army reserves the right to carry out devastating strikes against the Azerbaijani armed forces in this area."
Iranian ambassador to Azerbaijan Abbas Mousavi also went on Azerbaijani television to discuss the conflict on Saturday. The following day, he emphasized Iran would place its own interests first in determining its position on Nagorno-Karabakh.
"Iran's foreign policy is not determined in Washington, London, Beijing, Baku, Yerevan, Moscow or Ankara, rather we decide on national interests and national security with independence and authority in Tehran," Mousavi tweeted. "The psychological and media warfare of governments, regimes, or "special circles" has no bearing on what should or should not be done."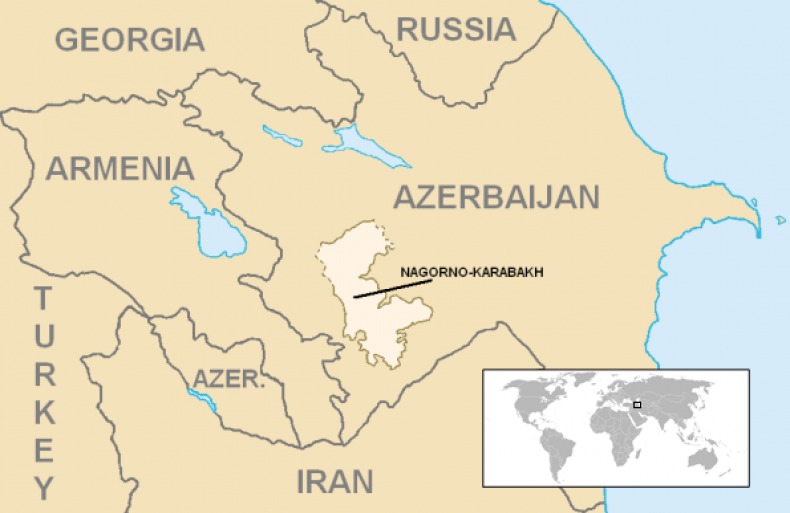 Also on Sunday, a decade-long arms embargo imposed by the United Nations on Iran expired as per a nuclear deal struck in 2015 by Iran and the United States, alongside China, France, Germany, Russia and the United Kingdom. Washington has since abandoned the deal and imposed sweeping unilateral sanctions on Tehran, while the remaining parties continue to support the agreement.
Defying warnings from the U.S. and Israel, which already sells arms to Azerbaijan, Iranian mission to the United Nations spokesperson Alireza Miryousefi recently told Newsweek his country was prepared to resume buying and selling weapons among its "many friends and trading partners."
He also said his country had a "robust domestic arms industry to ensure its defense requirements against foreign aggression."
The Iranian military was set to showcase some of its equipment Wednesday in a massive aerial and anti-air defense drill.
"Complete security is established in the northwestern borders of the country by air and land, especially in the borders of the Nagorno-Karabakh conflict zone," Iranian Army Northwestern Zone Air Defense commander Brigadier General Abbas Azimi told reporters.
That same day, however, Iran's official Islamic Republic News Agency reported on yet another drone falling near the Gara Goch village in Khoda Afarin county of Iran's East Azerbaijan province. The news coincided with an intensification of fighting just across the border, raising the stakes for Iran as the conflict next door raged with no end in sight.