What Armie Hammer Has Said About Cannibal DMs As Actor Drops Out of Movie
Armie Hammer has responded to the recent social media controversy surrounding alleged leaked DMs, calling the messages "bullshit."
The Call Me By Your Name actor has subsequently dropped out of an upcoming film he was due to star in amid the media frenzy surrounding the messages, which were reportedly written by Hammer and detailed disturbing sexual and cannibalistic fantasies.
In a statement released to Deadline, the 34-year-old referred to the controversy as "vicious and spurious online attacks" against him.
"I'm not responding to these bullshit claims but in light of the vicious and spurious online attacks against me, I cannot in good conscience now leave my children for 4 months to shoot a film in the Dominican Republic. Lionsgate is supporting me in this and I'm grateful to them for that," he said.
Newsweek has reached out to Hammer's representatives for comment.
The film in question is Shotgun Wedding starring Jennifer Lopez. A spokesperson for the production company confirmed that Hammer will be recast.
Directed by Jason Moore of Pitch Perfect fame, Shotgun Wedding follows a couple as they gather their families for a destination wedding, only for the whole wedding party to be taken hostage.
Hammer was lined up to play the role of Tom, one half of the doomed bridal couple.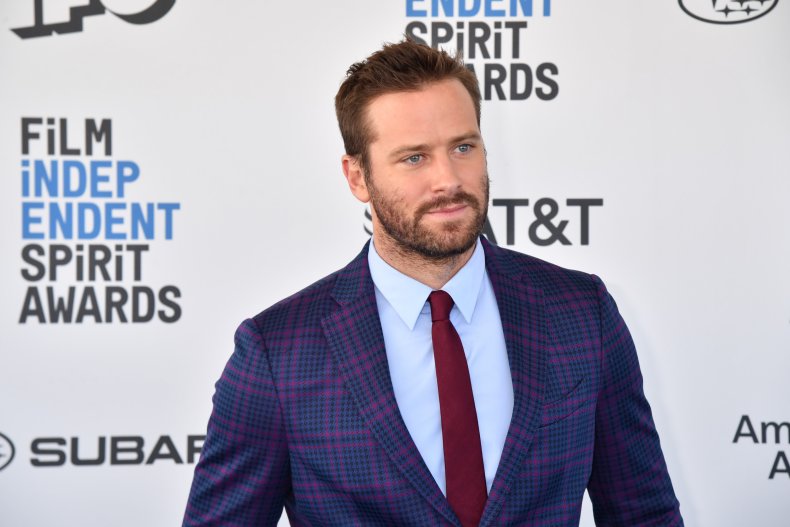 "Given the imminent start date of Shotgun Wedding, Armie has requested to step away from the film and we support him in his decision," per Deadline.
According to Page Six, the DMs were leaked by an anonymous social media account called House of Effie. The messages include graphic accounts of sex acts and cannibalism. One message reads: "I am 100 percent a cannibal." In another exchange, the user says: "I need to drink your blood."
The messages have not been verified.
Earlier this week, the DMs began circulating on Twitter, sparking jokes, disbelief and derision from Twitter users, leading to Hammer's name trending worldwide.
The Rebecca star previously made headlines in 2017 after he liked a series of tweets about BDSM and bondage.
Hammer and his wife Elizabeth Chambers, split in July after 10 years of marriage. They are parents to two children, daughter Harper, six, and son Ford, three.
They released a joint statement announcing their divorce at the time.
"Thirteen years as best friends, soulmates, partners and then parents. It has been an incredible journey, but together, we've decided to turn the page and move on from our marriage," the statement read said. "As we enter into this next chapter, our children and relationship as co-parents and dear friends will remain our priority."
"We understand this news lends itself to public dialogue, but in the interest of our children and our family, we're asking for privacy, compassion and love during this time."