The U.S. Army has awarded an $855 million contract to pharmaceutical company AstraZeneca for the "manufacture, distribution and storage" of the monoclonal antibody combination treatment known as Evusheld.
The drug, designed to help those with allergies or immune systems that respond poorly to vaccines, was granted emergency authorization by the Food and Drug Administration (FDA) in December and has been in short supply since.
The new agreement is for 1 million doses of Evusheld in total, including the 500,000 announced last month, bringing the total number of doses ordered by the U.S. government to 1.7 million, AstraZeneca said in a statement issued to Newsweek. The contract will be completed through work in "various locations," with an estimated completion date of March 31, 2023, according to the Department of Defense (DOD).
As Newsweek previously reported, Evusheld was approved in December to treat patients with conditions that prevent their immune system from providing an adequate response to COVID vaccines, or those who can't be vaccinated because of an allergic reaction to an initial dose of the COVID vaccine or individual components of the shot.
"With continued cases of COVID-19 across the U.S. and in the wake of the Omicron variant, there remains a critical need to provide additional protection to immunocompromised patients who are most vulnerable to the virus," Executive Vice President and President of AstraZeneca's BioPharmaceuticals Business Unit Ruud Dobber said in the statement. "We are proud to continue playing a leading role in the fight against COVID-19 with Evusheld."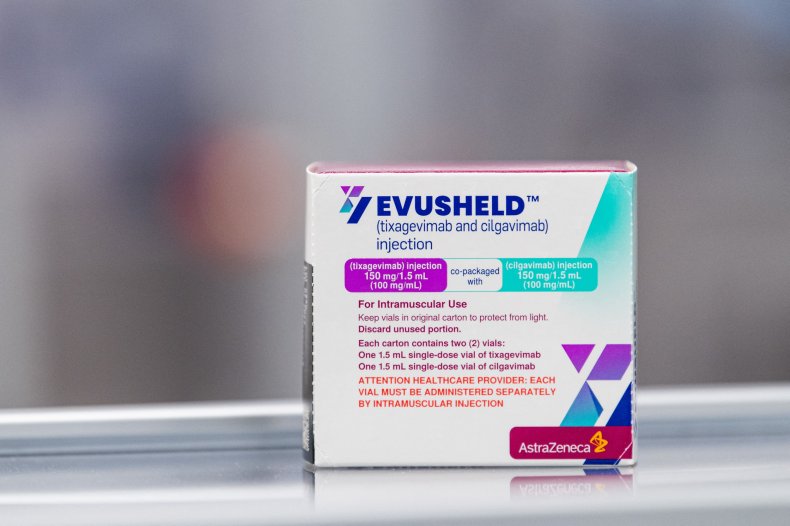 Clinical trials have shown the drug to be about 77 percent effective—and 83 percent effective in the high-risk category it was originally approved for—in preventing a COVID infection, and provided protection for about six months.
"In the Biden Administration, our approach to COVID-19 therapeutics has been to view it like filling a medicine cabinet—we are not relying on one type, or one brand, or treatment—and we have ensured that we invest in and buy a broad variety across monoclonal antibodies, pre-exposure prevention therapies, and oral antiviral pills," a Health and Human Services spokesperson said in a statement to Newsweek.
"Consistent with what the White House announced last month, HHS has completed an order for more doses of a key pre-exposure prevention therapy made by AstraZeneca which, in addition to vaccination, is an important tool for keeping immunocompromised individuals safe from COVID-19...HHS is providing this therapy to all states free of charge to make available for immune-compromised Americans."
Evusheld is given in two injections administered in succession and delivers antibodies directly into one's immune system, rather than a traditional vaccine that causes an immune system to develop its own antibodies to fight off future COVID infection.
People with a weakened immune system due to a genetic condition or diseases like cancer are examples of people who may receive a COVID vaccine but not produce the immune system response necessary to create antibodies, Newsweek previously reported.
As of last month, the federal government, which controls the distribution of the doses of the treatment already purchased, distributed about 400,000 doses and ordered 1.2 million in total, according to NPR.
A Department of Health and Human Services (DHHS) spokesperson previously told Newsweek that there are an estimated 7 million people across the U.S. who could qualify for use of the drug because they are immunocompromised.
Health officials have said that Evusheld should not be treated as an alternative to a vaccine for everyone and its intended use was only to provide it to those with compromised immune systems or other medical reasons why a vaccine was not an adequate option.
The low supply has led some health care facilities to put the names of qualified patients into a "lottery" to decide who would receive the scarce doses, NPR reported.
Update 02/14/22, 6:12 p.m. ET: This article has been updated with a statement from the Department of Health and Human Services.
Update 02/11/22, 7:25 p.m. ET: This article has been updated with a statement from AstraZeneca.
Update 02/11/22, 6:40 p.m. ET: This article has been updated with additional context and information on Evusheld.
About the writer
A 2020 graduate of Kent State University with a Bachelor's degree in Journalism, Aaron has worked as an assigning editor and reporter for KSU's student-run newspaper The Kent Stater, as well as a News Intern with WKSU Public Radio, Kent State's local NPR affiliate.