Arnold Schwarzenegger Urges Trump to 'Dial Down Donald' and Become More Presidential After 'Un-american' Attacks on Congresswomen
Former action hero Arnold Schwarzenegger has taken a new swipe at President Donald Trump, describing his tweets about four minority congresswomen as "un-American".
Schwarzenegger is one of the few prominent Republicans to publicly criticize Trump. He issued a new broadside, after the president said progressive Democratic congresswomen should leave the country.
Without mentioning them by name, Trump's tweets aimed at Reps. Ilhan Omar (D-Minn.), Rashida Tlaib (D-Mich.), Ayanna Pressley (D-Mass.) and Alexandria Ocasio-Cortez (D-N.Y.) stated how they should "go back and help fix the totally broken and crime infested places from which they came."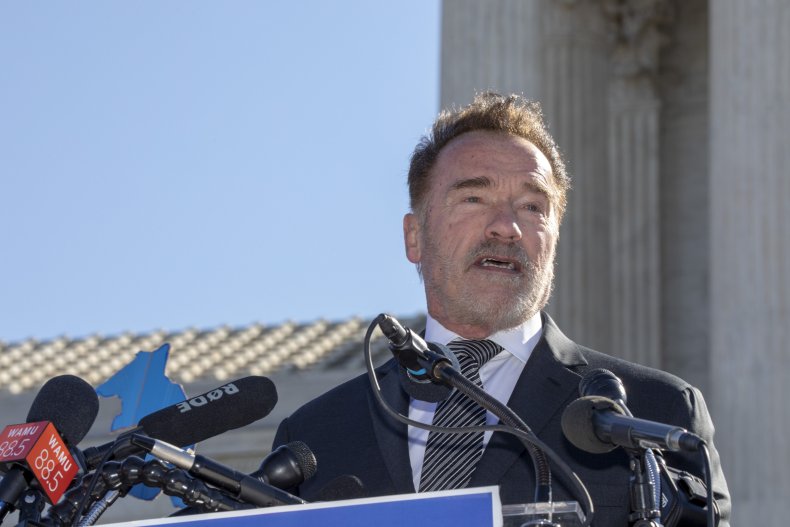 But in an email to Politico: Schwarzenegger joined the chorus of disapproval, saying of Trump: "I'm disappointed in this weekend's untrue, unfair, and un-American attack.
"It is hateful, it is crude, and it is divisive. America has always been about where you are going, not where you come from.
"That's what drew me and millions of other proud, contributing Americans to the greatest country in the world to realize our dreams."
He said that Trump should spend more time dissecting policies than resorting to personal attacks, which were the refuge of those who "can't articulate or understand what is wrong with the policy."
"President Trump, if you stood in the Rose Garden and broke down their policies for an hour, the country wouldn't be having this conversation right now. At some point, you have to dial down Donald and dial up President Trump.
"I know it isn't easy, but the job you hold is bigger than you. It is bigger than any man or woman.
"The American people put great trust in you to serve, and it is time to rise to their trust instead of dragging them down and tearing them apart."
The message by the former governor of California appeared to show he thought Trump could redeem himself. It was more positive than some of the comments he has made in the past about the president.
Last week, after Trump told reporters that Schwarzenegger had "died", referring to the failure of his hosting the TV show The Apprentice, the former California governor tweeted: "I'm still here. Want to compare tax returns?"
Last July, Schwarzenegger mocked the president in a Twitter video, soon after Trump met with his Russian counterpart Vladimir Putin, which he described "as embarrassing," adding that "you stood there like a little wet noodle, like a little fanboy."
The four congresswomen, known as "The Squad" urged Americans "not to take the bait" of Trump's tweets, which they described as "blatantly racist."