After Donald Trump Declared Arnold Schwarzenegger 'Died' the 'Terminator' Star Said 'I'm Still Here. Want to Compare Tax Returns?'
Much like the character in The Terminator, it's hard to keep Arnold Schwarzenegger down. So when the former governor of California found out that President Donald Trump said he had "died," it reignited a long-running feud.
Yahoo's White House Correspondent, Hunter Walker, tweeted that Trump had said at a social media summit: "Arnold Schwarzenegger ... You know what? He died ... I was there."
But rumors of Schwarzenegger's demise had been greatly exaggerated and The Terminator star replied, "I'm still here. Want to compare tax returns?" referring to Trump's refusal to hand over his financial records.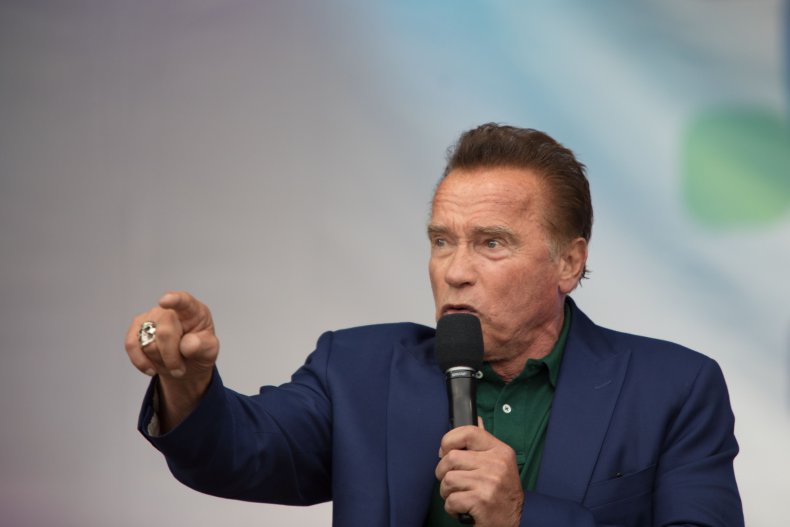 The reporter later clarified in a further tweet that Trump's comments were referring to Schwarzenegger's TV ratings after he took over in 2017 as host of the show The Celebrity Apprentice, The Sun reported.
NBC canned the show in 2015 after comments by Trump disparaging immigrants. It was then rebooted in 2017 with Schwarzenegger at the helm, but the new version failed.
Trump reportedly told reporters: "I gave them a top show when they were dying on NBC. But they don't like me too much. They wanted a big extension."
"They used Arnold Schwarzenegger instead. Big movie star. You know what? He died. He died. I was there 12 years, 14 seasons and then they pick a movie actor and he dies on us," The Independent reported.
Trump continues to face questions over his refusal to publish his financial statements. In May, The New York Times reported that he lost so much money in the 1980s and 1990s, an estimated $1.7 billion, that he paid no income tax for eight years.
Schwarzenegger has been vocal in his criticism of Trump, such as when he condemned his fiscal 2020 budget proposal to cut domestic spending on education and environmental protection to make way for tax reforms.
"Why give it to the rich folks and take it away from the poor little kids? It doesn't make any sense," he said in the video he posted on YouTube.
Last July, Schwarzenegger mocked the president in a Twitter video, soon after Trump met with Russian President Vladimir Putin.
"Your press conference with President Putin was embarrassing. You stood there like a little wet noodle, like a little fan boy," the former governor said. "I was asking myself when you are going to ask him for an autograph or a selfie or something like that."
He then slammed Trump for refusing to denounce Russian meddling in the 2016 election saying: "What happened to the strong words and the strength of Ronald Reagan when he stood there at the Berlin Wall and said 'Mr. Gorbachev, tear down this wall?' What happened to all that?"