Around 30,000 NHS Staff off Work Due To COVID Across England
Around 30,000 National Health Service (NHS) staff, including many nurses and doctors working in England's health service are currently off work due to COVID-19.
Chief executive of NHS England Sir Simon Stevens told a press conference at 10 Downing Street that the spread of the virus in the community impacts health workers as much as it does anyone else.
Asked how he was going to make sure the health service was able to provide care during the winter months when hospitals are historically overstretched, he said: "We are going to make sure we've got as many nurses able to work as we can, where communities are impacted by the spread of the virus, that means staff are often affected or have to self-isolate.
"Right now we've got around 30,000 NHS staff who are off with coronavirus or having to self-isolate. So our success in controlling community transmission of COVID also is a force multiplier for what the NHS can provide in the form of care."
That number is an increase of 10,000 staff reported absent due to COVID at the start of October, when NHS England said 20,000 were off work due either sick with the virus or self-isolating, according to a report by the Independent.
Doctors and nurses working in NHS intensive care units have repeatedly warned of their fears of a lack of staff on COVID wards during the heath service's busiest period. Stevens was giving an update to the public alongside Britain's Prime Minister Boris Johnson, who confirmed a further 492 people in the U.K. have died of COVID in the last 24-hour period.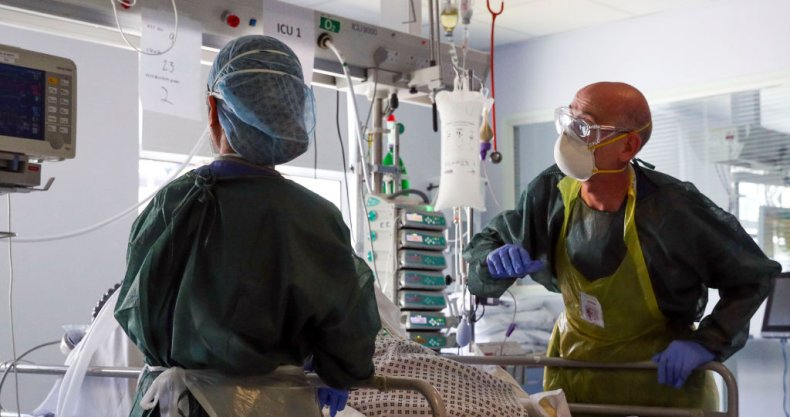 Johnson insisted that a month of lockdown across England - which came into force on Thursday - will be long enough to make a "real impact" on the spread of the virus. Experts have expressed doubts that four weeks of measures due to end on December 2 will be adequate amid fears that an extension or third national lockdown may be needed.
Johnson told the country: "There is light at the end of the tunnel" and said people could expect "as normal a Christmas as possible".
Stevens said that there are currently 11,000 COVID patients in hospitals, compared with 3,000 patients that would typically be hospitalized on any one day during a very bad winter flu season and about 7,000 patients who'd be in hospital being looked after for cancer.