What Happens When Hospitals Run Out of Beds for COVID Patients?
Hospitals across the globe are witnessing an increase in COVID patients as cases rapidly rise. Some doctors are warning they are already becoming overwhelmed, others are preparing for things to get much worse. What happens in hospitals when there is no capacity left? And is that really a risk in the COVID-19 second wave?
In the U.S., where new daily cases now exceed 60,000, hospitals are reporting hitting close to 95 percent capacity, with field hospitals on standby to provide overflow beds. Across Europe, where the number of new infections confirmed per capita surpassed those reported in the U.S., the second wave of cases is hitting countries that largely escaped being overwhelmed the first time around. One of Poland's largest hospitals has enough beds and ventilators to treat the surge of COVID-19 patients but it has started to run out of staff. France has put Paris and eight other cities under 9 pm to 6 am curfew to protect hospitals and intensive care units.
The British government has warned that hospitals in one of the U.K.'s most severely impacted regions - Manchester in north-west England - will run out of beds by November. Intensive care units are preparing overflow areas, with some hospitals rearranging layouts to give medics the best chance of fighting the virus in round two.
Nightingale hospitals, specially-built at the beginning of the pandemic as overflow intensive care centers to treat the illest patients, have been told to be ready to return to action in the fight against COVID once more. Manchester's Nightingale hospital is preparing to open as early as next week.
Dr. Rinesh Parmar, an intensive care doctor and chair of the Doctors' Association U.K. (DAUK), warned that the diminishing number of critical care beds isn't the biggest threat facing the country, but a crippling lack of staff.
"Nightingale hospitals are no use if there simply isn't any staff to fill them," he tells Newsweek. "Nurses and doctors are not being redeployed like they were in the first wave. There's no magic haul of staff waiting. When the first wave hit people from across the [National Health Service] NHS agreed to do what was needed. But intensive care patients need one-to-one care and that's what we won't have going into the second wave. Finding staff to man the Nightingale hospitals now is going to be incredibly difficult."
"We are being told that hospitals are falling into the traps of what happened in the first wave in not being prepared"
When COVID first hit in March, many routine operations and treatments were canceled as the NHS turned its attention to battling the pandemic. It was all hands on deck. The NHS lost around 600 frontline workers to the pandemic. Medical staff have been telling Dr. Parmar and the DAUK that they do not want to be redeployed to the COVID wards again because "it was just too harrowing and horrible the first time" and they feel like it's the same situation as last time.
"Doctors have been telling us for weeks that although August was a month where we were recovering from the first wave, we were rapidly facing the second wave and that, combined with a resurgence of seasonal flu, cases were starting to increase," Dr. Parmar says. "We are being told that hospitals are falling into the traps of what happened in the first wave in not being prepared."
NHS England is determined that routine treatments for other illnesses, including cancer and autoimmune diseases that stopped during the first wave, should carry on. It means that staff redeployed to fight COVID in the first wave won't be around to help battle the second surge - which is hitting just as winter ramps up.
But hospitals in England's Midlands have already started to postpone non-urgent surgeries due to a "dramatic rise" in coronavirus admissions. Nottingham NHS Trust CEO Tracy Taylor says there are now 200 patients with COVID-19 in hospitals in the city and "every day this is increasing by nearly another full ward of people". In Greater Manchester, Prime Minister Boris Johnson's spokesperson said that the "best-case" scenario would be for cases to double every two weeks, with all current ICU capacity taken up by November 8 - then surge capacity used up by November 12.
If that happens across the U.K. then there's no definitive answer as to what the solution is. In COVID-19's first wave of infections, patients living in Italy and France were treated in Germany and this sharing of cases could happen again. But with infection numbers in the second wave across Europe being more widespread, it could be more difficult both logistically and politically this time.
In the U.K., with non-urgent operations already being canceled, it is not impossible that doctors have to decide who to treat based on who is most likely to survive. If the issue really is staff, the government could attempt to draft in workers from countries like India and the Philippines, the two non-E.U. countries NHS staff are most likely to come from, but once again it is very difficult to manage both logistically and politically.
What happened when ICU beds ran out pre-pandemic? There must be some preparedness for the situation: "We would do what we could to make [a patient] stable and, where we are able to, transfer them by ambulance to another hospital. It's what we did in the first wave and that's one of the things we are already gearing up to do," Dr. Parmar says.
This is just one element of surge capacity, designed to deal with an unexpected wave of excess patients. Surge capacity is used by hospitals across the globe where a rapid influx of additional ICU patients can be catered for with strategies including reassigning staff, delaying elective procedures, putting beds closer together, and using regular beds for emergency use. But Dr. Parmar believes it might not be enough.
"Now, hospitals are looking at re-arranging the physical space within the hospital. Converting wards into ICU areas," he says. "But that spreads staff more thinly. You may be able to find spare space, and actual free beds, and even enough ventilators, but intensive care needs intensive care doctors and nurses. The gold standard is one nurse looking after one patient but now we have one nurse looking after many patients in ICU. We will offer the best care we can - but there are certainly things that are going to suffer."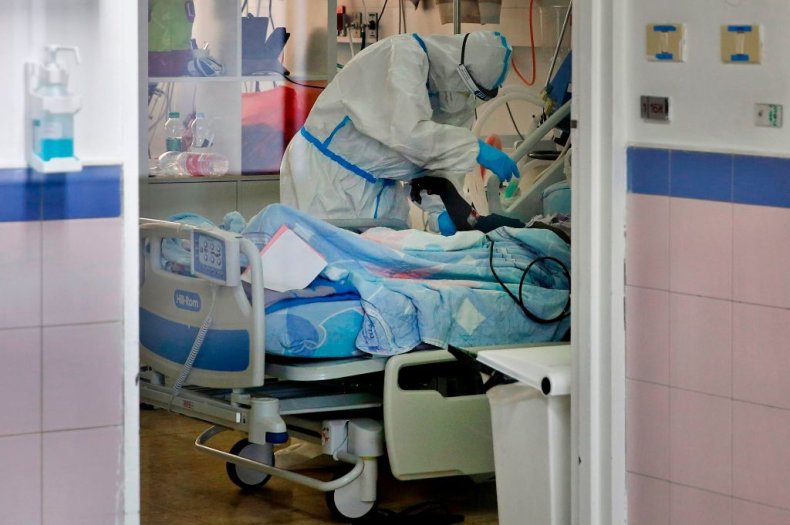 Paul Leeson, professor of cardiovascular medicine at the University of Oxford and a practicing doctor at the John Radcliffe Hospital in Oxford agrees that "over-capacity is the worry on everyone's minds". He was one of many specialists across the UK forced to stop treating his own patients and start focusing on those suffering from coronavirus. There was such an influx and so little knowledge of the virus in those early days that Leeson says "everything shut down on a major level". The same fears exist now but there is a difference. Doctors that face being overwhelmed by the second wave of patients clogging ICUs have one major advantage over COVID-19 - they've been here before.
"We are undoubtedly seeing a rise in COVID patients coming into hospitals," Leeson says. "That has very much been a part of the talks we are having in how we would cope over the winter. We are also very aware that it is only October, it is pretty early on and we still have six months of an increase in capacity to go. But what we have now that we did not have in the first wave is data that has allowed us to make changes over time to monitor how the increase in patients is impacting practice. We are better prepared."
Dr. Parmar agrees to an extent. "From a clinical point of view, we learned a lot in the first wave. This was an unknown virus at the beginning of the year," he says. "What we are not better at is the organization and planning to keep services going while COVID cases rise."
Prof. Leeson believes that the regional differences in infection rates as the second wave hits could be the key to ensuring that hospitals survive. The latest data shows that although London initially had the largest spike in COVID-19 cases in early April, northern England has had the highest sustained rates of coronavirus infection ever since.
"We believe we can be more nuanced in our approach to the crisis," Leeson says. "In the first wave, we know everything shut down on a major level. Now we know there are regional patterns to infection rates and to ICU capacity and it is possible we could transfer patients from areas with high COVID infection to areas where cases are lower, which is what we saw with the first wave with Italy moving coronavirus patients to Germany for treatment."
But if hospital surge capacity is reached across an entire region, doctors warn they will have to choose who to treat. "We are very used to making difficult decisions but these decisions have become more frequent," Dr. Parmar says. "We are really having to decide who will be most likely to survive - who is admitted to ICU and who isn't. We will treat those who aren't ventilated as best we can but they will know it is not the highest care they are getting. We hope that in those situations, it will be enough."
The NHS does not have verified statistics on ICU capacity but admitted different hospital trusts do offer mutual aid to ensure capacity across the region where it is required. The latest NHS data shows that in the 24 hours up to October 18, 276 people were admitted to hospital with COVID-19 in the North West, out of a total of 870 across England.*
An NHS England spokesperson said: "Coronavirus cases are rising and it is obviously a serious situation so it is vital everyone does what they can to control the virus, particularly by following government guidelines on 'hands-face-space'.
"Social distancing is our first line of defense, followed by the test-and-trace program, but if they fail to contain the spread of infection the NHS has put in place escalation plans which are in operation including asking Nightingale hospitals in the north, including in Manchester, to get ready to admit patients."
Doctors are skeptical about just how effective the U.K.'s test-and-trace program has been. It had a notoriously poor start out of the gate, with very few potential COVID sufferers being contacted, before people across the country claimed the system told them to travel to test centers hundreds of miles away.
The prime minister himself has admitted test-and-trace 'needs improvement' after figures revealed only one in seven people received test results within 24 hours, the lowest on record.*
"It's not working, it hasn't been working since the very beginning and we know we need it to reduce community spread and in turn reduce hospital admissions," Dr. Parmar says. "But we also need it to function for NHS staff. We just can't afford to lose anymore from the workforce, we really need staff to be able to get a test or it's going to cripple the NHS workforce over the winter.
"We will see people getting common colds and displaying many of the same symptoms of COVID and without a test, they will have no choice but to self-isolate. We just can't afford to lose them."
A government spokesperson tells Newsweek that NHS and social care staff continue to be prioritized for testing with £8.9 billion ($11.6 bn) going towards supporting capacity and services in the NHS under the "Winter Economic Plan" announced by the government.
"NHS staff with symptoms can access testing as a priority and staff in high-risk areas can access tests if they are asymptomatic," the spokesperson says. "We will continue to expand testing availability as our capacity continues to expand to 500,000 tests a day by the end of October.
"The decisive and extensive action we have taken, guided by scientific advice, has meant that the NHS was not overwhelmed even at the virus' peak and everyone was able to get the best possible care."
So what happens when hospitals run out of beds? Nurses and doctors will treat them where they can, staff will be redeployed, treatments may be delayed yet again and there will be physical changes to hospitals too.
Wards will be reassigned to deal with COVID patients, beds will be moved from regular wards to ICU wards and when there really is no room left, patients will be transferred by ambulance to Nightingale or other nearby hospitals.
Frontline NHS staff just hope it will all be enough the second time around.
*Study methodology and notes
1. The NHS combines hospital recorded data on admissions in the last 24 hours and diagnoses in the last 24 hours.
2. Latest test-and-trace performance statistics show less than 60% of close contacts being reached, missing the target of at least 80% of contacts being reached for the system to be effective. Just 33.4% of in-person swab test results were received the next day after the test was taken.