Arsène Wenger's Biographer Reflects on the Man He Knew and How Arsenal Has Changed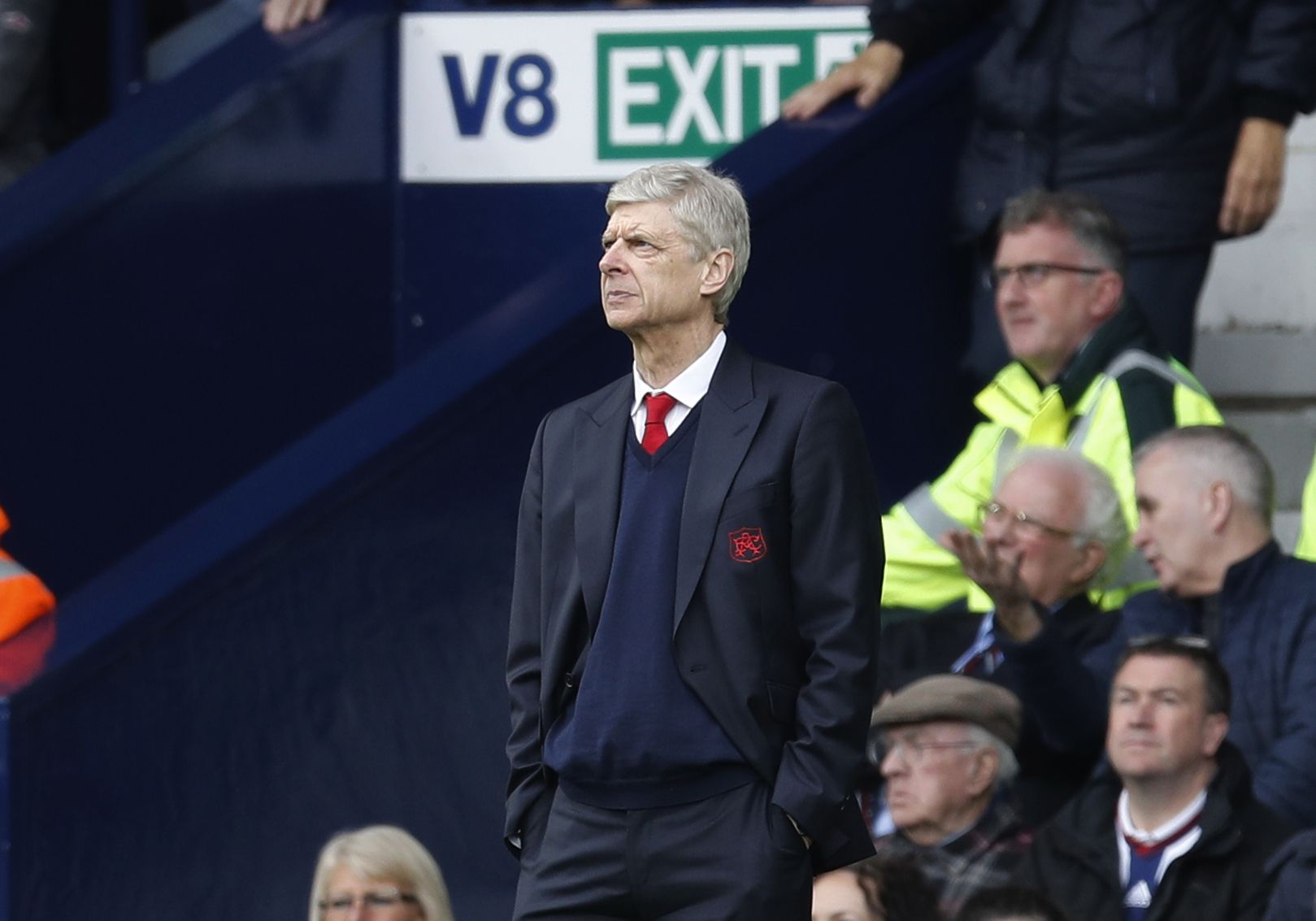 Through the 2016-17 English Premier League season, Arsène Wenger and Arsenal appear to have inhabited some kind of stasis, if not on the pitch then in the boardroom.
Wenger's contract at the club he has managed since 1996 runs out at the end of a season that has seen Arsenal eliminated from the UEFA Champions League at the last 16 stage for the seventh successive season. It has also struggled in the English Premier League and could yet miss out on a vital top-four finish.
Wenger seems likely to make the final decision on whether he stays or goes, leaving abstract observers and supporters alike in a semi-permanent state of wonderment.
Newsweek spoke to Xavier Rivoire, Wenger's authorized biographer, to gain an inkling into the character of a man who has retained a sense of mystery in the English media over more than two decades in the country.
How did the opportunity to profile Wenger come about, and what perception did you form of him over the writing process?
He's [Wenger] always been private even amongst French journalists. He has always been very aware of not exposing himself and not showing sides of himself that were not linked to football. He has a few friends amongst the French press and the French media. I don't include myself amongst those friends as that would be too pretentious and also I would have lost my impartiality and objectivity by being friends with Wenger. He is a very private man so he has few friends in this media world.
The very first time I actually spoke with Wenger was as a young journalist. I was working for [French sport daily] L'Equipe, [as a] correspondent in London then. And I got a call from Paris saying that Wenger was going to sign for the Arsenal. I didn't know Wenger then, I had never met him, I had never spoken with him but I managed to find his number in Japan. He was working in Nagoya then, head coach of [Nagoya] Grampus Eight. I got the number, I called him right away without thinking of the time it could be in Japan. It was pretty late or very early in the morning. When I introduced myself instead of hanging up, he said, "Well, yes, I will tell you a few things because it's football-related." He said something to me like, "The good news. The good news is going to be told soon," or something amongst those lines. "The news is going to be known in a few hours or a few days' time." So he did not deny the fact that he was going to sign for the Arsenal. I was calling him in the middle of the night and yet he answered the phone.
It is true to say, it's written in the book and he says it himself—he spends about 95 or 97 percent of the time thinking of football and being involved in this world. So football is the only world that Wenger has evolved in. And he has always been fascinated by the game. He was immersed in this football philosophy in Germany when he went to see the games, in Alsace, he used to play for Strasbourg. He has always been immersed in this world.
How did Wenger's cultural education in Alsace inform his managerial style?
I think he has got very strong Alsatian roots. He's very proud of the country and the region he comes from. Wenger comes from a very small village in the Alsace, Duttlenheim, so he has this provincial background, that's for sure. But there is still an openness about the place he comes from and about the man. He was close to Germany, not far from Switzerland, not too far away from Belgium. We see Alsace as being a very strong French province and he has all those cultural roots within himself. And being from a provincial village doesn't mean that you're not open to the world. On the contrary, people coming from small countries such as Belgium or the Netherlands are very open to the world. That's why they speak such good English. Same thing with Wenger.
His parents had a bar and a restaurant and a hotel, and yet even though he was very proud of being from there and of being anchored there, almost, and rooted there, he wanted to travel the world. He went to Nancy and Monaco as the head coach and then all the way to Japan. He has always been fascinated by English football and German football. He is a true European being open to the world.
He does defend his soldiers as a general if you wish. He's quite stubborn and partial in the way he defends his players. I remember so many incidents where it was a penalty or there should have been a penalty against the Arsenal and he kept on saying, "I didn't see anything, my players didn't do anything wrong." He does have this mentality of protecting his troops and his soldiers.
The book was published in English almost a decade ago, around what was quite a successful time for Arsenal compared with now. Why does the club appear to have stalled on the pitch since then?
It comes from the structure of the club itself, and from the man himself. I have always said, I have the greatest respect for Wenger and in many ways I admire the man and the football coach. But I did say some ten years ago that he should have gone. You mentioned 2006, 2007 and 2008. I wrote the book in French over ten years ago and we wanted to celebrate the length of time he had spent at the club and the fidelité as we say in French. But I did say then that he should have gone at that time because he was asked by Real Madrid and Bayern Munich. They were calling for him and he did decide to stay because he wanted to finish off the job.
But it's a never-ending story and I think he should have gone a long time ago, almost at the peak. He had succeeded in many, many ways. I think he decided to stay because he didn't want [to leave] the youngsters he had bred. He wanted to be in this stadium [Emirates Stadium] he had almost built himself and created himself. He stayed also because he wanted to win more trophies. Especially the Champions League. I think the turning point is probably the Champions League final back in 2006 when they lose [to Barcelona]. And when [Robert] Pires is taken off the pitch, even though he was the best winger at the time, probably, in the world. It was almost as if the attacking game that Wenger had created, the whole philosophy, was gone. They lost the final and then they didn't win anything major since, they haven't won anything major since. An FA Cup is a great trophy but it's not as big as a league, for instance. A league title or a Champions League.
Then there is another turning point in 2011. They lose the League Cup final to Birmingham City and then Wenger should have realized maybe that his time was gone. He had given his absolute best to the club and won all the things he could. And I think he should have gone then, he should have said yes to Bayern Munich or Real Madrid. And I feel sad because I have seen the club over the last ten years not winning anything major, losing at times the very, I wouldn't say the heart but maybe the soul he had instilled in this club. You have to remember that Arsenal was just an amazing club in the late 1990s. What he [Wenger] achieved, the kind of football they played, especially the Invincibles season. It was almost a buildup from 1996 to 2006. He could not have done better than what he did at the time with the Invincibles.
Obviously it is too late to rewrite history and I think the structure of the club did not help either. Because he had changed things so dramatically at the club that even with the new owners [American businessman Stan Kroenke took a controlling stake in Arsenal in April 2011] they didn't dare sack him. They didn't dare say, "It's time to go." They wanted to remain grateful and faithful to the manager he had been. But it's very difficult in life when you are successful to leave at the very top.
But Arsenal doesn't appear to be getting any closer to the Champions League you say Wenger craves. Does he retain faith that his current approach can bring him more success?
I don't know. I could not answer for Wenger, obviously I have too much respect for him and I would not elaborate on something I have no clue about. What I know is that the success of the Arsenal of the late 1990s and then all the way until 2006 was built on a very solid British base, with continental and world additions that were installed in the team.
He has only kept the youth of the team without keeping the British spirit. What made Arsenal so great when they won the title in 1998 was the back four, the back five with [David] Seaman. But the Nigel Winterburns and Lee Dixons of this world actually made Arsenal. They had those very solid foundations, maybe not technically speaking but with this incredible heart and soul that belonged to Arsenal. And I think myself that Arsenal lost their soul the day they left Highbury. That's my view. I have always said there was a great nostalgia about Highbury, they should never have left. I hate those modern stadiums meaning nothing, just money, business and merchandising.
Wenger had this British foundation. In terms of the number of starters, in terms of the spirit they gave to the team. And little by little, you had fewer and fewer British men. The English players they would buy or they would grow were not maybe as engaged, they were not as linked to the club as the ones I just mentioned.
Are supporters still waiting for players like Theo Walcott to make the leap in the manner of someone like Ray Parlour?
Yes, exactly. Parlour and Ian Wright. [And] the Dutch players he had at the time, [Marc] Overmars and [Dennis] Bergkamp for instance, and the French players, we all know that [Thierry] Henry and [Patrick] Vieira and Pires and [Sylvain] Wiltord—those players had become British, almost British-based and born and bred because of the spirit given by [Tony] Adams and Parlour. And then they left and they were never replaced and I don't think those almost father-like figures, you should get rid of. You should always find a replacement. Paolo Maldini, Francesco Totti, those guys made AC Milan and AS Roma. And Arsenal, they haven't had this kind of totem figure for too long now. With how brilliant and talented young players can be, they will never replace those big-hearted players with a fighting spirit. And the French players at the time were playing as British players. That's why I loved them. Emmanuel Petit to me was the epitome of this. This ponytailed warrior just running around and fighting until the very last second. And it has been missing at the Arsenal for far too long.
I think I have to ask you the ultimate question and cliffhanger—will Wenger leave at the end of this season?
Yet again it's difficult for me to answer in the name of Wenger. But it doesn't seem like Wenger is going to go on his own. I think he has almost made up his mind that he wanted to remain faithful to the Arsenal almost until death. He wanted to be the Alex Ferguson of Arsenal but Ferguson left, remember he left and also he left on a high.
I don't like Ferguson myself, I don't like the man, I think Wenger has so many great human qualities. But when I see Wenger now with his white hair, he still has—I compare him to an Alberto Giacometti statue at the start of the book. He has the same type of profile and silhouette but he has aged and you can see that. He has more wrinkles, his forehead is all wrinkles, it's like Giacometti's bronze figure.
To me Wenger will always remain this very sober and distant man. But in the sunshine of Highbury, in the middle of the pitch, when they won the title back in 1998. This is the Wenger I want to remember. This is not the Wenger with a raincoat losing at Birmingham or at West Brom. Or fighting against José Mourinho. I don't want to have this image of him. Because I like him so much. I want to keep the memory of Wenger in the sunshine, surrounded by his warriors in the late 1990s.
Only he knows what the future is made of. Only he can write his own stories. I wouldn't dare say anything about what he has to do or what he should do or should not do. But what I am telling you as a man and as a football lover, is that to me Arsenal has become different. It is like another club since they left Highbury. And part of the soul and heart of Wenger was probably left behind then, when they left. They moved from a British, passionate, open club playing brilliant football to an empty shell made for football business and merchandising. And probably part of Wenger's heart stayed there, back at Highbury.
Arsène Wenger: The Biography (2007) is published by Aurum Press