A statue of the Virgin Mary that graced the grounds outside the Basilica of the National Shrine of the Immaculate Conception in northeast Washington, D.C., was beloved by worshippers for its beauty—until vandals struck.
On the night of December 5, someone cut off the statue's nose and hands, along with the cross atop her crown. Her defacement was the 113th such attack on Catholic property across the United States in the past 20 months and part of a rising rate of vandalism against Catholic churches that may be unprecedented in American history.
In a pattern of violence usually experienced only by synagogues—for which property desecration has been a fact of life for decades—churches are now being hit.
For the attack to happen just days before the Feast of the Immaculate Conception was "disconcerting," said Aaron Weldon, program specialist on the Committee for Religious Liberty at the United States Conference of Catholic Bishops (USCCB).
"Our offices are right across the street from the National Shrine," he said. "The person would have had to enter a gate to get to the statue. There's video of it, and the guy came with a hammer and was hitting the face and hands."
In other words, this was no drive-by vandalism. It was aimed at Catholics.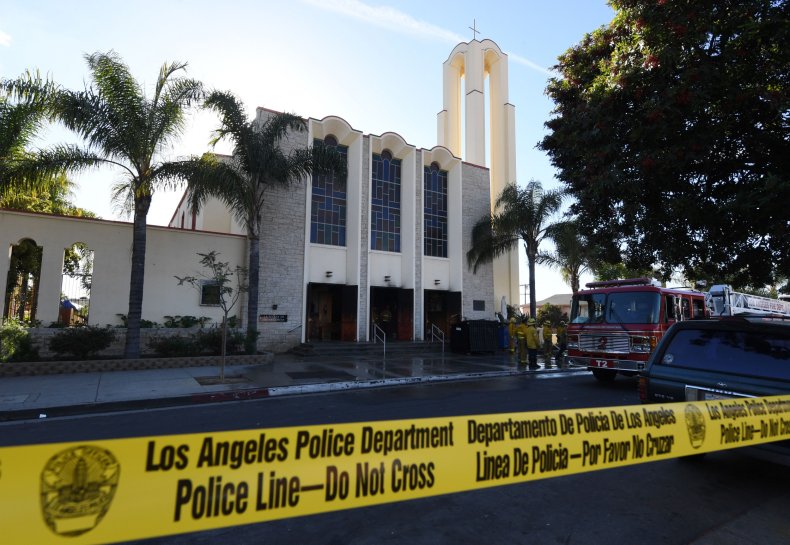 Attacks on church properties (arson; statues beheaded; limbs cut, smashed and painted; gravestones defaced with swastikas; satanic graffiti or anti-Catholic language) have been so pronounced in recent years that the USCCB began tracking them in May 2020.
In 2019, before the societal breakdown that happened with the start of the pandemic and the Black Lives Matter riots in the first half of 2020, 37 cases of vandalism or arson on Catholic property were reported to the FBI, according to the National Catholic Register. This was about the same amount as anti-Muslim vandalism (31 cases) but minuscule compared with antisemitic vandalism (684 cases).
All this changed in May 2020, when demonstrators protesting the death of George Floyd went after Catholic churches, such as Our Lady of Mount Lebanon–St. Peter Cathedral in Los Angeles, defacing it with graffiti that said, "Make America pay for its crimes against black lives." They also tore down statues of St. Junípero Serra.
During an orgy of violence in the second week of July, multiple Catholic sites across the country were hit, including an arson-related fire that destroyed much of the interior of the 249-year-old Mission San Gabriel Arcángel in San Gabriel, California. In October, protestors pulled down and defaced a statue of Serra at the nearby Mission San Rafael Arcángel, a move that infuriated San Francisco Archbishop Salvatore Cordileone, who called for the perpetrators to be punished to deter others from defacing Catholic property.
Reasons for the vandalism are varied, but at root is a rising animus against religion or, as the Reverend Thomas Reese suggests, a frustration with how Catholic officials have behaved in recent decades.
"I find the vandalism against Catholic churches very sad," said Reese, a Jesuit and a senior analyst for Religion News Service. "While I agree that it should be condemned, I think that most of it comes from people angry against church leaders because of [what] they have said or done about sex abuse, LGBTQ issues, women and Indians.
"What we have here is not so much anti-Catholicism as anti-clericalism. They don't hate Catholics; they hate the bishops. Note that little or none of this hatred is aimed at the Catholic president or the pope," Reese said.
Even if vandals were upset with Pope Francis, the Vatican is thousands of miles away.
"After the bishops spent millions of dollars fighting gay marriage and after they fire gay teachers at Catholic schools, it is no surprise gays are not happy with them," Reese said.
"After they spent millions of dollars fighting abortion, it is not surprising that feminists are not happy with them," he went on. "After they failed to protect children, it is not surprising that both Catholics and non-Catholics are mad at them. After they cooperated with the U.S. government in suppressing Indigenous culture, it is not surprising Native Americans are unhappy with them."
Some worry that increased vandalism of a religious group unused to such treatment is the first sign of a society ripping apart at the seams. Before German Jews got shipped off to concentration camps, there was the infamous Kristallnacht on November 9-10, 1938, when Nazi thugs, aided by civilians, destroyed or ransacked some 7,000 Jewish-owned businesses, along with hospitals, schools, homes and synagogues.
"More than 40 of the incidents have involved statues with no message," Weldon said about some of the 2021 attacks. "Twenty or so have involved graffiti or spattered paint. In cases where there is a message, some were directed against the police. Some attack the Catholic Church's position on abortion—that's been the most common issue, especially in Colorado. Others have been related to the Church and Native Americans, Junípero Serra or Columbus Day."
Weldon was not expecting an uptick in damage to churches over the Christmas holiday, mainly because vandals, like everyone else, hate to be out in bad weather.
But as incidents increased throughout 2021, some have wondered why the mainstream media haven't jumped on the story.
"Where is the outrage?" wrote New York's Cardinal Timothy Dolan last May in his archdiocesan newspaper. "As I observed to the congregation at Temple Emanu-El at their Sabbath prayer last Friday, an attack on one is an attack on all. We preach love! Why do some hate us?"
Dolan was referring to the presence of a heckler during Mass at Our Lady of Mount Carmel on New York's Staten Island, who not only yelled obscenities but smashed two statues. Other incidents included graffiti appearing on the walls of St. Patrick's Cathedral in Manhattan.
Where are these attacks happening? Vandalism at Catholic churches seems to be concentrated in blue states, with above-average amounts in Washington state and California; New York state and various New England locations, along with oddities such as two in Fargo, North Dakota.
Weldon said the USCCB has been encouraging churches to apply for building security grants from the Federal Emergency Management Agency (FEMA) so they can install monitoring systems that would deter more vandalism.
"In 2020, we advocated for Congress to quadruple funding to go up to $360 million," he said. He added that when the FEMA program began in 2005, it was allocated only $25 million, which at the time seemed to be enough. "Before this happened to Catholic churches, Jewish groups have been dealing with this on a much bigger scale than we do."
The problem is, if anything, worse overseas. Although the world was jolted by the 2019 fire that engulfed Notre Dame Cathedral in Paris, what went under-reported were dozens of similar incidents across France.
In a May 2, 2019, report in the National Catholic Reporter, Nina Shea of the Hudson Institute wrote about a "relentless" series of attacks against hundreds of French churches over a four-year period that went unnoticed by French media and unpunished by French police.
In 2018, the average was two attacks per day on French churches, according to LibertePolitique.com, a French site.
"If the media and political treatment reserved for anti-Jewish or anti-Muslim desecration were fairly given to acts against Christians, Christians would all make the headlines," a March 2019 essay on the site said. "In 2018, the Ministry of the Interior recorded 541 anti-Semitic acts (with an increase of 74%), 100 anti-Muslim acts (the lowest level since 2010) and 1,063 anti-Christian acts.
"How to explain this silence? Why don't Christians enjoy the same media coverage, the same political support, the same national outrage?" the essay asked.
Things haven't improved with the coronavirus pandemic either. This spring, the Catholic News Agency reported that one religious building was being burned, destroyed or desecrated every two weeks in France.
One thing most U.S. Catholic churches have not had to endure has been the shootings that have plagued Protestant churches. There have been 19 fatal church shootings since the one at the Wedgewood Baptist Church in Fort Worth, Texas, in 1999, according to Lifeway Research. The deadliest was the 2017 rampage at the First Baptist Church of Sutherland Springs in Texas that killed 26. The same day that occurred, an estranged husband killed his wife and her boyfriend at a Catholic church in Fresno, California.
Lifeway's research of fatal church shootings overall shows a tendency toward red states, with the greatest amount being in Texas (four) and Georgia (three), and a range from New York state to Wisconsin to Kentucky to Idaho.
Although some U.S. mosques have been attacked with graffiti and arson, the numbers aren't as high, and there have not been fatalities, unlike what New Zealand has seen. In the spring of 2019, 51 Muslims died in an attack at a Christchurch mosque.
Nevertheless, this past spring, during the conflict in the Gaza Strip, the Council on American-Islamic Relations documented a spike in anti-Muslim hate crimes, including vandalism and an attempted stabbing.
The worst attack on Jews on American soil came in September 2018, when a man rushed into Pittsburgh's Tree of Life Synagogue and began shooting, killing 11 and injuring six more, including four police officers. The following year, shooters targeted Jews at synagogues in Poway, California, (killing one) and Miami (injuring one).
Since then, no one has died in attacks, perhaps because of the pandemic, but the most recent report from the Anti-Defamation League, which monitors antisemitism, recorded 2,100 acts of assault, harassment and vandalism in 2021, a 12 percent increase from 2020. These are the highest levels since the ADL began monitoring such incidents in 1979.
The public square has become more nasty and brutish, said Denver Archbishop Samuel Aquila last month in a Washington Post editorial after the Cathedral Basilica of the Immaculate Conception in Denver was defaced with swastikas and other graffiti. In the past 21 months, he added, 25 Catholic properties around the archdiocese had been vandalized, looted, set on fire or desecrated.
"Respectful conversation has given way to spiteful confrontation, and the long-standing attitude of live and let live is being replaced by live as I want you to live," Aquila wrote. "Where once people strove for change through the force of intellectual, moral and well-considered arguments, the go-to approach for many is now brute force."