Art Collective's Billionaire Popsicles Let People Literally 'Eat the Rich'
An art collective's new project has the internet talking as people can choose a popsicle shaped like one of several famous billionaires and literally "eat the rich."
MSCHF, an art collective behind viral products including Lil Nas X's "Satan Shoes" and the sword that Grimes carried at the 2021 Met Gala, is back with an "eat the rich" campaign where people can order a popsicle with a billionaire's face on it.
Customers can choose from Jeff Bezos (founder of Amazon and worth approximately $138 billion), Bill Gates (founder of Microsoft and worth approximately $133 billion), Elon Musk (founder of SpaceX and CEO of Tesla and worth approximately $233 billion), Mark Zuckerberg (founder of Facebook and worth approximately $62 billion) and Jack Ma (founder of the Alibaba Group and worth approximately $26 billion).
The popsicle's names include "Snack on Jack," "Bite Bezos," "Gobble Gates," "Suck Zuck" and "Munch Musk," according to Input, and are available out of MSCHF's own ice cream trucks that will be available in New York City and Los Angeles on July 11,12, and 13.
The New York City locations are Columbus Circle, McCarren Park and Washington Square Park. Los Angelinos can find the popsicles at thee Santa Monica Pier, The Grove and Hollywood Boulevard, will be available from 11 a.m. to 6 p.m. local time. The "Mschfsicle" popsicles are sold for $10 each. MSCHF also gave an allergy warning that the popsicles include milk and soy.
Newsweek reached out to MSCHF for comment.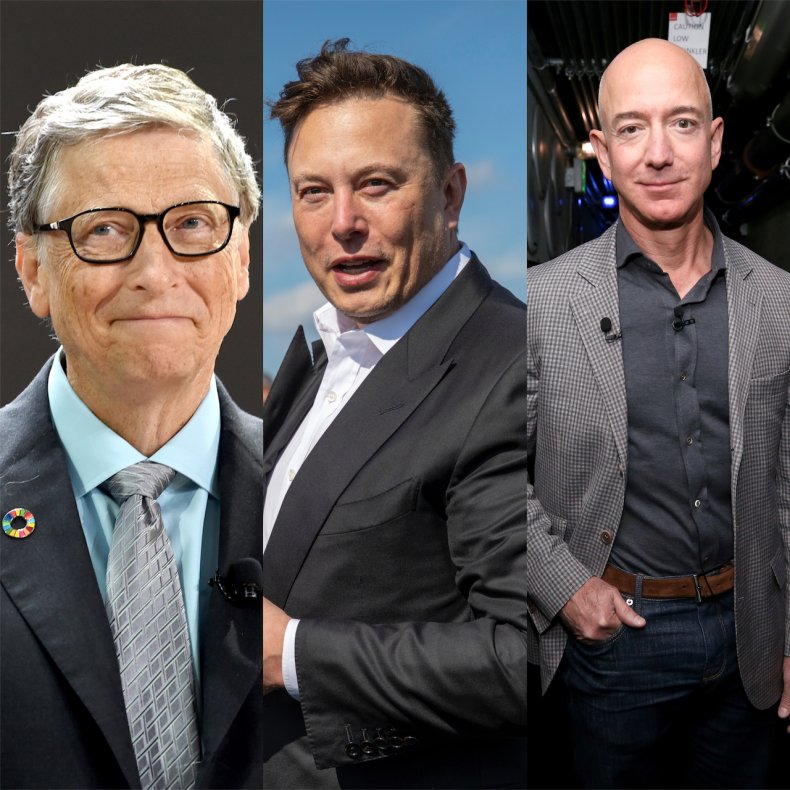 News of the "Mschfsicles" reached Reddit with a post to the r/WTF forum, reading "interesting options on this ice cream truck." The post has over 10,000 upvotes.
"I'm blown away by how much they made the image of the ice cream look like the person," u/el_LOU wrote.
"I think we are taking 'eat the rich' too literally," warned u/PiriPii.
"I like the knockoff 'popsicle' logo for 'Mschfsicle,'" u/thegreatmango said.
U/scot816 joked, "The ice-cream Zuck looks more human than the real Zuck."
"That gives 'eat the rich' a whole new meaning," u/RedFlaim exclaimed.
Many others commented on the price of the popsicles, u/drewhead118 commented, "For $10, it seems that the eating the rich shall be confined to the rich."
"Real wtf is the price," u/alternativealtacc wrote.
MSCHF's pranks and art projects have sometimes led to lawsuits. This year, MSCHF was sued by Vans when they released their "Wavy Baby" sneakers that looked similar to Vans' "Old Skool" sneakers. The shoe brand accused the art collective of copyright infringement. In a statement, MSCHF said the shoes were a form of "commentary" and it was protected under the first First Amendment, per footwearnews.com.
In 2021, following the release of Lil Nas X's "Satan Shoes," custom Nike Air Max 97 sneakers with a drop of human blood in the sole, Nike asked courts for MSCHF to "permanently stop" sending out orders as these shoes were "unauthorized" by Nike.
"We do not have a relationship with Lil Nas X or MSCHF. Nike did not design or release these shoes and we do not endorse them," Nike said in a statement to Newsweek last year.
Nike sued MSCHF for a trademark infringement as the Nike swoop was backward on the shoe. The art collective had to give refunds to people who bought the $1,000 shoes if they chose to return them. MSCHF also received a temporary restraining order against Nike.