Elon Musk's Partner Grimes Carried a Sword at the Met Gala: The Story Behind It
Experimental musician Grimes showed up to the Met Gala in New York City on Monday night carrying a head-turning accessory: A large, medieval-looking sword.
The sword has more of a story behind it than most accessories. It was made by MSCHF, the Brooklyn-based art collective who made headlines earlier this year with "Satan Shoes"—the notorious sneaker collaboration with rapper/singer Lil Nas X that featured a bronze pentagram and an inverted cross containing a drop of actual human blood.
On top of that, the sword was forged from a melted-down semi-automatic rifle.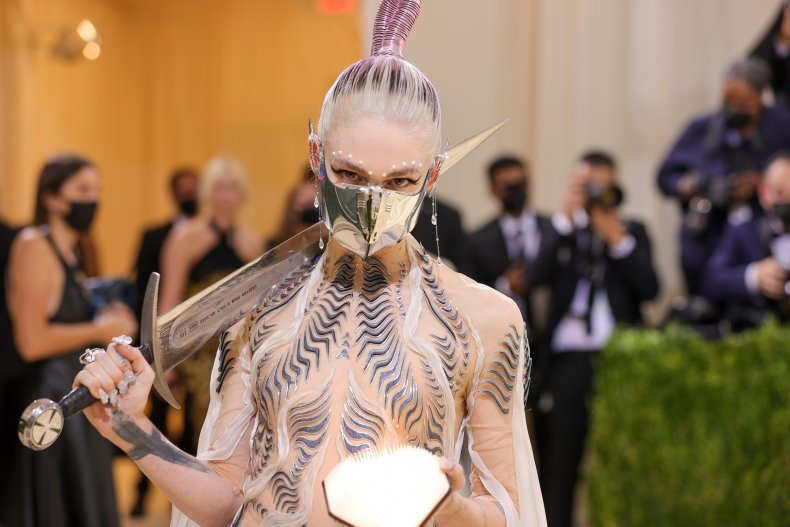 "Turning a gun into a sword is side-cycling, where the output is just as desirable, but no longer deleterious to society," MSCHF Chief Revenue Officer Daniel Greenberg told Newsweek via email. He added that "by turning guns into swords we are essentially preserving the symbolism of the object but making it significantly less deadly (and way more rad)."
At the very least, the swords should prove to be less controversial than the "Satan Shoes," which, along with angering conservatives, prompted a lawsuit from Nike since a line of their shoes were used without permission to make the limited-edition sneakers.
The MSCHF weapon completed a look for Grimes that featured numerous space-age chrome accessories, including a metal face mask, a crystal ring designed to resemble a space capsule and an anti-gravity ponytail.
Lil Nas X also appeared at the Met Gala wearing an armor theme, though his was gold and featured an oversized cape. The gala was held in celebration of the Costume Institute's newest exhibition, "In America: A Lexicon of Fashion," which opens to the public in the Anna Wintour Costume Center on September 18th. The theme was American style, which guests took on with various interpretations.
Grimes, the partner of the futuristic-minded Tesla CEO Elon Musk, told Vogue her outfit was inspired by the novel Dune, since its author (Frank Herbert) was American, as well as its upcoming film adaptation.
She said to Vogue that she and her stylist, Turner, "were working with the Dune movie people" for her to be "an influencer or something" to promote the film, but no official contracts were signed before the gala. Thus, her look was dubbed "Dune-esque."
The sword by MSCHF was made from a melted-down AR-15 rifle. It is part of the group's gun buyback project "Guns2Swords," which creates swords from destroyed firearms.
Anyone wanting their own MSCHF sword can send in a gun to the company, and they will melt it down and design it into a saber. MSCHF also offers the option of buying $5,000 swords made from guns.
Customers who opt to send in a gun is responsible for complying to local shipping regulations. As Greenberg noted, "We deal with the swords, you deal with the guns."
Interested parties will have to act fast, as MSCHF to closing the gun buyback portal at the end of the week.
"Because every case gets handled individually, our actual buyback and sword-making process will continue for a while after that, but we won't be taking new gun trade-in requests, only fielding ones that we already have," Greenberg told Newsweek.
Grimes' Met Gala sword is based on European sword from the 1400s that's actually in the Met's collection. She told Vogue that it was cast from Colt AR-15A3 by MSCHF, "who are getting people's [guns] who don't want to have their automatic rifles anymore, and are melting them down and making them perfect replicas of medieval swords, which I think is just so cool—I think it's a beautiful thing."
"Each sword is etched with the model name of the specific gun that went into it, but the swords produced through Guns2Swords are made to that same overall formal template that Grimes carried," Greenberg said.
Update (09/14/21, 5:55 p.m.): This story has been updated to include comments from MSCHF CRO Daniel Greenberg.