Donald Trump's Letter to Pelosi Is a 'Desperate Cry to Be Excused for Life of Lies and Hatred', Art of the Deal Co-author Says
The co-author of The Art of the Deal said President Donald Trump's open letter to House Speaker Nancy Pelosi was an "utterly desperate cry to be excused" as he faces a possible impeachment trial in the Senate.
Tony Schwartz, ghostwriter of the president's famous book and now a vocal critic of Trump, said the commander in chief wanted to be "excused for a life of lies and hatred" in a tweet Tuesday night.
The writer has previously said Trump's family "belong in prison" and told CNN he would rename The Art of the Deal memoir "The Sociopath" to better describe the subject.
"If you don't think Trump feels anything, read his letter to Nancy Pelosi," Schwartz said yesterday. "It's an utterly desperate cry to be excused for a life of lies and hatred—for being every bit as evil as he has always deeply if unconsciously believed himself to be."
Newsweek has contacted the White House for comment on Schwartz's remarks, but has not yet received a response.
The writer's latest criticism of his former subject and co-author came on the eve of a full House vote on the articles of impeachment brought against President Trump.
In an open letter to House Speaker Pelosi published Tuesday, President Trump claimed "more due process was afforded to those accused in the Salem Witch Trials," and called the impeachment process a "crusade" and "invalid."
"House Democrats are trying to impeach the duly elected President of the United States for asserting Constitutionally based privileges that have been asserted on a bipartisan basis by administrations of both political parties throughout our Nation's history," Trump wrote. "Under that standard, every American president would have been impeached many times over."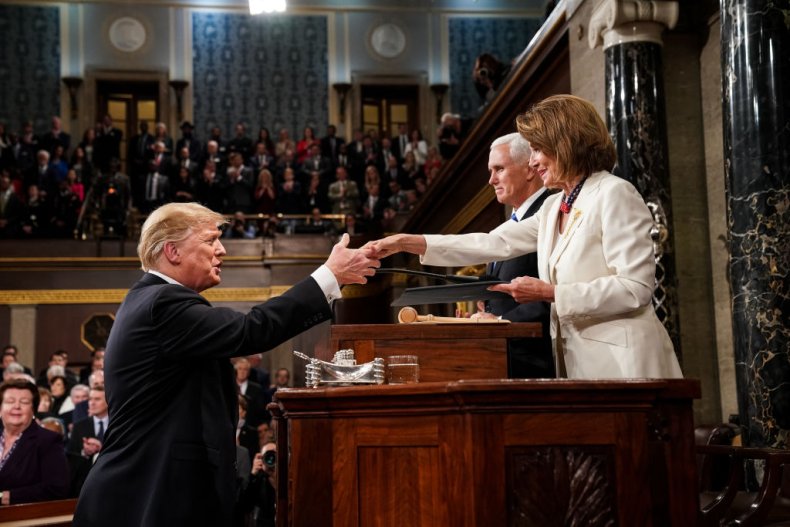 The president also accused Democrats of "subverting America's Democracy" and "bringing pain" to the country in its pursuit of impeachment and "partisan gain."
A six-hour debate and vote on the impeachment articles charging the commander-in-chief with obstruction of Congress and abuse of power is due to take place on Wednesday after the House Rules Committee agreed on a framework for the process Tuesday.
Politico reported that the debate will begin at 9 a.m. ET and end with voting between 6:30 p.m and 7:30 p.m. this evening. The chart below, provided by Statista, shows the level of support in the House for impeachment.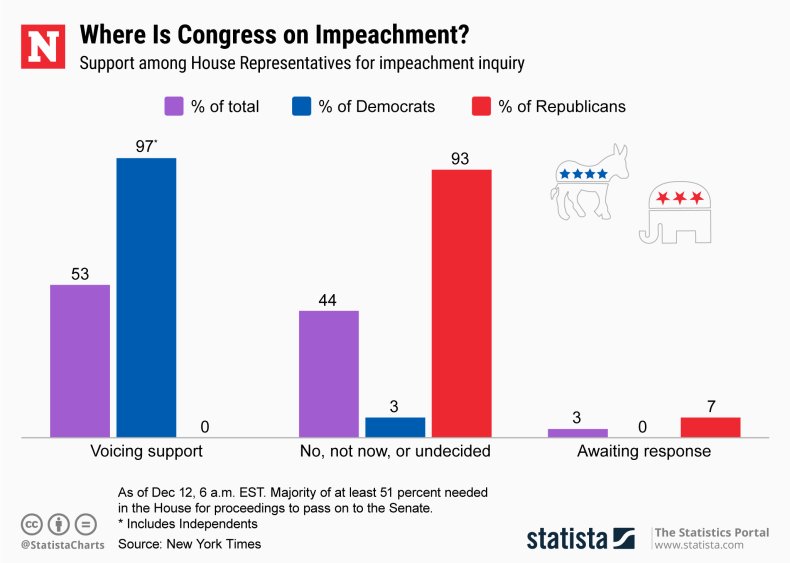 It is widely expected that the Democratic-controlled House will vote in favour of the articles of impeachment, making Trump only the third president in U.S. history to be impeached, following votes against former Presidents Andrew Johnson and Bill Clinton.
If a majority of representatives approve the articles of impeachment today, the Republican-controlled Senate will put President Trump on trial and vote on whether to convict or acquit him.