Art Teacher's Meager Budget for School Year Sparks Frustration: 'So Sad'
An art teacher shared the scant budget she was given to work with for the entire school year in a now-viral TikTok video, which led to viewers voicing their disappointment.
TikTok user @hcross93 posted the video on her account where it amassed 2 million views in which she revealed that she was allotted $50 to use for supplies for the upcoming school year.
A piece published by the American Academy of Arts and Sciences discussed the importance of supporting art education in public schools.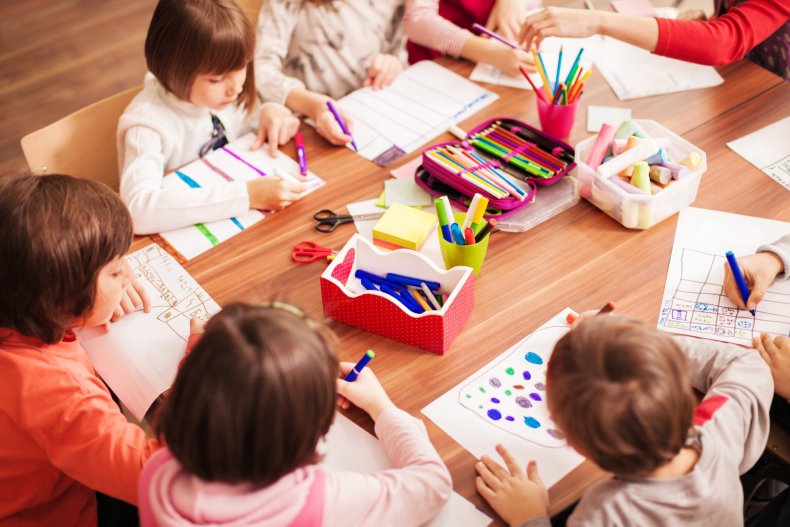 It pointed out that while the arts have been considered a "core academic subject," funding has continued to decline.
The organization recommended that elected leaders on all levels of government should ensure funding is adequate and equitable, support and develop arts educators and make the arts an important part of a child's education.
"You want to see something sad?" @hcross93 said at the start of her video. "I'm an art teacher, and this is my allotment for art supplies for my classroom for this year—$50."
Many viewers were shocked by the budget and took to the comments section to share their thoughts.
"That's just WRONG," a viewer wrote. "That breaks my heart for you and our kiddos!!"
"I wouldn't have a fulfilling life if it wasn't for art class," one viewer commented. "This is so sad."
"Make copies of that letter," another viewer commented. "A lot of them. And use it as a reply to any complaint you get throughout the year."
"I've been toying with going back to school for my dream career...being an art teacher," a comment read. "I just don't know now if I can do that."
Some viewers who said they worked as teachers said they could relate to what @hcross93 had to work with.
"We have a budget of $0 so I feel you," one viewer wrote. "I rely on scavenging and donations or using my own money."
"I worked in a low income school district, they gave me 0 budget," another said. "I used whatever leftovers the previous teacher had."
Others urged @hcross93 to avoid spending any of her own money on supplies.
In a second video, @hcross93 said she works as an art teacher for two schools. At the school she primarily teaches, she was given $350 to spend on supplies.
She explained that she works at the second school—where she was given a $50 allotment—on a four-day rotation.
When @hcross93 was given the $50 for the school year, she said she spent it on two stacks of colored paper.
"That was it, that's all I could afford," she said. "And, that's mainly what I use for Pre-K, that's what I was teaching at my second school."
Viewers offered to make a donation to @hcross93, and while she expressed her gratitude, she declined.
"My purpose for making the TikTok was to show people that might not be aware of the state of the arts in public education," @hcross93 said. "It's bad. It's always been bad, but right now, especially after COVID, the state of the economy right now, it's bad."
She said that she's made it through previous school years with little funding and has other resources that can help her, including her principal and the Parent Teacher Association.
"I will make it," @hcross93 said.
Newsweek reached out to @hcross93 for comment.
Another teacher posted a video on TikTok in which she told her students that it was her last day working with them because she was not earning a livable wage.
One teacher took to the platform to urge parents to discipline their "disrespectful" children.
A man said he quit teaching and went on to earn $20,000 more each year as a manager at Walmart.