Artemis Rocket Launch Postponed After Discovery of Engine Issue
The launch of NASA's Artemis 1 moon rocket will not take place Monday after a problem with the vessel's engine was discovered, delaying the launch that was set to take place this morning.
NASA made a formal announcement of the cancellation on its official Twitter account following a reported fuel leak affecting the historic spacecraft, which is part of NASA's plans to establish a sustainable presence on the lunar surface.
"The launch of #Artemis I is no longer happening today as teams work through an issue with an engine bleed," NASA said. "Teams will continue to gather data, and we will keep you posted on the timing of the next launch attempt."
The launch could take place next week, as NASA has launch windows set for September 2 and 5. Artemis 1 is considered a key mission for NASA, not only for exploration of the moon but also for future missions to Mars. NASA is planning to send a manned mission to the red planet in the early 2030s and is likely hoping to be the first space agency to do so.
On its live blog for the Artemis launch, NASA provided more detail about the postponement. "The launch director halted today's Artemis I launch attempt at approximately 8:34 a.m. EDT," the blog said.
It continued, "The Space Launch System rocket and Orion spacecraft remain in a safe and stable configuration. Launch controllers were continuing to evaluate why a bleed test to get the RS-25 engines on the bottom of the core stage to the proper temperature range for liftoff was not successful, and ran out of time in the two-hour launch window.
"Engineers are continuing to gather additional data," the blog added.
Contacted Monday for comment, NASA directed Newsweek to NASA Administrator Bill Nelson's remarks about the launch, which were broadcast after it was scrubbed.
"We don't launch until it's right," Nelson said. "And in fact they've got a problem with the gases going on, the engine bleed on one engine."
He went on, "I think it's illustrative that this is a very complicated machine, a very complicated system, and all those things have to work and you don't want to light the candle until it's ready to go."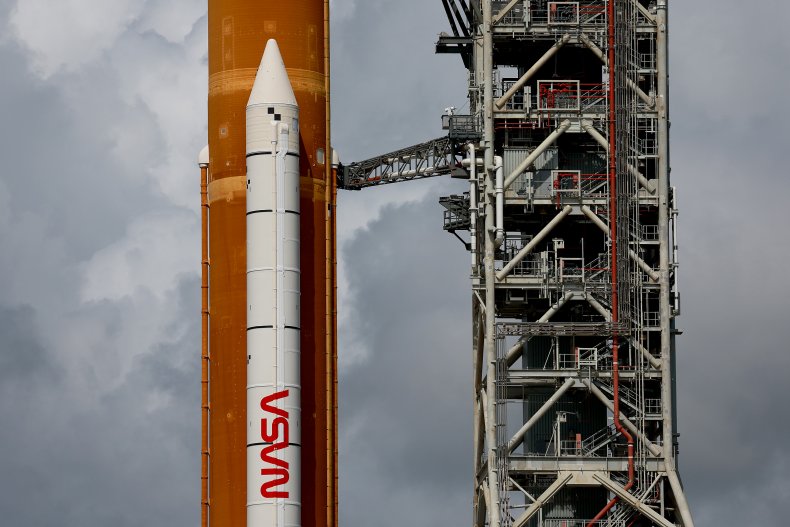 "A successful Artemis launch will be a curtain raiser for a new revolution in humanity's space exploration, with the moon being a gateway to Mars," Amrutur Anilkumar, a professor of mechanical and aerospace engineering at Vanderbilt University and director of the Vanderbilt Aerospace Design Laboratory, told Newsweek this week.
However, there is competition, particularly from China. Competing with the better-funded U.S. agency, the China National Space Administration aims to send its first manned mission to Mars in 2033.
China also has plans to set up a permanent base on the planet. A European Space Agency mission to Mars is also planned. Originally, that mission involved Russian space agency Roscosmos, but the ESA ended cooperation with Russia on the Mars trip following the invasion of Ukraine in February.
Before Monday's postponement of the Artemis launch, NASA told Newsweek in a statement: "In exploring space, NASA will follow what we have spelled out in the Artemis Accords—that we will be transparent about all activities, operate in a safe and responsible manner, and avoid harm and interference."
The agency added, "We encourage all nations to act responsibly in space."
The Artemis Accords are an agreement between the U.S. and other governments participating in the Artemis program.
Update 8/29/22, 9:45 a.m. ET: This story was updated to include more background and information.