What Time Is NASA's Artemis I Mega-Rocket Moon Launch? Watch Live Online
NASA's highly-anticipated Artemis I moon mission is set to launch and you can watch the event live online. But what time will the space agency's next-generation mega-rocket lift off?
The mission involves NASA's 322-foot-tall Space Launch System (SLS)—the most powerful rocket ever built—which is scheduled to lift off on August 29 from the Kennedy Space Center in Cape Canaveral, Florida. After more than a decade in development, this will be the rocket's first flight.
NASA has a two-hour launch window that opens at 8:33 a.m. ET on Monday. The window was chosen due to the beneficial alignment of our planet and the moon at this time. Two other windows are available on September 2 and 5 if Monday's launch has to be postponed for any reason.
Artemis is the name of NASA's program to return astronauts to the moon and establish a sustainable presence on the lunar surface, which will pave the way for future human missions to Mars.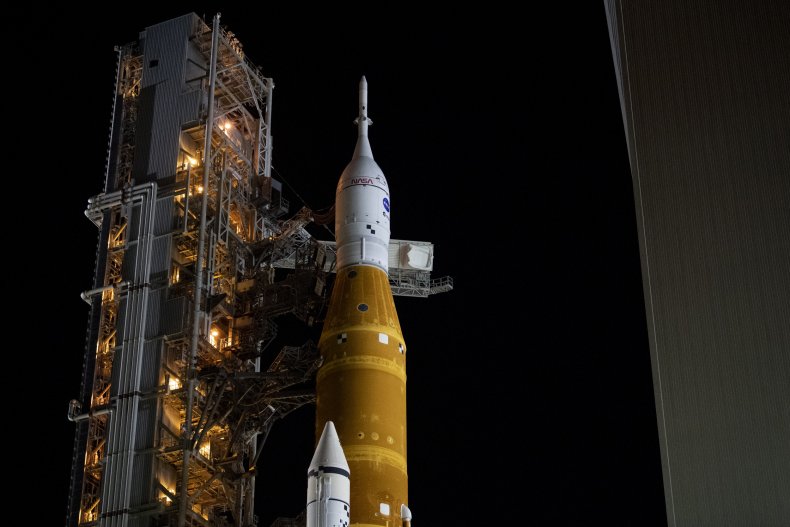 The SLS is a key part of this program, alongside the Orion spacecraft that the rocket will launch into space.
There will be no astronauts in the spacecraft. During the four-to-six-week mission, the Orion capsule will travel around the moon without a crew before returning to Earth. Artemis I will serve as a test of both Orion and the SLS ahead of future manned flights to the moon and beyond.
Over the course of the flight, Orion will fly farther than any spacecraft built to carry humans has ever flown, reaching a distance of around 280,000 miles from Earth.
"A successful Artemis launch will be a curtain raiser for a new revolution in humanity's space exploration with the moon being a gateway to Mars," Amrutur Anilkumar, a professor of mechanical and aerospace engineering at Vanderbilt University and director of the Vanderbilt Aerospace Design Laboratory, told Newsweek.
"With the Space Station, James Webb Telescope and now the Artemis program, NASA has a grand vision that will come to fruition in collaboration with the private launch companies and their proven successes. This will also bode well for stimulating renewed interest in STEM fields with focus on designing perfect and reliable systems," Anilkumar said.
If you want to follow the launch events online, NASA will be broadcasting the event on NASA TV and its YouTube channel. Below you can find the schedule for Monday's programming:
12 a.m. ET - Coverage begins for the fueling of the SLS
6:30 a.m. ET - Launch coverage begins.
12 p.m. ET - The Artemis I post-launch news conference will begin (time subject to change)
5:30 p.m. ET – Coverage of Orion's first imagery of the Earth.