Asian Man Threatened at NYC Home Depot Hours After Asian Woman Beaten in Midtown
A man of Asian descent was threatened with physical violence, and accosted with racist slurs, during a confrontation that took place inside a Home Depot store in Brooklyn, New York, on Monday.
The New York Post originally published a report about the incident, citing comments from New York City Police Department (NYPD) personnel and an unnamed source. An NYPD spokesperson confirmed to Newsweek Tuesday afternoon that all the information included in the Post's report was accurate, adding they were unable to provide further comment or additional details.
Police described the man targeted as a 28-year-old New York resident who was approached by an unfamiliar person at the home improvement retail establishment at around 2:30 p.m. The perpetrator wielded a large piece of lumber and threatened to "cut" and "shoot" the man, to whom he referred to as "f***ing Asian," according to law enforcement.
Authorities said the suspect exited the scene after warning the man targeted to refrain from calling "anyone." The man reported the incident to Home Depot employees before formally reporting it to NYPD officers at the department's 75th precinct. Neither the suspect nor victim's names have been released.
This is the latest reported act of violence targeting an Asian American person and comes on the heels of a disturbing video that showed a 65-year-old Asian woman being beaten severely on a New York City sidewalk. The footage, captured by a building's security camera in the city's Hell's Kitchen neighborhood, recorded an unidentified man repeatedly kicking the woman while she lay on the sidewalk. He reportedly shouted anti-Asian statements before fleeing the area. Security guards stationed at the building's entrance did not assist the woman or attempt to de-escalate the situation. Instead, one pushed an open entryway door closed, as seen on video.
Another video that surfaced on social media Monday showed an unidentified perpetrator violently attacking a man who appeared to be of Asian descent inside a New York City subway car. A number of bystanders were present during the attack, but none intervened. Police are asking civilians for any relevant information as they work to identify the perpetrators involved in the Hell's Kitchen and subway attacks.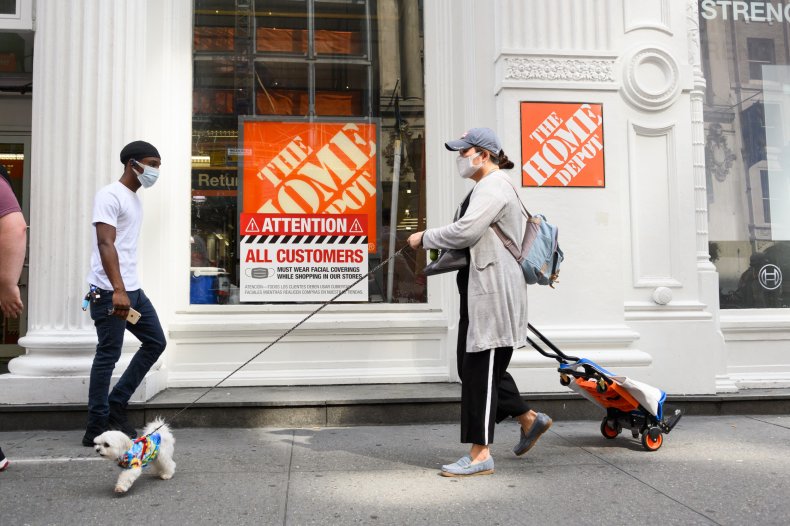 The series of violent anti-Asian crimes reported in New York City this week are not isolated incidents. Violent and hateful acts against Asian American and Pacific Islander (AAPI) people have surged nationwide over the past year, with a number of public figures and organizations drawing direct ties between the spike in hate crimes and the anti-Asian sentiment promoted by conservative political figures since the onset of the COVID-19 pandemic. Several weeks ago, six women of Asian descent were among eight killed during a mass shooting in Atlanta.
This story was updated at 5:10 p.m. ET to include additional details and background information.
Correction: A previous version of this story incorrectly reported that the man was threatened on Tuesday. The incident took place on Monday.