Bill de Blasio Condemns Witness Apathy in Anti-Asian Attacks: 'Make Noise…Call For Help'
New York City Mayor Bill De Blasio condemned the inaction of witnesses to a violent attack against an elderly Asian woman in Manhattan on Monday.
The 65-year-old Asian woman was assaulted outside a building at 360 West 43rd Street. Surveillance footage of the attack shows a significantly larger man punch the woman in the face—knocking her to the ground—before he proceeds to stomp on her and kick her several times. The woman has reportedly been hospitalized with serious injuries.
"We continue to see these horrible, disgusting attacks on Asian American New Yorkers and it's got to end," de Blasio said at a City Hall press briefing on Tuesday.
"Yesterday, absolutely disgusting and outrageous video of an Asian woman being attacked, pushed to the ground, kicked viciously by someone full of hate," the mayor added.
He also raised alarm that onlookers did not take action to intervene when observing the assault.
"Then to see a security guard standing by and not intervening—absolutely unacceptable," de Blasio said. He urged New Yorkers to "do whatever you can, make noise, immediately call for help."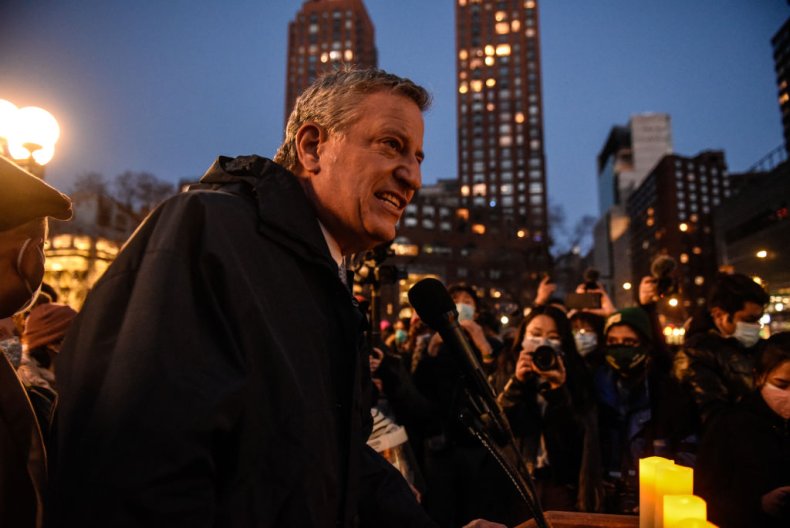 Building workers who observed the incident but did not intervene have reportedly been suspended in the wake of the attack. The New York Police Department has called on the public to help them identify the man who carried out the attack.
Anyone with information has been asked to call the NYPD's Crime Stoppers Hotline at 1-800-577-TIPS (8477) or for Spanish, 1-888-57-PISTA (74782). The NYPD's hate crimes division is investigating the incident, as the man reportedly yelled anti-Asian slurs while striking the woman.
The attack is the latest in a series against Asian-Americans. Earlier this month, the nation's attention turned to Georgia's Atlanta area after a lone gunman attacked a series of Asian massage parlors. The attacker, who has been arrested and charged, killed eight people, six of whom were Asian women.
A report published this month by Stop AAPI Hate found 3,795 incidents of anti-Asian hate crimes from March of last year through this February. The nonprofit, which tracks incidents of discrimination and hate against Asian-Americans and Pacific Islanders in this country, said the thousands of documented incidents are most likely only "a fraction of the number of hate incidents that actually occur."
Andrew Yang, a front-runner in the Democratic primary for the New York City's mayoral race who is Asian-American, shared similar sentiments to those of de Blasio in a Tuesday tweet.
"Bystanders need to act when they see something wrong. We need to come together and be the kind of people who do something when someone needs our help. Enough is enough. #StopAsianHate," Yang wrote.
Newsweek reached out to de Blasio's press office for further comment.