Andrew Yang Leads NYC Mayor Democratic Primary Field by Double Digits: Poll
A new poll released Wednesday shows that Andrew Yang holds a double-digit lead over all other candidates in the Democratic primary for the New York City mayoral race.
Yang, an entrepreneur who rose to national fame through his ultimately unsuccessful 2020 Democratic presidential bid, formally announced his candidacy to be New York City's next mayor in January. Now, according to an independent poll by Fontas Advisors and Core Decision Analytics, he appears to be the clear front-runner among Democratic candidates.
The survey found that Yang was backed by 28 percent of likely New York City voters, while Brooklyn Borough President Eric Adams came in second, with the backing of 17 percent of respondents. Scott Stringer, New York City's comptroller, came in third, with the support of 13 percent of likely voters.
Yang appears to benefit from significantly stronger name recognition among the city's voters. While 84 percent of respondents said they'd heard of the former Democratic presidential hopeful, just 66 percent had heard of Stringer and only 60 percent were aware of who Adams was.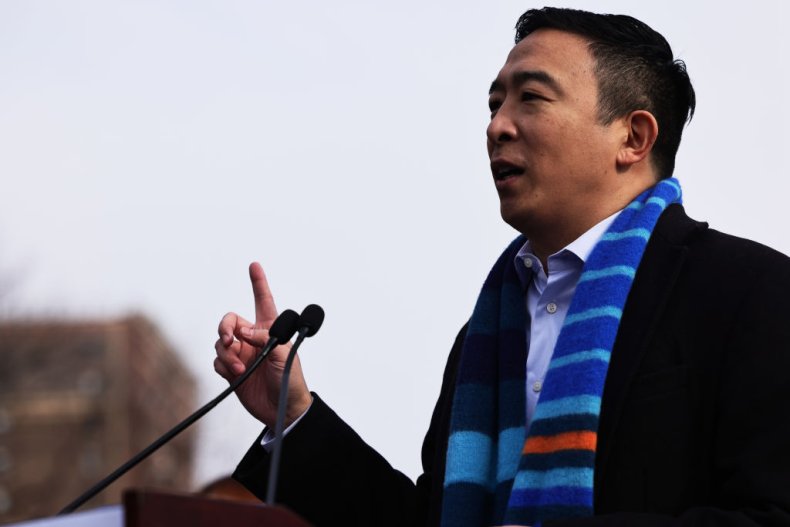 The poll also suggested that the next New York City mayor will have major economic and coronavirus-related challenges to address. A majority (57 percent) of likely voters in the city said the pandemic has had a "significant negative impact" on their household's finances. And nearly half (47 percent) said they would consider permanently leaving the city if they had the option.
Last week, Yang himself was diagnosed with the virus and went into quarantine. The mayoral candidate has focused on concerns about addressing the pandemic and rampant inequality in his campaign. Earlier this month, Yang criticized the fact that minority community members in New York City are being vaccinated at a slower rate than white New Yorkers.
In a February 3 statement, he said, "When nearly a quarter of New York City's vaccine supply is going to non-City residents, the system is broken. When 48% New Yorkers who are getting the vaccine are white, while just 26% are Black or Hispanic, the system is broken. The simple fact is, our vaccine operation has been woefully inadequate—this latest data just shows how poorly."
Human rights advocate Martin Luther King III, the son of civil rights leader Martin Luther King Jr., endorsed Yang on January 18, MLK Day. He praised Yang for his proposal to address poverty and inequality in the city.
King also cited Yang's universal basic income proposal, which would provide an average of $2,000 annually to 500,000 of New York City's most economically disadvantaged residents.