Asian Women Massacred in Atlanta Massage Parlor Shootings, Suspect Arrested
Numerous Asian women have been killed in shootings at three Atlanta-area massage parlors. The shootings left eight people dead. Police have arrested suspect Robert Aaron Long in connection with all three shootings.
The motive behind the three shootings is not yet known, but the shootings all took place in businesses where most of the employees are Asian, legal authorities reported. The shootings also occurred amid an increase in anti-Asian hate crimes nationwide.
Five of the people were shot inside of Young's Asian Massage Parlor around 5 p.m., The Atlanta-Journal Constitution reports. Two died at the scene. Of three injured individuals transported to the hospital, two later died from their injuries.
Later in the day, shootings at two other massage parlors resulted in four dead victims. Three female gunshot victims were found dead at Gold Spa, and one other female gunshot victim was found dead at Aromatherapy Spa, located across the street from Gold Spa.
Long, a 21-year-old white man driving a dark-colored SUV, was arrested in Crisp County, nearly 150 miles south from where the shootings occurred, WSB-TV reported. The victims have not yet been identified.
Atlanta Police Chief Rodney Bryant said that police first reported to the Gold Spas for a call about a robbery in progress. Bryant said the investigation is still in its preliminary stages, and police are still trying to understand exactly what occurred.
Newsweek contacted the Young's Asian Massage Parlor, Gold Spa, Aromatherapy Spa, the Atlanta Police Department, Asian Americans Advancing Justice-Atlanta and The National Association of Asian American Professionals in Atlanta for comment.
The attacks have occurred during a spike in anti-Asian-American hate crimes happening nationwide. In 2020, 122 incidents of such crimes occurred in 16 of the nation's most populous cities—a nearly 150 percent increase over 2019, according to the Center for the Study of Hate and Extremism at California State University, VOA reported.
Another group, Stop AAPI Hate, has tracked more than 3,000 reported attacks against Asian-Americans and Pacific Islanders since the start of the pandemic last March.
Democratic New York Representative Grace Meng and other anti-violence activists have blamed the pandemic-related anti-Chinese rhetoric of former President Donald Trump for the increase of violence.
"Enough of the demeaning usages of 'Chinese virus,' 'Wuhan virus,' and 'Kung-flu,' especially from our nation's leaders, such as President Trump, GOP leader [Kevin] McCarthy and others," Meng said in September 2020, noting the rise in anti-Asian-American hate crimes.
"Enough of the scapegoating," she added. "Enough of using the Asian-American community to stoke people's fears about COVID-19."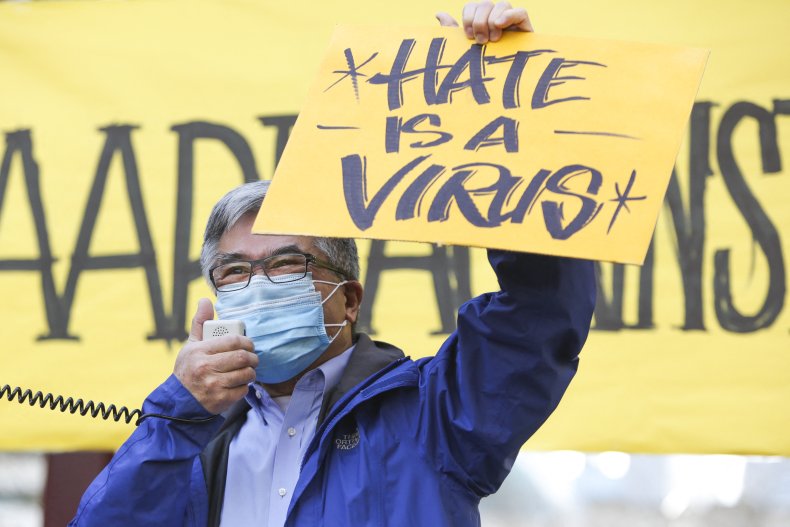 For more reporting from the Associated Press, see below.
Shootings at two massage parlors in Atlanta and one in the suburbs left eight people dead, many of them women of Asian descent, authorities said Tuesday. A 21-year-old man was taken into custody in southwest Georgia hours later after a manhunt.
Atlanta Police Chief Rodney Bryant said three people were killed at a spa in northeast Atlanta, while a fourth person was killed at another spa across the street. He said all four victims were female, and "It appears that they may be Asian."
Atlanta police officers responding to a call of a robbery in progress at one spa around 5:50 p.m. found three women dead from apparent gunshot wounds, police said. While they were at that scene, they learned of a call reporting shots fired at another spa across the street and found a woman who appeared to have been shot dead inside the business.
Earlier, around 5 p.m., five people were shot at Young's Asian Massage Parlor in Acworth, about 30 miles (50 kilometers) north of Atlanta, Cherokee County Sheriff's Office spokesman Capt. Jay Baker said. Two of the victims were dead and three were transported to a hospital where two of them also died, Baker said.
Authorities were not immediately releasing the gender or race of the victims, Baker said.
A man suspected in the Acworth shooting was captured by surveillance video pulling up to the business around 4:50 p.m. Tuesday, minutes before the shooting, authorities said. Baker said the suspect, Robert Aaron Long, of Woodstock, was taken into custody in Crisp County, about 150 miles (240 kilometers) south of Atlanta.
Baker said they believe Long is also the suspect in the Atlanta shootings.
With two shootings at massage parlors in Atlanta and the knowledge of the Acworth shooting, Atlanta police said they dispatched officers to check nearby similar businesses and increased patrols in the area.