Democrat Calls Assault Weapons Ban 'Death Wish' for Party
One establishment Democrat is cautioning his party against pushing through an assault weapons ban, saying that trying to land House votes would replicate a "death wish" for the party.
"This is a bill that destroyed the Democrats in '94. I guess, do we really have a death wish list as Democrats?" Representative Kurt Schrader of Oregon, who will not return to Congress next year as he has already lost his primary, told Politico on Wednesday.
House Democrats are aiming to push another gun measure, led by Representative David Cicilline, through—one that goes further than last month's bipartisan gun deal and would be the Democrats' biggest move on guns since the Federal Assault Weapons Ban was passed in 1994.
The 10-year ban, which was signed into law by then-President Bill Clinton, was a historic feat for the Democratic Party, but a number of the Democratic lawmakers who voted for the bill were handed tough midterm losses that resulted in disastrous election for the party.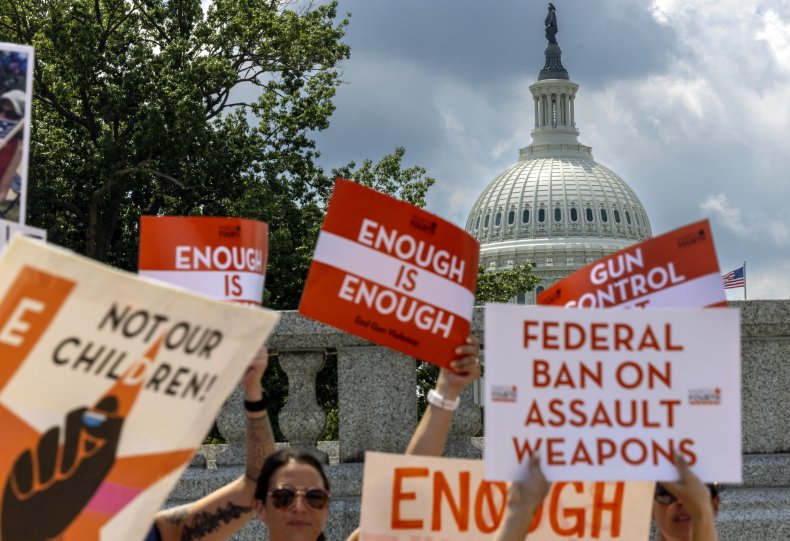 Washington Governor Jay Inslee, then a congressman who was ousted from the House that year, has repeatedly cited that vote as being the reason for his congressional defeat.
Former California Representative Vic Fazio explained in a 2019 interview with the Daily Beast that the vote on the 1994 crime bill was especially harrowing to Democrats who were seeking re-election but also facing pressure to fall in line with the rest of the party.
"In really strong gun states, [the ban] was seen as poison," Fazio said.
Schrader, who lost to his progressive Democratic challenger Jamie McLeod-Skinner, despite an endorsement from President Joe Biden and stronger funding, told Politico that trying to pass another federal ban would also undermine last month's bipartisan work.
"It undermines what we already did and reemphasizes to all the people in America that are not hardcore urban Democrats that our party's out of touch," the centrist Democrat said.
Schrader was among two House Democrats who voted with most Republicans against last month's sweeping legislation.
Despite his public opposition to a federal assault weapons ban, the measure is broadly popular among the caucus, with even several battleground Democrats, like Representatives Abigail Spanberger and Elaine Luria, stepping up to cosponsor the bill.
However, some of their other colleagues, who are also facing reelection this year, remain opposed to the bill. Both Representatives Henry Cuellar and Jared Golden plan to vote against the measure, according to Politico.
Party leaders are looking to bring the bill to the floor as soon as next week.
The renewed calls for a federal ban come on the heels of the mass shooting in Highland Park, Illinois on July 4, which killed seven people and injured another 46.
Biden, who was the lead author on the 1994 bill, has signaled support for such a measure, calling for a ban on assault weapons last month.
If the bill drums up enough support to pass into law, it would forbid the "sale, import, manufacture or transfer of certain semi-automatic weapons," without including those who already own firearms. It would also forbid the transfer of high-capacity magazines and mandate background checks for any of the weapons covered by the bill.