Aerial Footage of Packed Venue Shows How 'Crowd Crushing' Happens
Aerial footage of a packed crowd has revealed how crushes happen in an overcrowded venue, as a surge of bodies causes a ripple effect in the audience.
The resurfaced clip was shared to Reddit on Monday, and has already garnered nearly 20,000 upvotes. It was captioned: "'Fluid' dynamics of an overcrowded venue. Essentially how crowd crushing happens."
It shows a throng of what appears to be thousands of people in front of a stage, when suddenly from the back of the crowd a stampede-like movement is triggered, seeing waves of people propelled forwards.
This creates a ripple effect throughout the crowd, as swathes of bodies all move in sync, with the people at the front pushed up against barriers.
The 9-second long clip ends by zooming in on those in the crowd, who appear to be reeling from the crush as they stretch out their arms, while those at the front still seem tightly packed in.
It was posted by Surematu22, who didn't specify where the footage was filmed, however the time stamp indicates it was filmed in 2005.
The full date is given as 02/07/05, with the gig believed to be an Oasis concert held in Manchester, England. Reports from the time indicate one of the front barriers collapsed, causing the crowd to surge forwards.
Nobody was reported to be seriously injured, and the gig continued after a short delay. Frontman Noel Gallagher told the masses: "If anybody falls down, pick them up."
The Reddit clip was posted in the wake of the tragedy at Astroworld festival, which saw at least eight people killed and many more injured during Travis Scott's set at the NRG Park stadium on Friday.
The festival, which took place in Houston, had to be canceled and Saturday's performance scrapped as the crowd appeared to rush the stage, resulting in the fatalities.
The third annual event, organized by the rapper, real name Jacques Webster, drew crowds of around 50,000 people, Houston Fire Chief Sam Peña was quoted as saying.
The age range of the victims is 14 to 27, and Peña claiming CPR had to be performed on multiple people, with 17 fans rushed to hospital, 11 of those due to cardiac arrest.
Referring to the deadly crush, Peña said: "It was the crowd control at the point of the stage that was the issue, especially as the crowd began to surge toward the stage."
In the days since the mass casualty event a number of videos have surfaced online, appearing to show one concertgoer being dropped on her head, fans pleading for the concert to be stopped, chants of "stop the show" from the crowd, and revelers climbing on top of vehicles transporting unconscious people.
The event is currently under investigation, as Houston Mayor Sylvester Turner said: "Last night was tragic on many different levels, and this is a very, very active investigation. And we'll probably be at it for quite some time to determine what exactly happened."
The rapper addressed the tragedy in a Tweet on Saturday night, saying: "I am absolutely devastated by what took place last night. My prayers go out to the families and all those impacted by what happened at Astroworld Festival. Houston PD has my total support as they continue to look into the tragic loss of life.
"I am committed to working together with the Houston community to heal and support the families in need. Thank you to Houston PD, Fire Department and NRG Park for their immediate response and support. Love you all."
Scott's pregnant girlfriend, Kylie Jenner, also defended the artist, and claims he was unaware of any injuries until afterward.
She wrote on Instagram: "Travis and I are broken and devastated. My thoughts and prayers are with all who lost their lives, were injured or affected in any way by yesterday's events. And also for Travis who I know cares deeply about his fans and the Houston community.
"I want to make it clear we weren't aware of any fatalities until the news came out after the show and in no world would have continued filming or performing. I am sending my deepest condolences to all the families during this difficult time and will be praying for the healing of everyone who has been impacted."
Scott, entertainment company Live Nation and promoter Scoremore are being sued by one concertgoer, Manuel Souza, as he called the events "predictable and preventable" and claimed that the defendants "actively encouraged and fomented dangerous behaviors."
In a statement sent to Newsweek, Live Nation said: "We continue to support and assist local authorities in their ongoing investigation so that both the fans who attended and their families can get the answers they want and deserve, and we will address all legal matters at the appropriate time."
Newsweek reached out to Surematu22 and Astroworld for comment.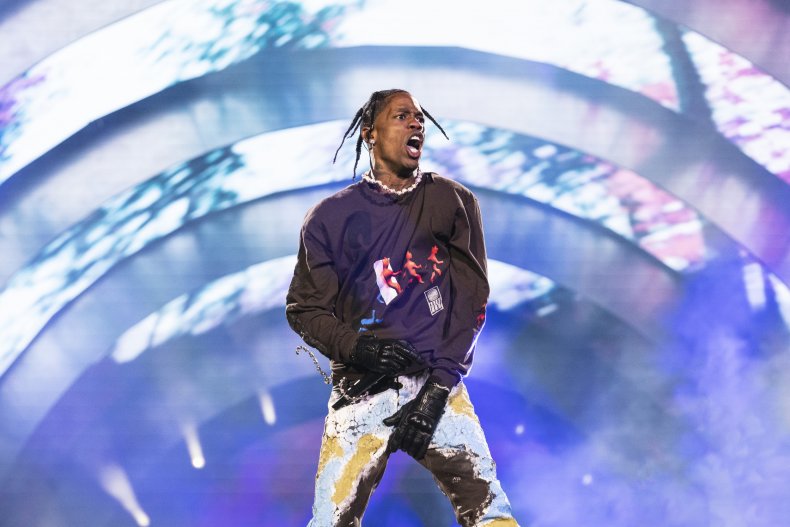 Update 9/11/21, 3:54 a.m. ET: This article was updated with comment from Live Nation.