Atlanta Man Rico Marley Detained After Carrying 5 Guns into Grocery Two Days After Boulder Shooting
Police detained an Atlanta, Georgia man after he walked into a grocery store wearing body armor and carrying five guns on Wednesday, only two days after the Boulder, Colorado grocery store shooting that left 10 people dead.
Officers arrested Rico Marley, 22, and charged him with reckless conduct after being called to a local Publix supermarket at approximately 1:34 p.m., according an Atlanta Police Department release obtained by Newsweek. Police were met by a manager who told them that Marley had entered the store while carrying a rifle before going into a bathroom. Marley was detained immediately after he exited the bathroom.
Police recovered body armor and five guns from Marley, including three pistols and two long guns. He was interviewed by officers and underwent a mental health evaluation after being detained, with the intention of transporting him to Fulton County Jail for further processing. The body armor and firearms will be entered into evidence.
Police were also investigating a "suspicious package" at the same store, although it was not clear whether it was related to the Marley incident, according to The Atlanta Journal-Constitution. The paper also reported that multiple police cars were parked outside the supermarket following the incident, with customers being turned away from the store, while one of the main streets in front of the store was temporarily closed.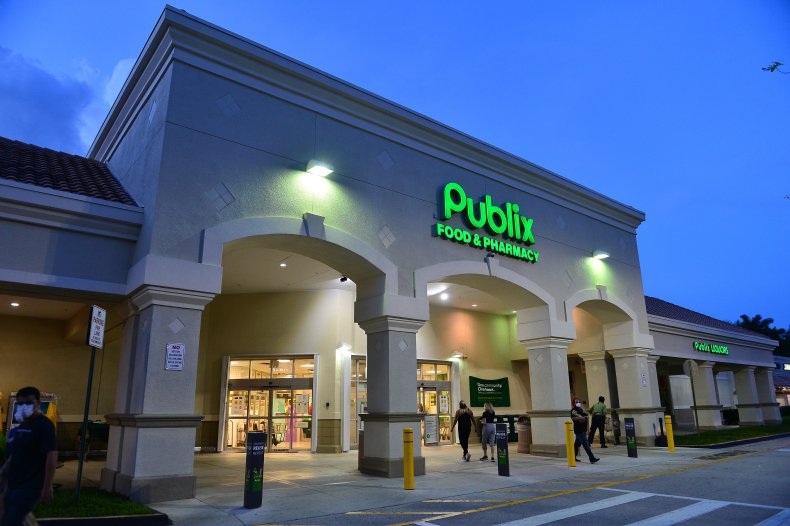 The incident comes after Monday's shooting at a King Soopers supermarket in Boulder, Colorado resulted in 10 deaths, including the first police officer who responded to the scene. Several others were injured, including Ahmad Al Aliwi Al-Issa, the 21-year-old suspect who was detained and later charged with 10 counts of first-degree murder.
Last week, 21-year-old Robert Aaron Long was arrested and charged with eight counts of murder and one count of aggravated assault following a killing spree at multiple Atlanta-area spas and massage parlors. With six out of the eight murdered victims being Asian women, a large amount of suspicion and speculation focused on whether the spree was connected to a recent rise in anti-Asian hate crimes. Long admitted to being responsible for the shootings to police, but blamed them on his "sex addiction" rather than racism.
The mass shootings have prompted renewed calls from largely Democratic lawmakers for new and tougher gun control laws, along with accompanying calls from mostly Republicans urging that no new restrictions should be imposed.
At least 104 mass shootings have already taken place in the U.S. during 2021, killing over 120 and injuring at least 380. There were only 66 mass shootings at the same point in 2020, according to the Gun Violence Archive. The group calculates that more than 9,600 deaths have been caused by gun violence of all types during the year so far.