Who Is Robert Aaron Long? Atlanta Shootings Suspect in Custody
A 21-year-old white man is in custody after shootings at three massage parlors in the Atlanta area on Tuesday evening.
Eight people were killed including six Asian women, raising fears that the shooter may have targeted people of Asian descent.
Robert Aaron Long, of Woodstock, Georgia, was taken into custody in Crisp County after a manhunt, said Captain Jay Baker of Cherokee County Sheriff's Office. He was charged with murder.
Long was described as "nerdy" and "big into religion" by a former high school classmate, who spoke anonymously to The Daily Beast.
The classmate, who graduated from Sequoyah High School with Long in 2017, said the suspect was "very innocent-seeming and wouldn't even cuss." The person added: "He was sorta nerdy and didn't seem violent from what I remember. He was a hunter and his father was a youth minister or pastor."
The website reported that an Instagram account apparently belonging to Long featured the tagline: "Pizza, guns, drums, music, family, and God. This pretty much sums up my life. It's a pretty good life."
Long and his family were involved with the Crabapple First Baptist Church in Milton, Georgia, according to social media posts reported by The Daily Beast and Heavy.com.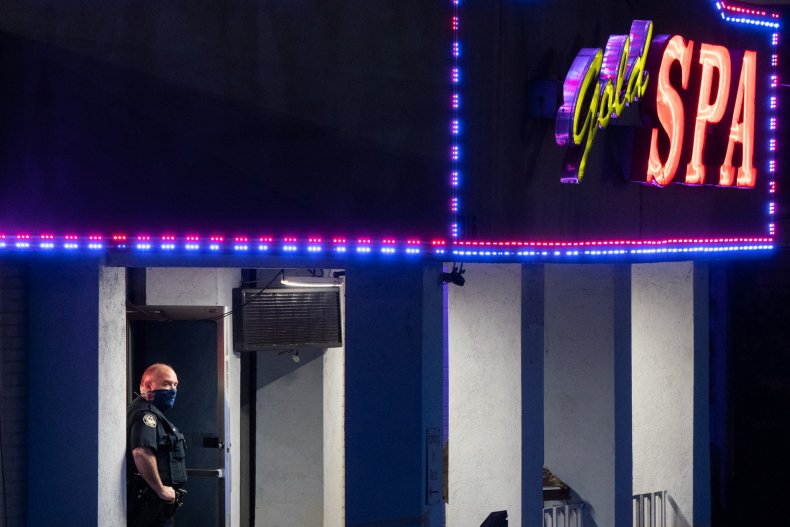 A 2018 video on the church's Facebook page showed Long discussing his baptism, the outlets reported.
"As many of you may remember, when I was 8 years old I thought I was becoming a Christian, and got baptized during that time. And I remember a lot of the reason for that is a lot of my friends in my Sunday school class were doing that," Long says in the video. "And after that time, there wasn't any fruit from the root that is our salvation."
He later discusses attending a youth group while in seventh grade, where he heard the story of the prodigal son.
"The son goes off and squanders all that he has and lives completely for himself and then, when he finds he's wanting to eat pig food, he realized there's something wrong and he goes back to his father and his father runs back to him and embraces him. And by the grace of God I was able to draw the connection there and realize this is a story between what happened with me and God. I ran away living completely for myself, and he still wants me, and so that's when I was saved."
An Aaron Long is mentioned in the minutes of a 2018 meeting at the Crabapple church, described as a member of the church's student ministry team, according to Storyful. The same name is mentioned in a comment added to a post about a church trip to Costa Rica.
According to Storyful, Long attended a September 2020 sermon in which pastor Jerry Dockery spoke about gender roles. Dockery claimed "radical feminism has engulfed our culture like a tsunami" and that "we're propagating what Satan wants to accomplish."
Sermons on the church's YouTube page were made private early on Wednesday, as was the church's website and social media accounts.
The church could not be reached for comment. In a statement to Heavy.com, church elders said they were "heartbroken for all involved."
Long's arrest came after five people were shot inside Young's Asian Massage along Highway 92 in Acworth at around 5 p.m. on Tuesday. Two people died at the scene. Three others were taken to hospital, where two of them died.
At around 5.50 p.m., police responding to a report of a robbery in progress in northeast Atlanta found three women dead from apparent gunshot wounds inside Gold Spa on Piedmont Street.
While on the scene, officers were advised of a call about shots fired at Aromatherapy Spa across the street. Inside, they found a woman who appeared to have been shot dead.
Authorities circulated images of a man suspected in the Acworth shooting. He was caught on surveillance footage pulling up to the massage parlor in a 2007 black Hyundai Tucson shortly before the attack.
Crisp County Sheriff Billy Hancock said his deputies and state troopers were alerted at around 8 p.m. that a murder suspect out of north Georgia was heading toward their county.
Troopers and deputies set up along Interstate 75 and "made contact with the suspect" at around 8.30 p.m., he said in a video posted on Facebook.
A state trooper performed a pursuit intervention technique maneuver as Long drove south, "which caused the vehicle to spin out of control," Hancock said.
He was taken into custody without incident and was being held in the Crisp County jail, Hancock added.
Atlanta Police said video footage placed the suspect's vehicle in the area of the Atlanta spas around the time of the two later shootings. "That, along with video evidence viewed by investigators, suggests it is extremely likely our suspect is the same as Cherokee County's, who is in custody," the department said in a statement.
Baker told the Journal-Constitution: "It does appear that it's the same suspect."
Authorities in Atlanta and Cherokee County were working to confirm whether the cases were related, police added.
Although a motive for the shootings has not been confirmed, they follow a rise in attacks against Asian Americans since the start of the coronavirus pandemic.
Stop AAPI Hate, a group formed to challenge anti-Asian hate, tweeted that the shootings were "an unspeakable tragedy—for the families of the victims first and foremost, but also for the AAPI community—which has been reeling from high levels of racial discrimination."
Cherokee County Sheriff's Office has been contacted for additional comment.
Correction 3/17/21, 6:55 a.m. ET: The headline of this article was updated to correct a misspelling of Atlanta. The article was later updated to add information about Crabapple First Baptist Church.