How 'Atlanta' Gets Its Sound: Everybody Plays a Part, Says Music Supervisor Fam Udeorji
Donald Glover's FX series Atlanta, now in its second season, has become a hit thanks to its multidimensional characters and plotlines. But just as important has been its sound. The music on the show bridges scenes and moments, of course, but it also adds another layer to the series. Atlanta attracts nearly 2 million viewers an episode, and since debuting in 2016, many fans spend the show's Thursday night time slot tweeting about the music. And as often as not, those tracks are made by under-the-radar artists.
Music supervisors Jen Malone and Fam Udeorji are responsible for curating Atlanta's sound. In an interview with Newsweek, Udeorji—a staff writer before transitioning to his current role—explained how all of the creative team, from director Hiro Murai to editors Isaac Hagy and Kyle Ritter to the writers to Glover, is involved in the highly collaborative process of choosing the show's soundtrack. "It's all derived from our personal taste," said Udeorji, who is also Glover's manager. "There are no rules."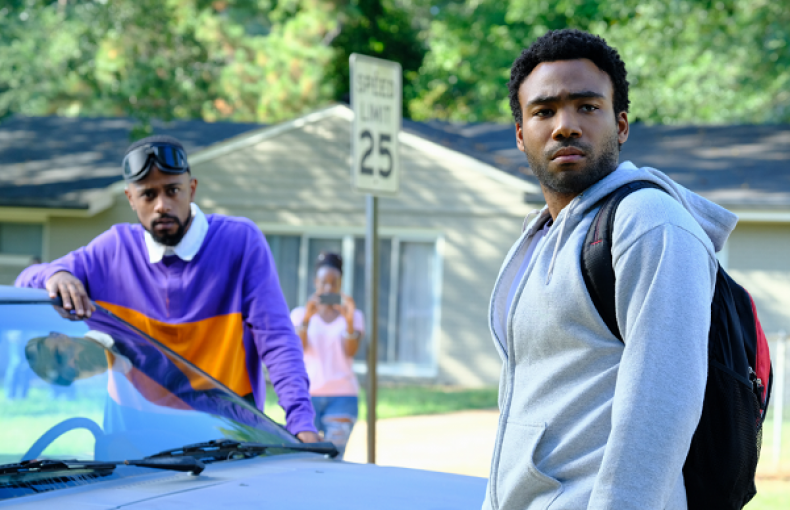 So where does choosing the music for each episode begin?
It begins with the writers, who a lot of the time will have a moment where a particular song might be specific to a scene and they write in the music. And that music might be ahead of [the music supervisors's] process. Once they have that settled, [Jen and I] see the episode as its being edited and decide how to fill the episode in. The editors work directly with Jen and me, and we'll all go through the moments of the episode and see what music needs to be placed based off of a feeling. Sometimes we choose music that's a little bit more narrative-based or music to amplify what's happening in the world outside of the two main characters, Earn (played by Glover) and Alfred (Brian Tyree Henry).
The song selections can have real-world parallels—like, for example, the first track played in the first episode of Season 2, Tay-K's "The Race." The song, which is essentially Tay-K's story of being on the run from the poilice, begins right before some young men stick up a fast food joint, and Tay-K, as it happens, is facing capital murder in connection to a crime that started out as a robbery.
That's a prime example of what we do. You see the kids in that scene and you have to go through the process of what you think they would be listening to in that moment. What's the energy? What do you wanna hear right before you go and rob somebody, before you essentially put your life on the line? There are people that play basketball and they have their hype music before a game. It's the same thing. And I think Tay-K just has that energy. So that was like a write-in moment, but at the same time it was something that a lot of us were listening to. We all like Tay-K.
You seem to favor music from up-and-coming artists who aren't getting mainstream attention—similar to the way that, on the show, Paper Boi is breaking out.
There are no rules. When we first started working on Atlanta the whole thing was, "Let's make this as punk as possible. We don't care if we get canceled." And I think that applies to the music, because who are we trying to prove ourselves to? Really, nobody. There are a lot of moments where I'm, like, "Man it'd be really dope to hear a kid that would never get a chance on any other show." That's not necessarily intentional, but it's definitely nice to share [new stuff] with the world because you have a platform.
Did you expect fans to be so reactive on social media?
I never expect anything to be anything, to be honest. But bcause Donald is a musician [Grammy-winning artist Childish Gambion], viewers watch the show through a certain lens—what are his tastes like, we wanna try to get more into his head. It's much deeper than a show about a rapper, but it's also a show being made by a guy who raps. So you're digging into a world of a person that has a very specific viewpoint, and you go into it thinking, What is he on?
Donald's always [played] the Chance the Rappers of the world, the indie groups. He's always been early on a lot of music. The first batch of [Season 1] promos were scored with a Tame Impala song ["Same Ol' Mistakes"] that Rihanna ended up covering, but even the use of the [original] song made people go, "OK, this isn't gonna be exactly what we thought."
What's the most challenging part of the job?
Making sure with whatever it is we're suggesting—because it is a team effort—that everybody's on the same page tonally. We go through this process where Jen will go out and source a bunch of different songs and then give them to the editors, but then we have to figure out what song placement makes the most sense. Sometimes you might not know what everybody is thinking in terms of what's best for the scene.
For example, take a scene with a bunch of girls getting ready to go to the club. The director and the editors might feel like they want the music to feel fast enough, but there's a different dynamic to women are getting ready—I've been in those rooms. Sometimes it's jut agreeing on what fits the best for a scene and being able to understand everybody's perspective because we're all different, with very different backgrounds.
What do you love most about the job?
There may be four or five other shows that will allow the demographic of people that watch Atlanta to be exposed to the music we're listening to, and [I love] being able to share my tastes with the world. That's the dopest part: To put on a song by a kid who might not have had that chance, and now his music is being heard by two million people [watching the show]. That's special to me.
Growing up as a black kid, music supervisor was not something I thought I could aspire to. Atlanta is showing young people of color that there are jobs behind the camera, not just in front of it—writing and editing and everything else. It's refreshing.
We have conversations around representation a lot; there's not a lot of people of color behind the scenes across the board, and that applies to the music industry as well. With Atlanta, Insecure and other newer shows, there are people of color working behind the scenes and it shows. If knowing this inspires somebody to pursue a job outside of being a rapper or a musician, to try writing or editing or supervising music, that's dope to me.