Secoriea Turner's Parents Attack Those Who Shot 8-Year-Old Girl in Atlanta
The parents of an 8-year-old girl who was shot dead near a memorial site for Atlanta man Rayshard Brooks have spoken out against those responsible.
Secoriea Turner was shot and killed on July 4 after at least two people opened fire on a car she was riding in near the Wendy's restaurant where police killed Brooks on June 12.
The fast-food restaurant was later burned down. In the weeks since the area has become a memorial site and the center point for Black Lives Matter and anti-police brutality protests.
Authorities said the car Turner was traveling in was fired upon while her mother and a friend tried to enter a parking lot after exiting off Interstate-75/85 onto University Avenue.
The car was met by a group of armed individuals who had set up a barrier to the entrance. They opened fire after the car tried to drive through the barricade.
"At some point, someone in that group opened fire on the vehicle, striking it multiple times and striking the child who was inside," Atlanta Police said in a statement sent to Newsweek.
Newsweek subscription offers >
The girl was taken to Atlanta Medical Center but died of her injuries. In an emotional press conference, the child's parents condemned those responsible.
"Help me help my baby," said Charmaine Turner, her mother. "She was only 8 years old. She would have been on Tik Tok dancing on her phone, just got done eating.
"We understand the frustration of Rayshard Brooks. We didn't have anything to do with that. We're innocent. My baby didn't mean no harm."
"Somebody knows something," Turner added before handing the microphone to the girl's father, Secoriya Williamson.
"They say black lives matter," Williamson said. "You killed your own. You killed your own this time. Just because of a barrier. They killed my baby because she crossed a barrier and made a U-turn.
"You killed a child. She didn't do nothing to nobody...she just wanted to get home to see her cousin."
Atlanta Mayor Keisha Lance Bottoms spoke out against those who shot at Secoriea Turner and her family.
"You shot and killed a baby," the mayor said. "And there wasn't just one shooter, there were at least two shooters. An 8-year-old girl was killed last night because her mother was riding down the street. If Secoriea was not safe last night, none of us are safe."
Secoriea's great aunt, April Turner, also made a desperate plea for help at the press conference.
"Whoever did this, we're asking the public, we are pleading. Call Crime Stoppers, call Atlanta Homicide, if you're in a different county, DeKalb County, call DeKalb County homicide," she said.
"This is a child's life gone too soon, we are pleading, anybody, if you know anybody that knows somebody that knows this person or persons, please, we beg you, we beg you, please, please let's do this. Bring this in for justice."
In a statement, Georgia Governor Brian Kemp tweeted: "Our hearts absolutely break for this precious life senselessly taken. Marty, the girls, and I are praying for the Lord's comfort over Secoriea's family and loved ones in the face of this tragedy."
Atlanta Crimestoppers is offering a $10,000 reward for anyone who can provide information that will help solve the crime.
Atlanta Police added in a statement: "Atlanta Police Homicide investigators are working to determine the circumstances surrounding the shooting and to identify the suspects. At this time, the investigation continues."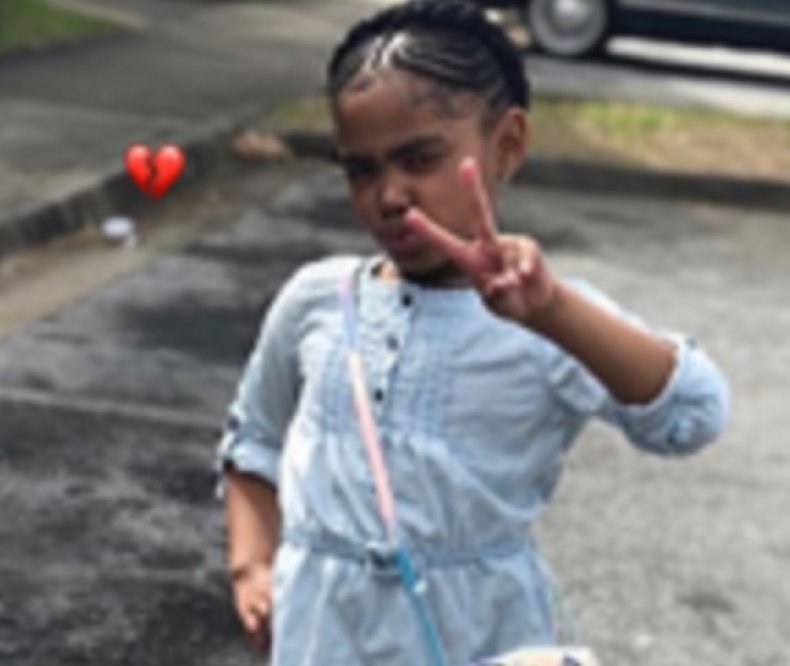 Secoriea Turner's Parents Attack Those Who Shot 8-Year-Old Girl in Atlanta | U.S.