'I Got Him,' Said Fired Atlanta Police Officer Immediately After Shooting Rayshard Brooks
"I got him" were the first words uttered by the police officer who shot Rayshard Brooks, according to Fulton County District Attorney Paul L. Howard Jr.
The killing of Brooks, a 27-year-old black man, during an encounter with two white officers outside a Wendy's restaurant on Friday night, has reignited protests in Atlanta, Georgia and led to the resignation of the city's police chief.
On Saturday, the Atlanta police department said Garrett Rolfe, the officer who shot Brooks, had been fired while another officer, Devin Brosnan, had been placed on administrative duty. A spokesman for the department told Newsweek that Rolfe had been with the department since October 2013 while Brosnan was hired in September 2018.
Brooks died after being shot twice in the back, the Fulton County Medical Examiner's Office said after an autopsy was conducted on Sunday. The manner of death was listed as a homicide.
During an appearance on CNN on Sunday, Howard was asked about whether the officer could claim he shot Brooks because he feared for his life.
"In the video, we actually get a chance to hear the officer's first statement after the shooting took place," he responded to host Fredericka Whitfield. "And what the officer said is not that his life was saved... he said, 'I got him.'"
In a news release on Sunday, Howard said he hoped to announce a decision on whether to bring charges against the officers on Wednesday.
He said his office was struggling to obtain all of the body camera and dash cam footage from the Atlanta Police Department.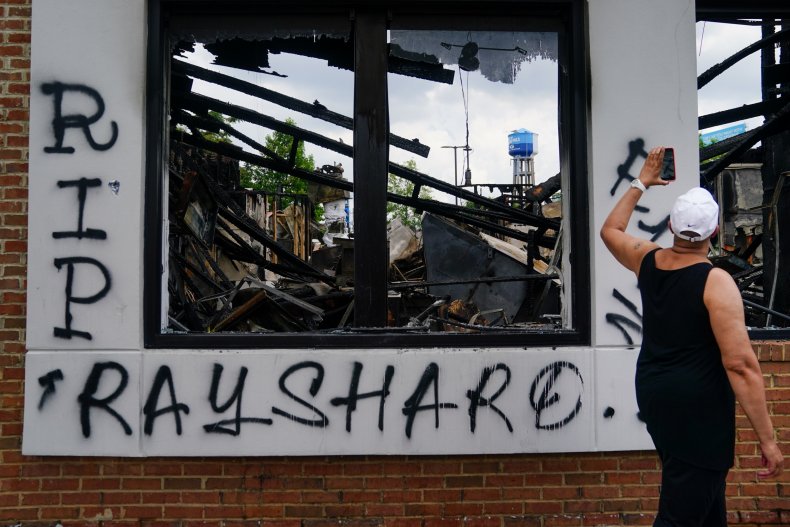 He also revealed that a local attorney has provided his office with the names of two other witnesses that his team will speak to before a decision is made.
"Because this is a homicide investigation, there are several technical requirements that must be met before we reach a decision," Howard added.
"That includes the confirmation of the ballistics involved and obtaining a preliminary report from the Medical Examiner.
"We are working around the clock to bring this investigation to a conclusion, and it is my hope to be able to announce our decision midweek."
Brooks' shooting came amid weeks of nationwide unrest following the death of George Floyd, a 46-year-old black man, in Minneapolis police custody on May 25.
Less than 24 hours after Brooks was killed, Atlanta Police Chief Erika Shields resigned from her post.
Announcing Shields' decision to step down, Atlanta Mayor Keisha Lance Bottoms said she did not believe Brooks' shooting was a "justified use of deadly force."
Body camera and dash camera footage showed Rolfe and Bronson had spent more than 40 minutes questioning Brooks but a scuffle broke out when they tried to handcuff him.
But both officers' body cameras were knocked to the ground in the struggle, and none of the four police cameras captured the shooting.
Security footage released from a camera outside Wendy's showed Brooks turn and point an object in his hand at one of the officers, who was a few steps behind him. The officer is seen drawing his gun and firing.
The Georgia Bureau of Investigation (GBI) said Brooks had obtained an officer's Taser after a "physical struggle" with officers and had begun to flee the scene.
"Officers pursued Brooks on foot and during the chase, Brooks turned and pointed the Taser at the officer," the GBI said. "The officer fired his weapon, striking Brooks."
GBI spokeswoman Nelly Miles said on Sunday that she could not confirm whether Brooks fired the Taser, the Associated Press reported.