Atlanta Police Chief Who Resigned After Fatal Shooting of Rayshard Brooks Called for Reforms Amid George Floyd Rallies
Less than two weeks before Atlanta Police Chief Erika Shields resigned from her position on Saturday after Rayshard Brooks was fatally shot by city law enforcement, she addressed police abuse and racism during a Black Lives Matter protest following George Floyd's death in custody. Many viewed her general response to Floyd's passing, and the demonstrations that took place after, as appropriate and positive.
While speaking to demonstrators who called for justice and policy change in light of numerous deaths reported under similar circumstances—Breonna Taylor and Ahmaud Arbery, recently—at the end of May, Shields acknowledged a "recurring" pattern of violence against black individuals by white officers and said reform was in order.
"We keep having this over and over," she said at the time. "The key is training and weeding out bad cops, especially when you see a pattern of bad behavior. I think it's getting engaged with people and getting feedback in real time."
Shields condemned the four former Minneapolis police officers involved in Floyd's death several times. "These officers didn't just fail as cops, they fundamentally failed as human beings," she said in a video statement released by the Atlanta Police Department (APD) on May 28. Continuing, Shields added that while "police training can offset numerous deficiencies, human decency is not one of them." At the time, Shields also said APD "relied heavily" on footage from officers body cameras to identify and respond to misconduct.
Shields stepped down from her role as police chief on Saturday, after 27-year-old Brooks was shot and killed by an APD officer on Friday night. Demonstrations have taken place in Atlanta in the aftermath of his death, and some protesters appeared to set fire to the Wendy's restaurant where Brooks was shot.
Atlanta police also fired the officer who shot Brooks, Garrett Rolfe, and placed another officer involved, Devin Brosnan, on administrative duty on Saturday.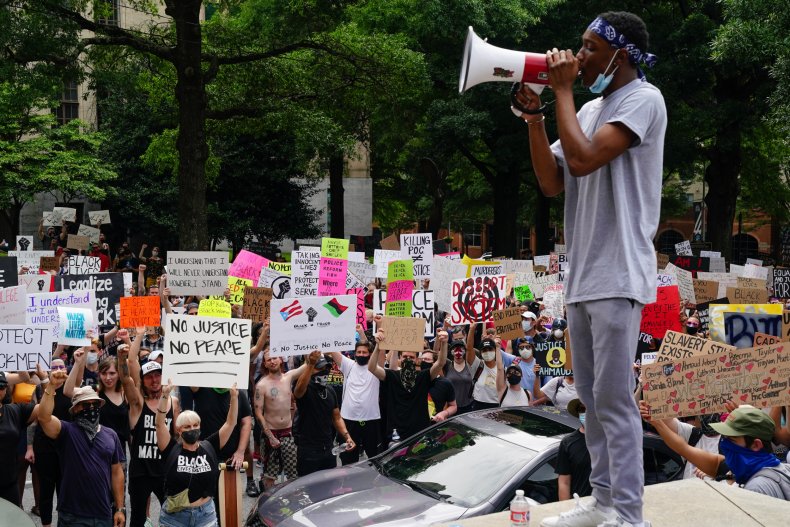 Atlanta Mayor Keisha Lance Bottoms announced Shields had offered her resignation during during a news conference, saying the now-former chief will continue to work for APD in a different role, "to be determined."
"Chief Erika Shields has been a solid member of APD for over two decades and has a deep and abiding love for the people of Atlanta," the mayor said. "And because of her desire that Atlanta be a model of what meaningful reform should look like across this country, Chief Shields has offered to immediately step aside as police chief so that the city may move forward with urgency in rebuilding the trust so desperately needed throughout our community."
Newsweek reached out to the Atlanta Police Department for additional comments, but did not receive a reply in time for publication.