Atlanta Suspect Robert Aaron Long Says Motive Not Race, But Sex Addiction
The man suspected of killing eight people in three shootings at massage parlors in the Atlanta area claimed he has a sex addiction and wanted to eliminate the temptation, authorities said.
Authorities took Robert Aaron Long, 21, of Woodstock, Georgia into custody without incident a few hours after the shootings on Tuesday evening.
Six of the eight people were killed were Asian women, prompting fears that the shootings were targeted towards people of Asian descent.
At a news conference on Wednesday morning, authorities said it was still too early in the investigation to declare a motive for the shootings.
Cherokee County Chief Frank Reynolds said that during an interview with police, Long had denied the shootings were racially motivated, instead blaming it on a sex addiction issue.
"He made indicators that he has some issues, potentially sexual addiction, and may have frequented some of these places in the past," Reynolds said. "We believe that he frequented these places in the past and may have been lashing out."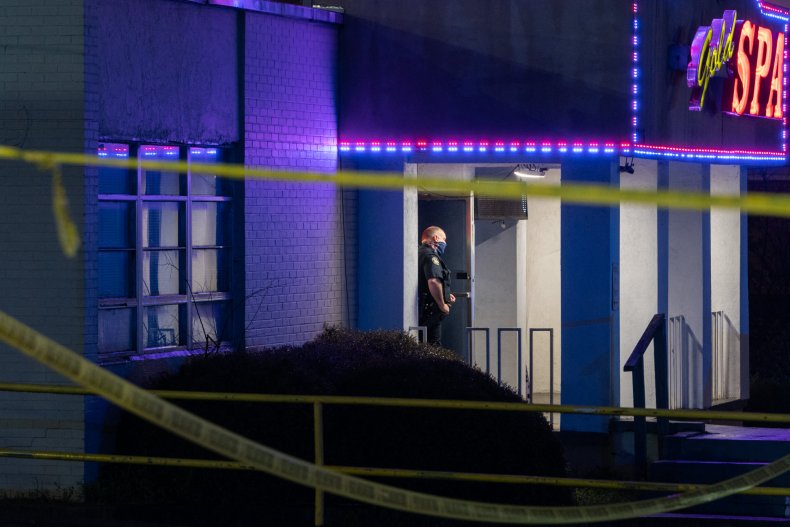 Capt. Jay Baker, a spokesman for the Cherokee County Sheriff's Office, added that Long "took responsibility for the shootings."
"As the chief said, it's still early, but he does claim that it was not racially motivated," Baker said. "He apparently has an issue, what he considers a sex addiction, and sees these locations as something that allows him to go to these places and it's a temptation for him that he wanted to eliminate. Like I said it's still early on, but those were comments that he made."
Long has ties to Crabapple First Baptist Church in Milton, Georgia and a former high school classmate described him as "big into religion."
Since the shooting, the church has taken its website and social media pages offline and elders have issued a statement saying they are "heartbroken for all involved."
Reynolds also revealed that Long's parents had contacted authorities to identify their son after police shared stills from surveillance footage and appealed for information on social media.
"I was there speaking with a family, they're very distraught and very helpful in this apprehension," he said.
Long was apprehended at around 8.30 p.m. around 150 miles south of Atlanta by authorities in Crisp County.
At Wednesday's news conference, Atlanta Mayor Keisha Lance Bottoms said that police determined he had been en route to Florida and may have intended to carry out more shootings.
"As tragic as this was on yesterday in metro Atlanta, this could have been significantly worse," she said.