Attack on Brian Sicknick Shown in New Video as Murder Charges Remain a Possibility
New video unveiled on Wednesday shows the moment Capitol Police officer Brian Sicknick was assaulted with bear spray during the January 6 insurrection in Washington, D.C. If it's determined to be the cause of his death, those responsible could face murder charges.
Sicknick collapsed at his division office hours after being hit with the high-powered spray during the riot and was pronounced dead at the hospital the next day. Two men—George Tanios and Julian Khater—were charged with assaulting Sicknick, but could face more serious charges after the medical examiner issues a report on his death.
"If evidence directly relates that chemical to his death, yeah. We have causation, we have a link. In that scenario, correct, that's a murder case," acting U.S. Attorney for Washington Michael Sherwin, who is leading the prosecution of the Capitol riot cases, told CBS News' 60 Minutes on Sunday.
Khater and Tanios arrived at the Capitol about an hour into the confrontation between rioters and police officers, according to court records. Police deployed tear gas into the crowd, and after being sprayed, Khater told Tanios to "give me that bear s---." Tanios advised him to wait because "it's still early"—but videos obtained by The New York Times show Khater taking something that appears to be bear spray out of Tanios' backpack.
According to the footage, after returning to the bike racks that separated officers from the crowd, Khater raises his arm above rioters and deploys a spray in the direction of Sicknick. As he allegedly sprays the officer, other rioters pull on the bike racks and charge another officer.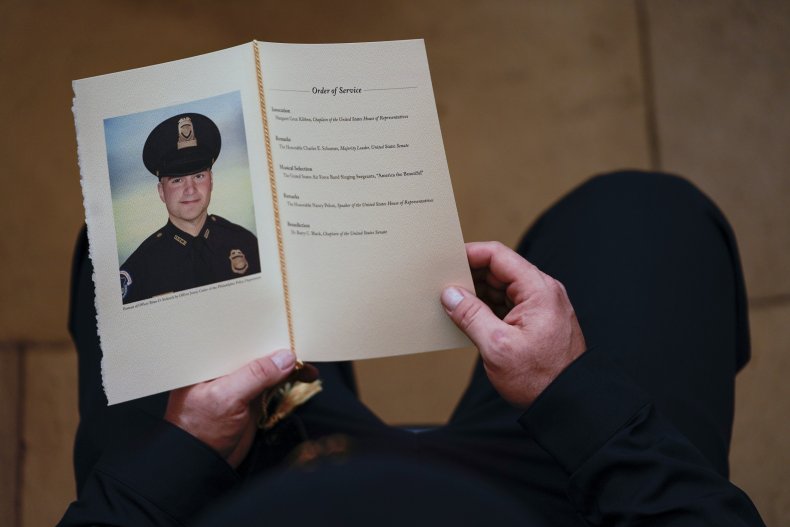 Sicknick immediately turns away and retreats to the scaffolding that was erected for President Joe Biden's inauguration to wash his eyes and face with water. Shortly after Sicknick is attacked, rioters breach the police line and gain entry into the Capitol building.
Bear spray, as its name indicates, is intended to repel a bear in the event of an attack and contains a chemical agent called capsaicin. It leads to a burning sensation and can cause organs to swell, resulting in a temporary loss of sight and difficulty breathing when used on a bear.
Capsaicin is also used in normal pepper spray but is twice as powerful in bear spray, and canisters designed to thwart an animal attack shoots out significantly faster than pepper spray. This makes it more dangerous to humans.
Two other officers, identified as C. Edwards and D. Chapman, were sprayed at the same time as Sicknick. Both described it as being stronger than any spray they were exposed to during law enforcement training. Edwards still had scabbing on her face for several weeks after the riot.
Tanios allegedly purchased multiple cans of Frontiersman bear spray and two canisters of pepper spray on key chains from a West Virginia firearms store while on the phone with Khater, according to the prosecution.
When law enforcement searched Khater's New Jersey residence, they found a spent can of bear spray, according to court documents. A search of Tanios' residence uncovered the backpack he was wearing on January 6 filled with two cans of bear spray, spray on a keychain, and a handgun.
While Khater allegedly was the person to spray Sicknick, both he and Tanios face the same charges as prosecutors accuse them of conspiring to attack law enforcement. On Monday, a judge ordered Tanios, who could face decades in prison if convicted, be detained until his trial.
Following the riot at the Capitol, Sicknick texted on the evening of January 6 to say he was in "good shape" despite being pepper-sprayed, his brother Ken told ProPublica. The next day, the family found out that Sicknick was on a ventilator and being treated for a blood clot and a stroke.
An investigation into Sicknick's death is still ongoing. A medical examiner has not ruled as to whether allegedly being hit with bear spray was the cause of his death.