Attack on Jewish Diners at LA Restaurant by Pro-Palestinian Group Being Investigated as Hate Crime
Authorities are investigating a brawl late Tuesday night outside a restaurant in Los Angeles as a possible hate crime.
Witnesses told CBSLA that a caravan of vehicles with people waving pro-Palestinian flags approached the restaurant in the Beverly Grove neighborhood and began throwing glass bottles at diners while yelling anti-Jewish profanity.
Cellphone video footage shows a group of men get out of a car and begin to physically attack the diners, one man appearing to pick up a metal pole and hold it above his head, shouting anti-Jewish slurs.
One diner, who is not Jewish, told CBSLA that he was pepper-sprayed while attempting to defend the group and had to go to a hospital. The attackers took off in what police described only as possibly a black Jeep. According to CBSLA, Los Angeles police said no one was seriously injured and no immediate arrests were made.
Earlier in the week in Los Angeles, an Orthodox Jewish man was allegedly chased by a pro-Palestinian caravan, according to CBSLA, amid rising tensions during the conflict in Gaza. Police are investigating.
Earlier Tuesday, a group of pro-Palestinian demonstrators gathered in West L.A. outside of the Israeli consulate, organized by the Palestinian Youth Movement, CBSLA reported. The protest was peaceful, and LAPD said no arrests were made.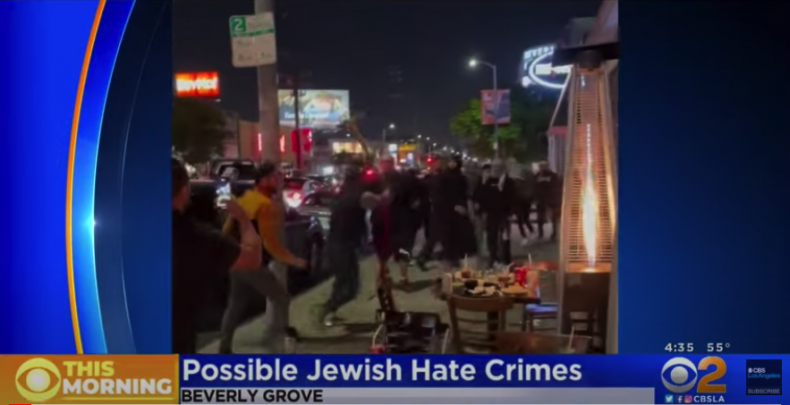 The U.S. has encouraged Israeli Prime Minister Benjamin Netanyahu and other Israeli leaders to "de-escalate" fighting in Gaza. The conflict has resulted in at least 213 Palestinian deaths and 12 in Israel, the Associated Press reported.
Demonstrators across the U.S. have been marching in the streets as large pro-Palestinian protests on Saturday and Sunday took place in cities like Sacramento, New York, Dallas, and Washington.
The Orange County District Attorney's Office announced on May 11 the creation of a hate crimes prosecution unit. The unit will be in charge of prosecuting any crime fueled by discrimination against a victim's gender, race, religion, national origin, sexual orientation, or disability.
An escalation in anti-Semitic incidents has occurred in recent years, as a recent study by the Pew Research Center found that more than half of Jewish people living in the U.S. feel less safe than they did five years ago.
The study also found that over six in 10 U.S. Jews say they think a way can be found for Israel and an independent Palestinian state to peacefully coexist.
Newsweek reached out to LAPD for comment but did not hear back in time for publication.