Biden Tells Israel He Expects 'Significant De-Escalation' in Gaza as Lebanon Border Erupts Again
President Joe Biden has called on Israeli Prime Minister Benjamin Netanyahu to roll back his forces' campaign in Gaza in the sternest language yet by the White House since the latest crisis began, as hostilities broke out once again elsewhere on Israel's northern border with Lebanon.
In Biden's fourth call with Netanyahu since the clash between the Israel Defense Forces and Gaza-based Palestinian factions exploded last week amid mounting tensions in Jerusalem, the two men held "a detailed discussion on the state of events in Gaza, Israel's progress in degrading the capabilities of Hamas and other terrorist elements, and ongoing diplomatic efforts by regional governments and the United States," according to a White House readout.
"The President conveyed to the Prime Minister that he expected a significant de-escalation today on the path to a ceasefire," the readout said.
It is the latest signal that Biden was taking a tougher line with the Israeli leader after he for the first time said he "expressed his support for a ceasefire" on Monday, only for Netanyahu to vow to "continue striking" Palestinian personnel and infrastructure involved in the launching of thousands of rockets toward Israel.
Speaking by an IDF operations headquarters in Tel Aviv, Netanyahu still appeared set on pressing forward with the operation.
"I very much appreciate the support of these governments, and I especially appreciate the support of U.S. President Joe Biden for the right to self-defense of the State of Israel," Netanyahu said. "I am determined to continue this operation until its goal is achieved - to restore peace and security to you, the citizens of Israel."
The U.S. has sought to engage regional actors such as Egypt, Jordan and Qatar in attempting to multilaterally mediate calm in the worst violence between Israelis and Palestinians in years.
Meanwhile, a volley of rockets fired from across Israel's northern border with Lebanon marked the third such launch over the past few weeks.
"Following the previous report regarding the sirens which sounded in the Lower Galilee and Krayot area, four rockets were fired from Lebanon into Israeli territory," the IDF said in a statement sent to Newsweek. "The Iron Dome Aerial Defense System intercepted one of them and the rest most likely fell in open areas."
The IDF then retaliated, stating that, "In response, IDF Artillery are striking a number of targets in Lebanese territory."
A representative of the Lebanon's official National News Agency reported that "artillery of the Israeli occupation army shelled the area around the border town of Alma al-Shab border," with "no damage or injuries" reported.
IDF fire at pro-Palestinian protesters who have attacked and attempted to cross the border has already led to one dead and several injured over the past several days. Peacekeepers of the United Nations Interim Force in Lebanon (UNIFIL) are now seeking to calm the situation along a boundary with a long history of war.
"Rockets have been launched from southern Lebanon into northern Israel and IDF has retaliated," UNIFIL spokesperson Andrea Tenenti said in a statement sent to Newsweek. "UNIFIL Head of Mission and Force Commander Major General [Stefano] Del Col is in direct contact with the parties urging all sides to exercise maximum restraint at this critical time."
"The firing has now stopped," he added. "Our peacekeepers are on the ground with the LAF to assess the situation."
The Lebanese Armed Forces counted 17 shells fired by the IDF near Wadi Hamul, where four empty rocket launches were found, alongside one equipped with a live rocket ready to be launched.
While the attacks from Lebanon pale in comparison to the near 4,000 rockets fired by the Hamas-led Palestinian coalition in Gaza, the northern strikes in conjunction with one volley of rockets fired Friday from Syria recall not only Israel's history of operations against foes in the two enemy states but also its decades-long experience of wars with coalitions of Arab nations since the country's 1948 establishment on land also claimed by Palestinians.
The latest flare-up in Gaza emerged as demonstrations rocked Israel in response to an attempt by Israeli families to evict Palestinians from the Sheikh Jarrah neighborhood of Jerusalem. The U.S. had expressed concerns regarding Israel's reaction, but the situation continued to escalate as Israeli security forces stormed the Al-Aqsa Mosque and Hamas began a campaign of rockets answered with a massive IDF retaliation by air, land and sea.
Biden along with his State Department, Pentagon and National Security Council have asserted Israel's "right to defend itself" in a flurry of back-to-back calls with Israel counterparts over the past week, but have also urged a need for calm as the conflict's death toll mounted, far more so on the Palestinian side.
Hamas' language also appeared to evolve on Wednesday as Deputy Political Bureau chair Mousa Abu Marzouq told Lebanon's Al Maydeen outlet that he believed "the efforts currently underway regarding a ceasefire will succeed," perhaps as early as tomorrow or the following day.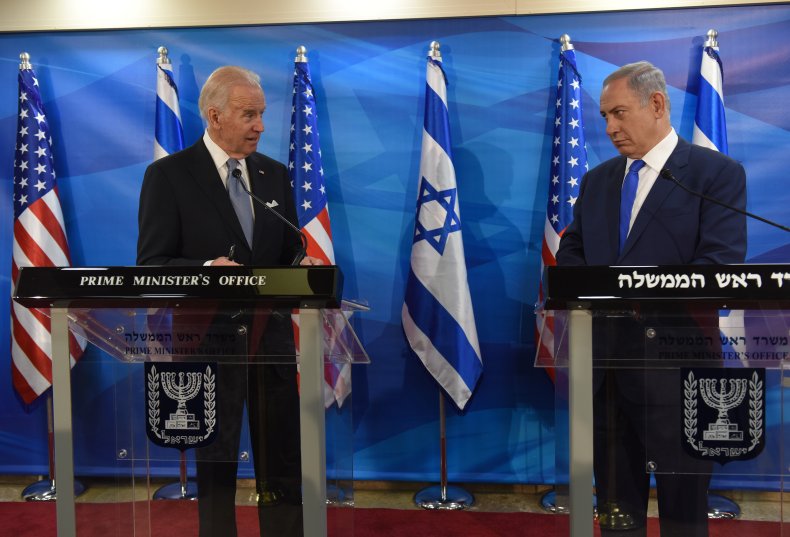 This is a developing news story. More information will be added as it becomes available.