'Attack on Titan' Season 4 Is Still Coming to Funimation in 2020 Will Stream Later This Year
After reports and speculation that the fourth and final season of the Attack on Titan anime would be pushed to 2021, Funimation has confirmed that it will carry the latest season of the popular anime on its streaming service when it releases later this year.
Funimation confirmed the 2020 release date window on its press release when it announced that Attack on Titan Final Season will stream on its platform in the U.S. Canada, the UK, Ireland, Mexico and Brazil later this year.
Japanese-language episodes with English subtitles will be released the same day they premiere on Japanese broadcast in the U.S. Canada, the UK and Ireland with dubbed episodes arriving in the other territories at a later date.
While a hard release date was not announced, fans of Attack on Titan can rest easy knowing that the final season is set to debut before 2020 ends.
Crunchyroll has also confirmed that they will also be streaming the final season in the following territories: U.S., Canada, U.K., Ireland, South Africa, Australia, New Zealand, Iceland, Sweden, Norway, Denmark, Finland, the Netherlands, LATAM.
Accompanying the announcement, Funimation dropped a new trailer for Attack on Titan Season 4, which you can watch below.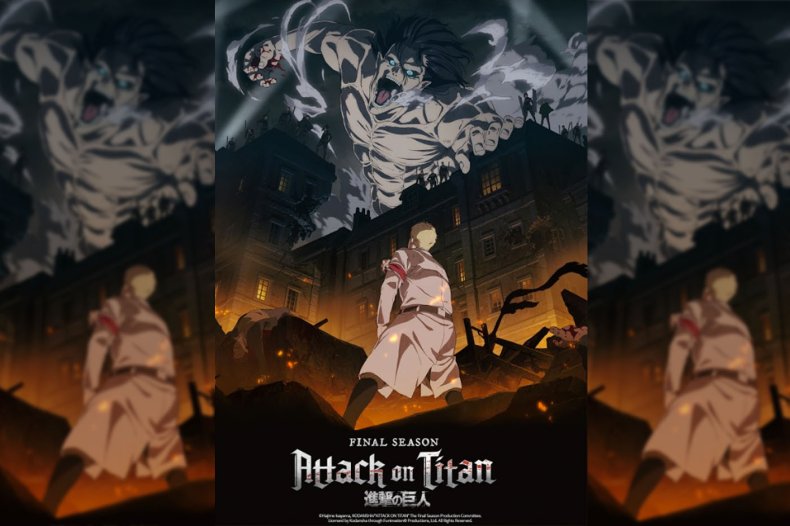 There's a lot of action involved with this new Attack on Titan trailer, but it seems that after learning of the origins of the Titans, Eren and the rest of the Scouts are on the hunt for the Armored and Beast Titans.
Here's the official synopsis of Attack on Titan the Final Season: "With Eren and company now at the shoreline and the threat of Marley looming, what's next for the Scouts and their quest to unravel the mysteries of the Titans, humanity, and more?"
The Final Season of Attack on Titan will have a new production studio handling the series. WIT Studio handled the first three seasons, but MAPPA will be taking over production duties for the series.
We'll update this section when a hard release date is announced.
If you need to catch up on Attack on Titan before the fourth and final season, the first three season are currently available subbed and dubbed on Funimation. All three seasons of Attack on Titan are also available on Blu-ray, DVD & Digital HD and can be purchased on Funimation's site or from select retailers.
Attack on Titan is adapted from the best-selling manga series by Hajime Isayama about the last of humanity fighting to survive against man-eating giants called Titans. To date, there are a total of 32 volumes in the manga series, which can be read via Kodansha Comics on the Comixology app.
Are you excited for the final season of Attack on Titan? How do you think the series will end? Let us know in the comments section.