Attempted Reagan Assassin John Hinckley Jr. Is Starting a Band and Looking for Musicians
The man who attempted and failed to assassinate then-President Ronald Reagan in 1981 is starting his own band and calling on fellow musicians to join him.
John Hinckley Jr., 66, tweeted on Monday that he is seeking a bass player, drummer and lead guitarist, and anyone who "would like to be in my band" and is "serious about this" should send their bio to a P.O. box he listed. With the tweet, Hinckley posted a picture of himself holding a guitar with his name on it.
Hinckley's Twitter page has racked up nearly 20,000 followers, and he currently runs a YouTube channel with 25,000 subscribers that was created in November of 2020. His channel features dozens of videos of him singing and playing the guitar, covering existing tracks by other artists and several original songs.
In his most recent video posted at the end of December, Hinckley announced that he would be starting his own record label, Emporia Records. He said that the first release under the label will be a 14-song CD of his own music and the music of others "that I think needs to be heard."
Hinckley invited anyone who wanted to be included on his CD to send a demo to the P.O. box of his label. A search for Emporia Records did not show any websites linked to Hinckley.
He has also released several of his songs on some streaming platforms, including Spotify and Apple Music.
Hinckley is months away from receiving his unconditional release from the court-ordered restrictions he has lived under for years. A federal judge ruled in late September that all remaining restrictions can be lifted in June of 2022, Newsweek previously reported.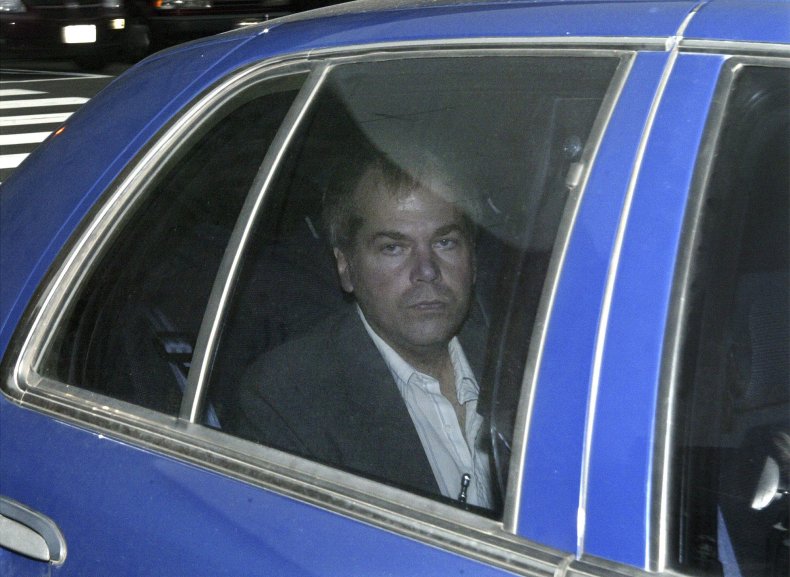 Hinckley's attempted assassination of Reagan wounded the president, Secret Service agent Timothy J. McCarthy and Police Officer Thomas K. Delahanty. James S. Brady, Reagan's White House press secretary, was struck and partially paralyzed.
A jury decided in 1982 that Hinckley was not guilty by reason of insanity, and he was sent to a psychiatric hospital in Washington. A judge ultimately released him in 2016 to permanently live with his mother, who died in July, Newsweek reported.
U.S. District Judge Paul L. Friedman said in announcing that he would grant the unconditional release that Hinckley hadn't shown any symptoms of "active mental illness" since 1983. He also said that his initial diagnosis of psychotic disorder had been in "full and sustained remission" for at least three decades.
Friedman also said that some of the restrictions that Hinckley had been living under since he was released to live with his mother might have not been needed, Newsweek reported.