Attendees at NJ Trump Fundraiser Say President Looked 'Normal,' Not Worried About COVID Concerns
Attendees at a fundraiser Thursday for President Donald Trump's re-election campaign said he appeared "normal" and healthy at the event, despite hours later announcing his positive COVID-19 test results.
Trump looked "100 percent normal" at the event, John Sette, former chairman of the Morris County GOP, told NJ Advance Media. Sette was one of about 300 people who attended the recent fundraiser, hosted at the Trump National Golf Club in Bedminster, New Jersey.
Sette, who claimed he was about 100 feet away from the president during the event, said Trump spoke for about 15 minutes and then took questions from the audience for an hour. Sette does not have plans to be tested for the deadly virus.
"I spoke to my doctor this morning and he said, 'Don't worry about it,'" Sette said. "If you feel sick, call me."
Trump has received backlash for his decision to host the fundraiser despite having already found out that Hope Hicks, one of his top aides, had tested positive for COVID-19. Some attendees have now publicly expressed fear that they too might get the virus, even with repeated assurances from the White House that the event was safely held outdoors and with appropriate social distancing measures in place.
"It was deemed safe for the president to go, he socially distanced, it was an outdoor event, it was deemed safe by White House operations for him to attend," White House Press Secretary Kayleigh McEnany told reporters Friday.
Rik Mehta, a pharmacist and lawyer who is running for U.S. Senate against Democrat Cory Booker, told NJ Advance Media that he and his wife attended the event but did not come into contact with the president.
But Mehta said he would still get tested for COVID-19 on Friday. "I am a public health expert," he said. "Out of an abundance of caution, I will get tested but I am not concerned even in the slightest."
Mehta echoed Sette's comments about Trump's condition, though, agreeing that the president seemed perfectly healthy at the fundraiser.
"He was very energetic, jovial and charismatic yesterday," Mehta said. "He took his time. It was a casual event. He was answering questions openly. I didn't see any lethargy at all."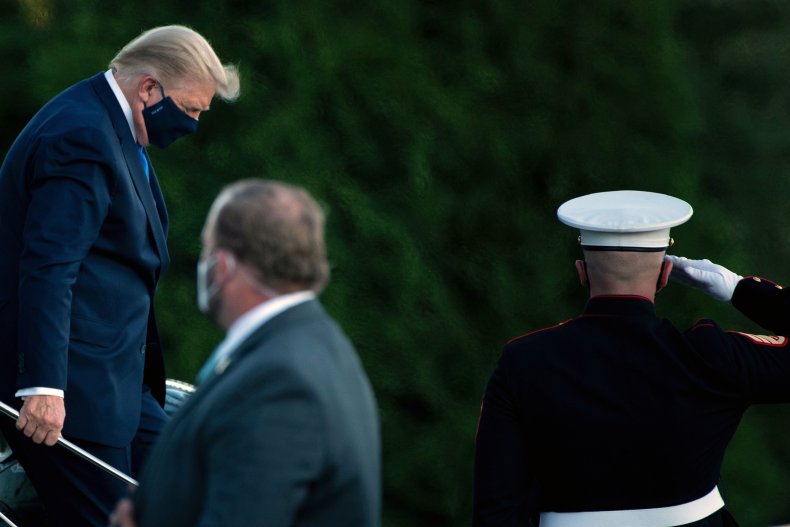 Tickets to the fundraiser cost as much as $250,000, and some of the highest paying donors were treated to an indoor gathering with Trump. Philanthropist Rich Roberts was one of 19 people who were seated around a rectangular table with the president, Roberts said in a video posted on The Lakewood Scoop.
"I found the president to be in top spirits, full of fighting energy," he said in the video. It is unclear whether the video was filmed before Trump's announcement early Friday morning that he had tested positive for coronavirus.
"He has tremendous command—I'm surprised by his command—of a whole lot of topics," Roberts said. "He feels a lot of compassion for people."
Roberts, who said he sat directly across from Trump, told Asbury Park Press Friday that the president and his guests did not wear masks during the roundtable discussion. But Roberts does not plan to get tested for COVID-19, and said he would instead quarantine at his home, like he's been doing since March.
Some top Trump donors disagreed with Trump's move to continue on with the event. Dan Eberhart, chief executive officer of Canary Drilling Services LLC and a prominent financial backer of Trump, told Bloomberg on Friday that it was "reckless" of the president to go forward with the event after learning that Hicks tested positive. Eberhart did not attend Thursday's event.
New Jersey Governor Phil Murphy, a Democrat, is urging people who attended the fundraiser to get tested and self-quarantine. The Somerset County Health Department announced it would conduct contact tracing to determine how many guests and staff at the golf club could be affected, according to NJ Advance Media.
Trump announced his positive diagnosis in a tweet early Friday morning, writing: "Tonight, @FLOTUS and I tested positive for COVID-19. We will begin our quarantine and recovery process immediately. We will get through this TOGETHER!"
By Friday evening, Trump was headed to Walter Reed National Military Medical Center, where he is expected to remain for a few days. Videos and photographs captured the president as he walked without assistance from the White House to Marine One, flashing a thumbs up.
In a video posted to Twitter concerning his trip to Walter Reed, Trump thanked Americans for their support. "I think I'm doing very well," Trump said, "but we're going to make sure that things work out."
Update (10/03/20, 9:39 a.m.ET: This article has been updated to include additional information.