Attorney in 'Racist Baby' Lawsuit Says Trump Campaign Raised Money 'At The Expense of Two Little Kids'
The attorney representing the parents of the toddlers in a doctored video shared by President Donald Trump said the president's reelection campaign raised money "at the expense of two little kids."
Ven Johnson, who is representing the parents of Maxwell, Michael Cisneros and Alex Hanson, told Newsweek, "It's all about trying to raise money for his reelection campaign and increase his 'brand' at the expense of two little kids."
"It was absolutely done to advocate for what I believe to be a racist, despicable message against two little babies," Johnson added.
Though there is no indication that the Trump campaign used the video as a fundraising platform, the June 18 tweet from the president and the campaign's subsequent retweet and Facebook post, sparked backlash across social media. According to the lawsuit, the video saw over 21 million views before it was taken down by Twitter and Facebook, who labeled it as "manipulated media."
On Friday, the two sets of parents, whose children were featured in the video, filed a lawsuit against President Donald Trump and his campaign for violating their toddlers' civil rights. The suit also names Logan Cook, the man identified as creating the video, as a defendant. Cook's Twitter account was permanently suspended several days after the tweet was removed from the social media platform.
Cisneros, Hanson, and Erica and Daniel McKenna, the parents of Finnegan, are accusing the president of using their children's likeness without their consent to seek donations for his campaign.
"It's in blatant violation of the law," Johnson said on Friday. "I would absolutely invite New York's attorney general to take a look at this."
Under New York civil rights law, a person is guilty of a misdemeanor, which is a criminal act, if they use the name or visual of a living person for advertising purposes without obtaining written consent from the individual or their legal guardian.
The lawsuit alleges that Cook "falsely, maliciously and without parental consent" manipulated the video in September of 2019 to inaccurately portray a white toddler as running away from a Black toddler. The video is made to look like it was produced by CNN with a headline that read, "Terrified toddler runs from racist baby."
On June 19, the day afer Trump and his campaign shared the video, White House press secretary Kayleigh McEnany defended the president during a press briefing, saying that he was attempting to make a "satirical point."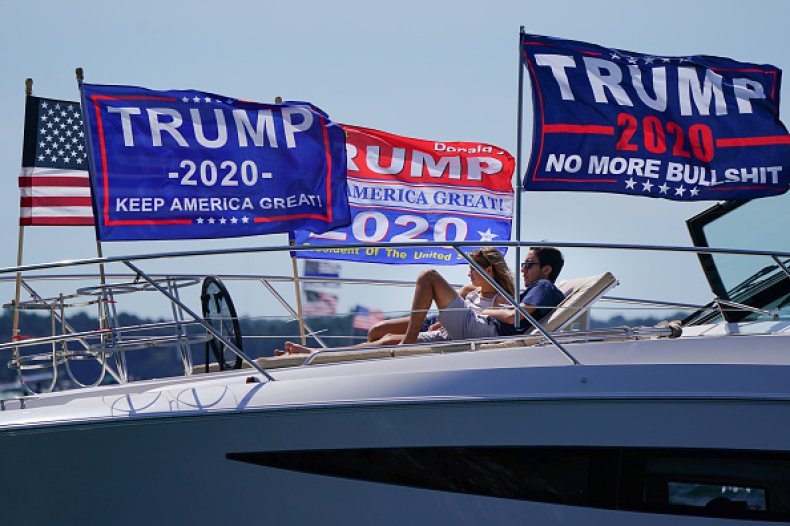 "It's one thing to take a video and comment on a video. That's fair game. It's something else to take a video and then put a chyron from CNN and say 'breaking news' as if it's real," Johnson said.
"What I love about the incredible irony, if not stupidity, of what's going to be [Trump's] defense is that they're trying to make, they say, an example of fake news. This is the upmost of fake news," he added.
The parents of the two boys have publicly criticized Trump for sharing the clip on social media.
In an op-ed published by Newsweek, Cisneros said he "couldn't believe that the President of the United States would tweet out a video that is sharing a message of hate in the midst of the Black Lives Matter protests."
"We feel that standing up to these bullies and holding them accountable for breaking the law is very important—for our sons and for us, since no one is above the law," he wrote on July 2.
Newsweek reached out to the White House and Trump's reelection campaign for comment, but did not receive a reply before publication.