Daniel Lewis Lee Attorney Says 'Shameful' Execution Took Place 'While the Country Was Sleeping'
An attorney for Daniel Lewis Lee has slammed the U.S. government for its "shameful" and hasty execution of the 47-year-old "while the country was sleeping."
Lee, of Yukon, Oklahoma died by lethal injection at the federal prison in Terre Haute, Indiana, on Tuesday morning, becoming the first federal inmate to be executed in 17 years.
It came hours after the Supreme Court ruled Lee's execution and those of other federal inmates on death row "may proceed as planned."
Ruth Friedman, one of Lee's attorneys, said Lee remained strapped to a gurney for four hours while the federal government moved to push forward with his execution.
In a statement to Newsweek, Friedman said Lee was put to death while multiple motions in his case remained pending and without notice being given to his counsel.
"It is important for everyone to understand exactly what happened last night to our client, Daniel Lewis Lee," Friedman said. "At 2 a.m on July 14, while the country was sleeping, the Supreme Court issued a 5-4 decision vacating the injunction that had been in place against the first federal execution in 17 years.
"Within minutes, the Department of Justice moved to re-set Danny Lee's execution—for 4 a.m., summoning media and witnesses back to the prison in the very middle of the night."
Friedman said when it was brought to the government's attention that a stay of execution issued by a court remained in place, the DoJ first maintained that that stay "presented no legal impediment to executing Danny Lee, but then filed an 'emergency' motion to lift the stay."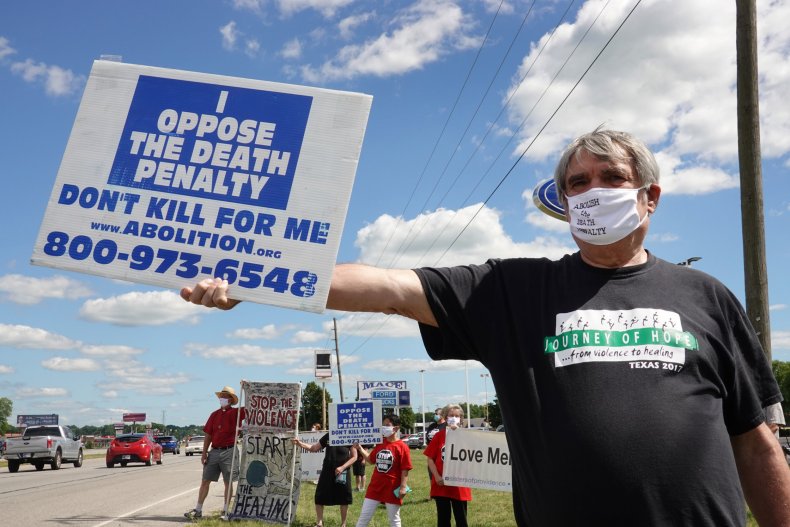 She added: "Over the four hours it took for this reckless and relentless government to pursue these ends, Daniel Lewis Lee remained strapped to a gurney: a mere 31 minutes after a court of appeals lifted the last impediment to his execution at the federal government's urging, while multiple motions remained pending, and without notice to counsel, he was executed."
Friedman also criticized the decision to proceed with Lee's execution amid the coronavirus pandemic. "It is shameful that the government saw fit to carry out this execution during a pandemic," she said.
"It is shameful that the government saw fit to carry out this execution when counsel for Danny Lee could not be present with him, and when the judges in his case and even the family of his victims urged against it.
"And it is beyond shameful that the government, in the end, carried out this execution in haste, in the middle of the night, while the country was sleeping. We hope that upon awakening, the country will be as outraged as we are."
In a statement, DoJ spokesperson Kerri Kupec said: "Today, Daniel Lewis Lee faced the justice he deserved."
Lee had initially been scheduled to receive a lethal dose of pentobarbital at 4 p.m. EDT on Monday for the 1996 killings of gun dealer William Mueller, his wife Nancy Mueller and her 8-year-old daughter Sarah Powell.
But a court order issued on Monday morning by U.S. District Judge Tanya Chutkan halted Lee's execution until the Supreme Court overturned it.
Then, George Kouros, another of Lee's attorneys, said in a letter to Katherine Siereveld, the senior attorney at the Federal Correctional Complex early Tuesday that Lee's execution could not proceed because a stay of execution issued by the District Court of the Eastern District of Arkansas in December last year remained in place.
In the letter, which was provided to Newsweek, he added: "Counsel for the Government are responsible for ensuring that the Warden of the United States Penitentiary in Terre Hate, Indiana, the United States Marshal for this District and appropriate Indiana District, and all other officials who would have any involvement in Mr. Lee's execution are notified of this stay and comply with its requirements."
But Kopek said: "The U.S. Court of Appeals for the Eighth Circuit ultimately rejected his claim, clearing the way for his execution.
"The Attorney General appreciates the hard work, dedication, and professionalism demonstrated by the Federal Bureau of Prisons; the United States Marshals Service; and the law enforcement and legal teams that investigated and prosecuted Lee, and that for many years defended the government's duty to carry out this lawful sentence."
Attorney General William Barr added: "This morning, in the first federal execution in 17 years, Daniel Lewis Lee was executed by lethal injection at FCI Terre Haute in accordance with a death sentence imposed by a federal district court in 1999.
"Lee, a member of a white supremacist organization, brutally murdered William Frederick Mueller and Nancy Ann Mueller, along with her eight-year-old daughter, Sarah Elizabeth Powell.
"After robbing and shooting them with a stun gun, Lee duct-taped plastic bags around their heads, weighed down each victim with rocks, and drowned the family in the Illinois bayou.
"On May 4, 1999, a jury in the U.S. District Court for the Eastern District of Arkansas found Lee guilty of numerous offenses, including three counts of murder in aid of racketeering, and he was sentenced to death. Today, Lee finally faced the justice he deserved. The American people have made the considered choice to permit capital punishment for the most egregious federal crimes, and justice was done today in implementing the sentence for Lee's horrific offenses."
But relatives of Lee's victims had opposed Lee's execution, and noted that his accomplice in the killings, Chevie Kehoe, had received a life sentence.
However, they had wished to exercise their right to witness it and called for it to be delayed, arguing in a lawsuit filed last week that traveling to witness it would put them at risk of contracting coronavirus.
Two more federal executions are scheduled this week. Wesley Purkey's execution, set for Wednesday, is on hold in a separate legal claim. Dustin Lee Honken's execution is scheduled for Friday.
Shawn Nolan, an attorney for one of the men facing execution, has also criticized the government's decision to proceed with the executions.
"The government has been trying to plow forward with these executions despite many unanswered questions about the legality of its new execution protocol," Nolan said in a statement to Newsweek. He added that "these executions threaten to become COVID-19 super-spreader events."
Over the weekend, it emerged that an employee involved in the planning for this week's executions had tested positive for coronavirus. There are also currently four confirmed cases of coronavirus among inmates at the Terre Haute prison, according to the Bureau of Prisons. One inmate has died there.