Attorneys General from 19 States and Washington, D.C. Urge FDA to End Gay Blood Ban
Attorneys general from 19 states and the District of Columbia have signed a letter on Wednesday urging the U.S. Department of Health and Human Services to end the U.S. Food and Drug Administration's ban against blood donations from men who have sex with men.
Although the FDA recently revised its eligibility requirements to allow gay and bisexual men to donate blood providing they haven't had sex in three months, the letter says the revision "does not go far enough" to help increase the nation's blood supply amidst a shortage caused by the coronavirus epidemic.
"In the midst of the COVID-19 pandemic, blood drives and donations have dropped significantly," the letter reads. "As of mid-March, over 4,000 blood drives have been canceled across the country due to coronavirus concerns and closures of schools and workplaces where these drives are usually held, resulting in over 100,000 fewer blood donations."
The American Red Cross, the organization which provides about 40 percent of the nation's blood and blood components, says that the U.S. needs approximately 36,000 units of red blood cells, nearly 7,000 units of platelets, and 10,000 units of plasma every single day.
Newsweek subscription offers >
However, the reduction in blood donations during the coronavirus epidemic caused the organization to carry less than five days' worth of blood in its reserves last month. As a result, in mid-March, the American Red Cross had to choose which hospitals receive blood and which ones don't. An outpouring of donations since that time has made it so that the American Red Cross is no longer triaging blood donations to hospitals, an organizational spokesperson told Newsweek.
"The discriminatory restrictions against blood donations by healthy gay and bisexual Americans have persisted for far too long; the steps you have taken acknowledge current rules are informed more strongly by bias than science," the letter reads.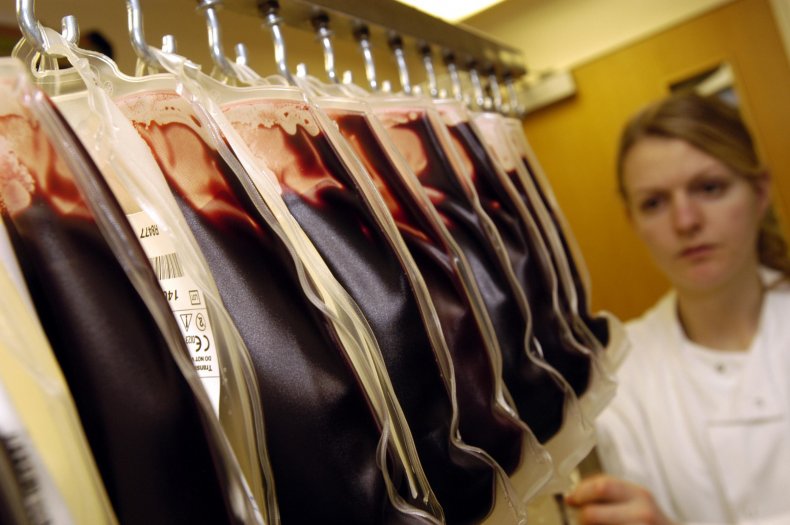 Citing a 2014 study from the University of California, Los Angeles School of Law Williams Institute, the letter says that getting rid of the donor prohibitions against gay and bi men would "produce over 2 million additional each eligible blood donors, including nearly 175,000 likely blood donors, and would produce nearly 300,000 pints of additional donated blood annually," potentially saving the lives of more than a million people.
Newsweek subscription offers >
The current prohibitions on gay and bi male donors would forbid a man from donating blood to his own dying husband, even if the two were in an exclusive monogamous relationship. The prohibitions also single out bi and gay men and possibly violate the Constitution's equal protection principles under the Fourteenth Amendment and Fifth Amendment, the letter says.
Despite the FDA's recent revision to allow gay and bi men to donate blood after three months of celibacy, some donation centers are still turning away such would-be donors because the centers haven't updated their questionnaires and computer systems, or trained staff to do otherwise.
The FDA initially began its lifetime ban on gay and bi men back in 1983 as a cautionary measure during the AIDS epidemic. Nevertheless, "Additional precautions ... [can help] achieve safety goals while maximizing the blood supply," the letter says.
Newsweek has reached out to the U.S. Department of Health & Human Services for comment. The department had not responded by the time of publication.
The letter is signed by the attorneys general from California, Colorado, Connecticut, Delaware, the District of Columbia, Hawaii, Illinois, Iowa, Maine, Massachusetts, Michigan, Minnesota, Nevada, New Jersey, New Mexico, New York, Oregon, Pennsylvania, Vermont and Virginia.
Attorneys General from 19 States and Washington, D.C. Urge FDA to End Gay Blood Ban | U.S.