Gay Men Turned Away From Blood Donation Despite FDA Rule Change
Blood centers are still turning away men who have sex with men, despite the Food and Drug Administration revising rules that now allows them to donate blood.
Even though the FDA recently revised eligibility requirements that allow gay and bisexual men to donate blood—providing they haven't had sex in three months—some donation centers are still turning away potential donors because the centers haven't updated questionnaires and computer systems, or trained staff to do otherwise, reports NBC News.
Lukus Estok, a 36-year-old New York City resident and coronavirus survivor, went to Mount Sinai hospital system's blood plasma therapy program to donate his blood plasma as someone who had recently recovered from COVID-19. He hoped the antibodies in his blood could possibly be used to help seriously ill coronavirus patients.
But even though several screening processes informed him that the high level of antibodies in his blood made him an ideal donor, he was turned away when he arrived at the New York Blood Center after revealing his sexual orientation.
A staff member told him that they hadn't yet implemented the FDA's new eligibility requirements, and neither have thousands of blood banks across America, even though the FDA said in its April 2 press release that centers could begin allowing such donations with "immediate implementation."
The problem is that the AABB—an industry group formerly known as the American Association of Blood Banks which accredits most of the nation's blood centers—has not yet had its updated donor history questionnaire approved by the FDA. The old questionnaire rejects gay and bisexual male applicants.
Though the FDA is currently reviewing the AABB's new questionnaire, without the national accreditation group's updated form, many donation centers are hesitant to accept donations that might contradict the allowances stated on the current paperwork. The FDA has said that blood donation centers can create their own questionnaires to start accepting gay and bi donations in the meanwhile, but few seemingly have.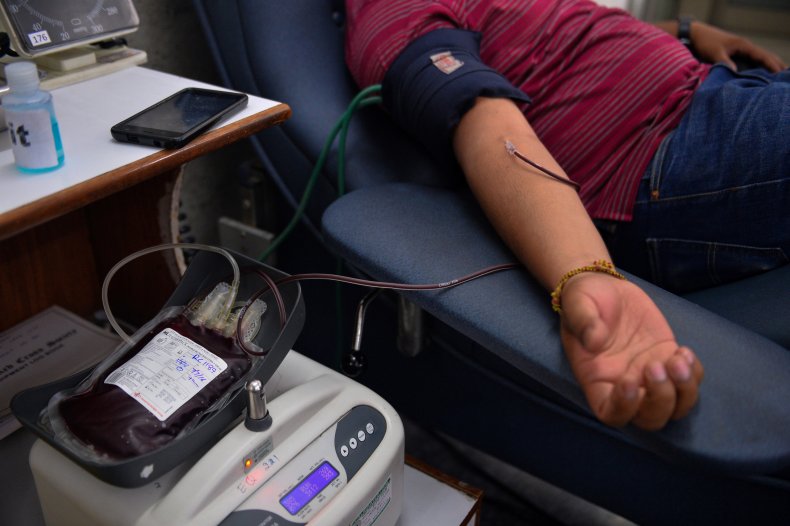 But even after the FDA approves the AABB's new questionnaire, blood donation centers will still need months to re-train staff and reconfigure computer software not to refuse donations from men who have sex with other men.
The Red Cross and America's Blood Centers, which collectively represent roughly 800 blood banks nationwide, say they won't likely begin accepting donations from gay and bi men until June and July, respectively.
The FDA initially began its lifetime ban on gay and bi men back in 1983 as a cautionary measure during the AIDS epidemic. The organization lifted the ban in 2015, allowing them to donate after abstaining from sex for 12 months.
After urging by Democrats, the FDA reduced the window to three months as a way to encourage donations during the coronavirus epidemic. However, many gay and bi men and their allies still find the celibacy requirement discriminatory as no similar requirement is made of women or heterosexual men.
"The Red Cross is working aggressively to implement the many eligibility changes outlined by the FDA as soon as possible," the American Red Cross wrote in a statement to Newsweek. "This process includes potentially thousands of individuals and involves complex system updates to reflect the new FNA deferral time of three months for men who have had sex with men. These updates will take time to implement."
"If the Red Cross were to develop its own questionnaire, or edits to the current questionnaire, that would also need to be submitted to the FDA for approval and therefore would not help to speed up the implementation process," the statement continued.
The organization says the inclusion of men who have sex with men as donors is a step toward "a greater goal of an equitable blood donation process that treats all potential donors with equality and respect, and ensures a safe, sufficient blood supply is readily available for patients in need."
"The Red Cross remains committed to building an inclusive environment that embraces diversity for all those who engage with our lifesaving mission and does not believe blood donation eligibility should be determined by methods that are based upon sexual orientation," the organization wrote.