Can Gay Men Donate Blood During the U.S. Coronavirus Pandemic?
The United states' Food and Drug Administration (FDA) has revised eligibility requirements for blood donors to encourage participation during the COVID-19 pandemic.
In a statement released Thursday, the agency modified previous guidelines that recommended men who have had sex with men wait 12 months before donating blood, shortening the "deferral" period to three months.
"The COVID-19 pandemic has caused unprecedented challenges to the U.S. blood supply," wrote Peter Marks, director of the FDA's Center for Biologics Evaluation and Research, noting the "dramatic reduction in donations due to the implementation of social distancing and the cancellation of blood drives."
The update came several days after 17 U.S. senators—including Tammy Baldwin, Elizabeth Warren, Corey Booker, Kamala Harris and Bernie Sanders—signed a petition urging the FDA's commissioner to amend its policies targeting gay men. Echoing years of similar criticisms from advocates, their petition condemned the regulations and argued against preserving "antiquated and stigmatizing" statutes amid a national health crisis.
"It is vital that all Americans have access to the health care services they need during this outbreak, and for many individuals, including accident and trauma victims, organ transplant recipients and cancer patients, blood transfusions remain a necessary component of care," the March 26 petition read.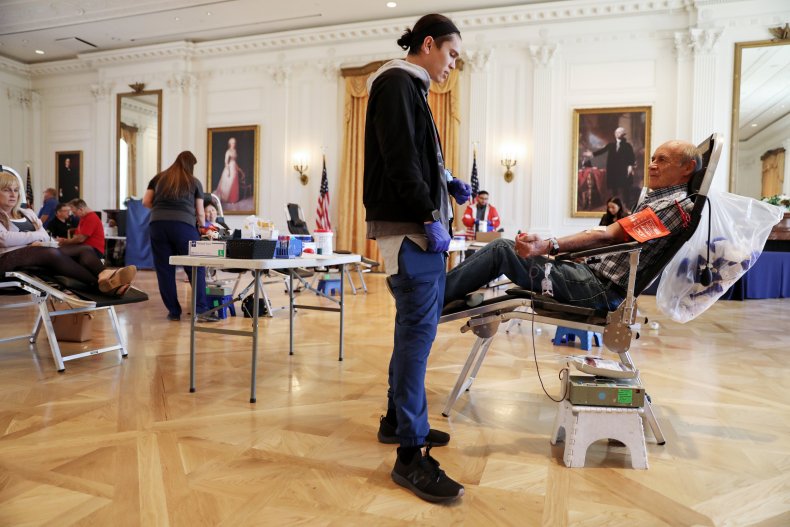 According to the FDA's Thursday statement, the adjusted guidelines will be implemented immediately and outlast the duration of the new coronavirus pandemic, pending feedback from health services providers.
Prominent LGBTQ media organization GLAAD responded to the reduced deferral period in a tweet following the recommendation. While it celebrated the news, GLAAD called for further changes.
"Victory!" the tweet said first, adding that the organization will "keep pushing for the ban to be lifted entirely."
The FDA's update also loosened blood donation restrictions applied to women who have had sex with gay or bisexual men as well as donors who have recently acquired tattoos or piercings. For both groups, the new deferral period is three months instead of 12 months.
Thursday's recommendations presented new criteria for people who have recently traveled to malaria-endemic regions (if they are residents of countries where the disease is non-endemic) as well. Deferral periods for those previously considered at risk of Creutzfeldt-Jakob Disease or Variant Creutzfeldt-Jakob Disease exposure have additionally been eliminated.
"We expect that the updated guidance and alternative procedures will help increase the number of donations moving forward, while helping to ensure adequate protections for donor health and maintaining a safe blood supply for patients," the agency said.
In its own press release issued March 17, the Red Cross expressed concern about shortages in blood supply, stating that nearly 2,700 blood drives had been cancelled due to the pandemic and 86,000 fewer samples collected as a result.